This page contains affiliate links. Please read our disclosure for more info.
When people ask us the difficult question of what's our favourite country we usually answer Italy and Japan. But our trip to Japan was six years ago—would a return visit live up to our expectations? We just finished a 16 day trip around the country and I am happy to report that we love Japan even more than before!
Japan is like no other country that we've visited. It's a place where we can feel totally bewildered by everything yet 100% safe and sure that someone will help us out if we get lost or confused.
It's disorientating not being able to read signs and packaging, and while picking up a few Japanese phrases is easy (it's not a tonal language, yay!), learning the three writing systems is an overwhelming task—there are thousands of kanji characters! We did notice that more signs and menus are in English than on our last visit as visitor numbers have quadrupled since 2011 and Tokyo prepares for the 2020 Olympics.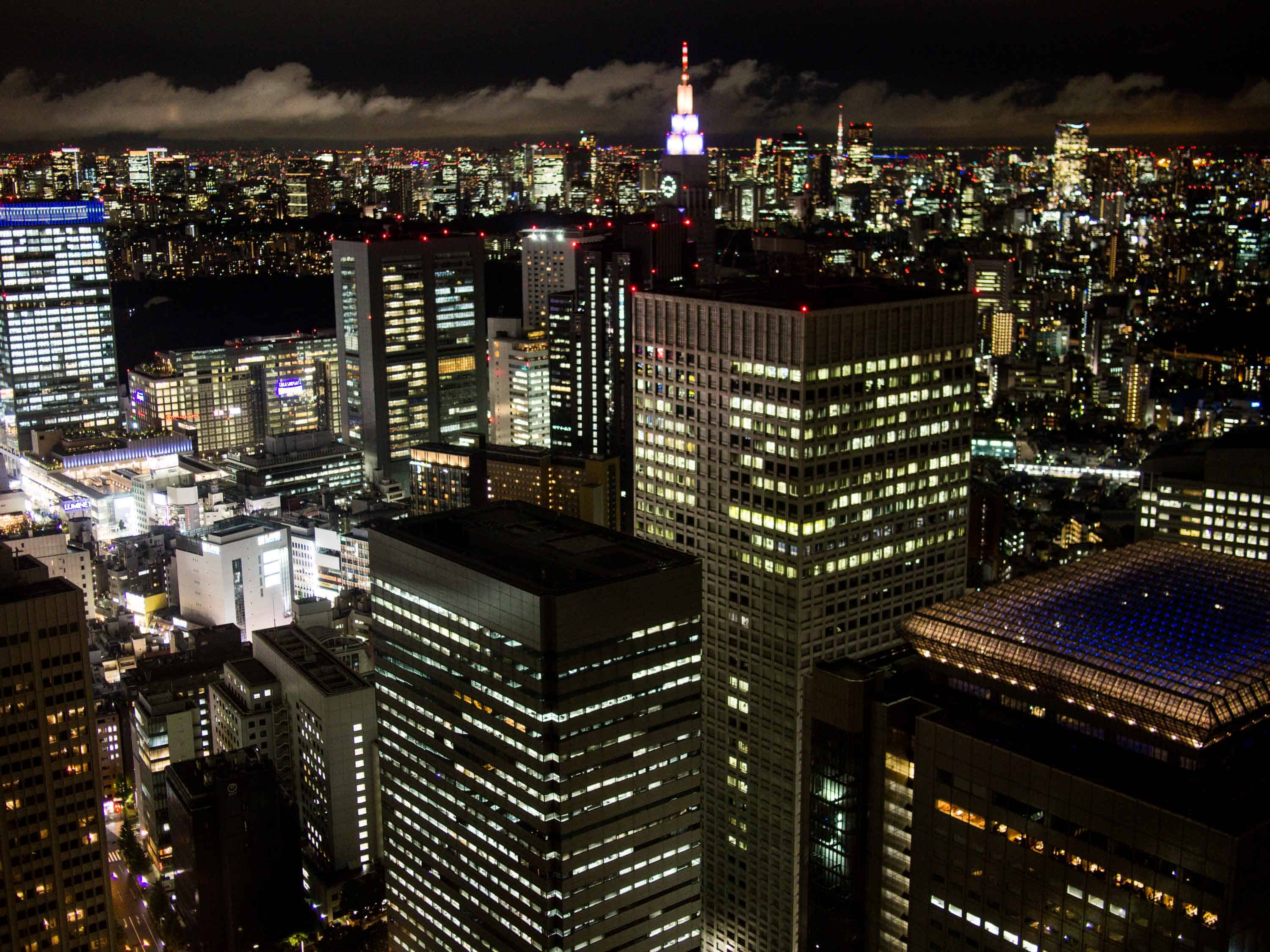 It's liberating to feel so safe in a such a huge city as Tokyo. Crime rates are very low and people even leave their laptops and phones unattended in coffee shops. We could walk through crowded train stations without worrying about pickpockets or get lost down dark alleys without fear.
The Japanese people are extremely polite and went out of their way to help us—assisting us at ticket machines or offering to let us go ahead of them in queues. We saw two restaurant staff frantically running down the quiet streets of Takayama one night and wondered what on earth could have happened? Surely someone hadn't run off without paying? Nope, a guest had left her scarf behind and they were trying their best to return it to her. Japanese people are so nice.
I appreciate their quietness and respect for others—you can't talk on your phone on trains and signs even warn you not to type too loudly on your laptop keyboard. Gift giving is an important part of Japanese culture and people at restaurants and hotels often gave us small gifts—origami birds, good luck bells, and postcards.
The food was a real highlight during our two weeks in Japan and was exceptional everywhere from high-end restaurants to convenience stores—yes, even for vegetarians (with a little planning). Since 2011 we were happy to discover there are many more vegetarian restaurants and normal restaurants with vegetarian options.
We enjoyed sushi and ramen for the first time (including ordering ramen from a vending machine!), experienced an exquisite 12 course Zen Buddhist vegetarian meal, and ate tempura, soba noodles, okonomiyaki, Japanese curry, divine tofu, and so much more. I have just updated my vegetarian Japan survival guide (an epic 4000-word post!) and shared our favourite vegetarian restaurants in Tokyo.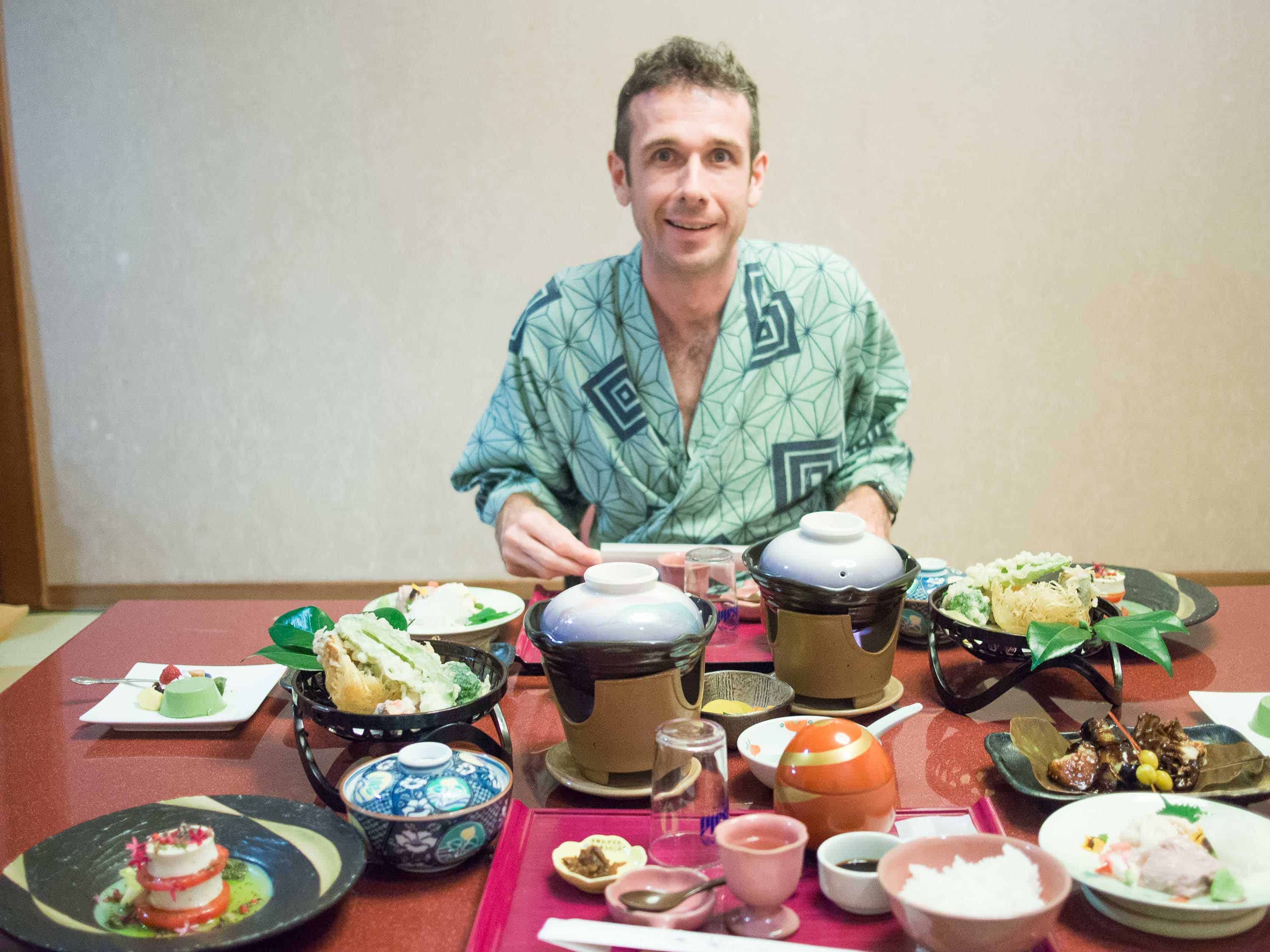 Japan is an easy country to travel. It's the land of convenience and everywhere you can find free clean public toilets, lockers, drink vending machines, and convenience stores (that actually sell edible food). We even bought our data SIM card from a vending machine at the airport. Everything is clean and efficient and the trains always run on time—we made a one minute transfer time! And the high tech toilets are brilliant—why doesn't everywhere have heated toilet seats?
The strangest thing is the dichotomy between two aesthetics—the tranquil, elegant minimalism of traditional Japan and the neon lights, deafening noise, and multi-coloured sensory overload of places like arcades and the insane Robot Restaurant Tokyo. We often had cultural whiplash as we switched between the two.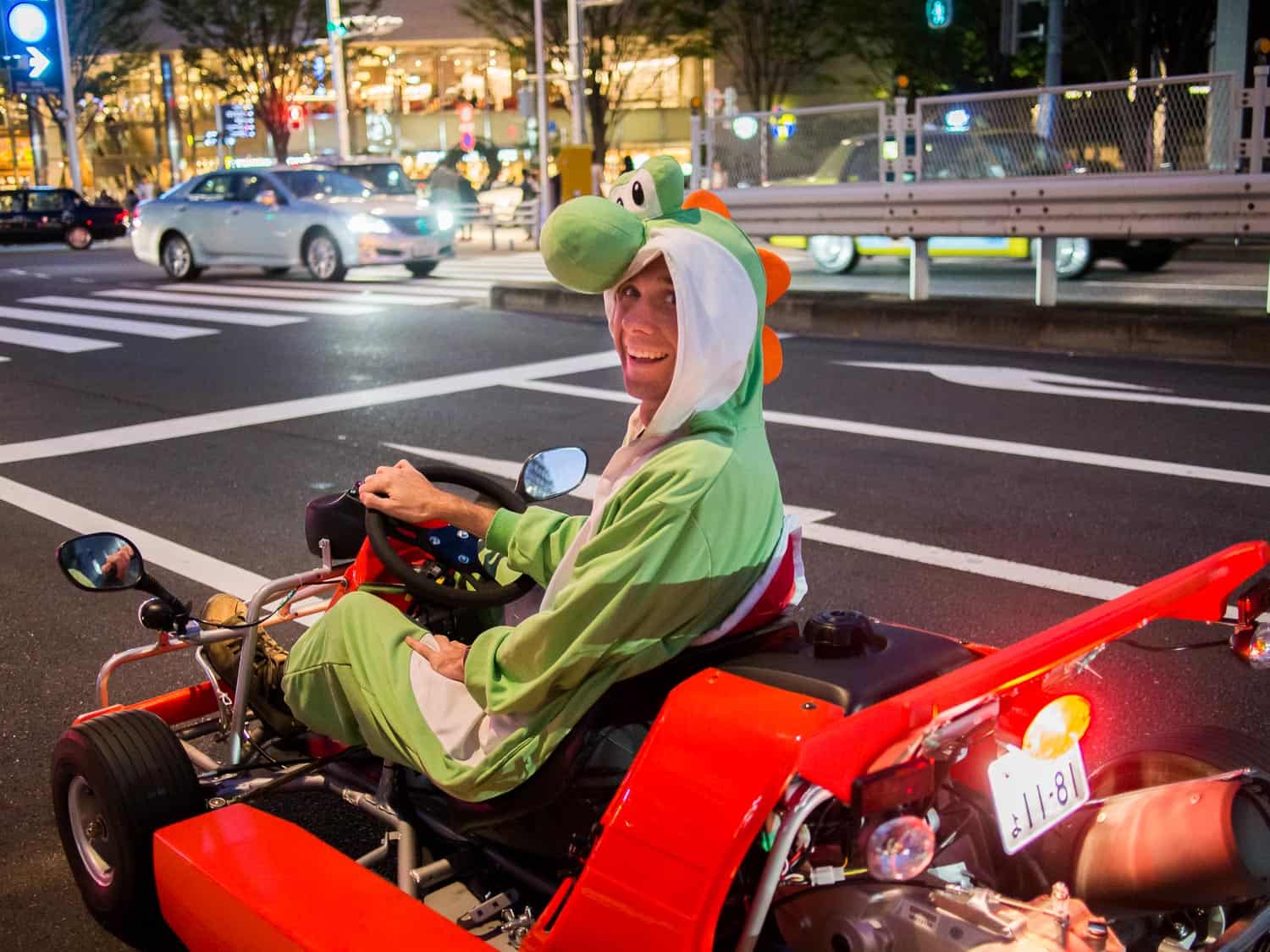 Of course, Japan isn't cheap but it's no more expensive than Western Europe or the US. Eating out is excellent value—we usually paid about $20 for a meal for two. Our Airbnb studio apartments in Tokyo cost around £70 ($90) a night for central locations (Shinjuku and Shibuya)—cheaper than London or New York. Bullet trains are expensive but they are worth it for the speed and comfort and a Japan Rail Pass will likely save you money (and makes travel super easy)—it saved us $150 per person in one week! See my guide to buying a Japan Rail Pass for more details.
Our Top Japan Experiences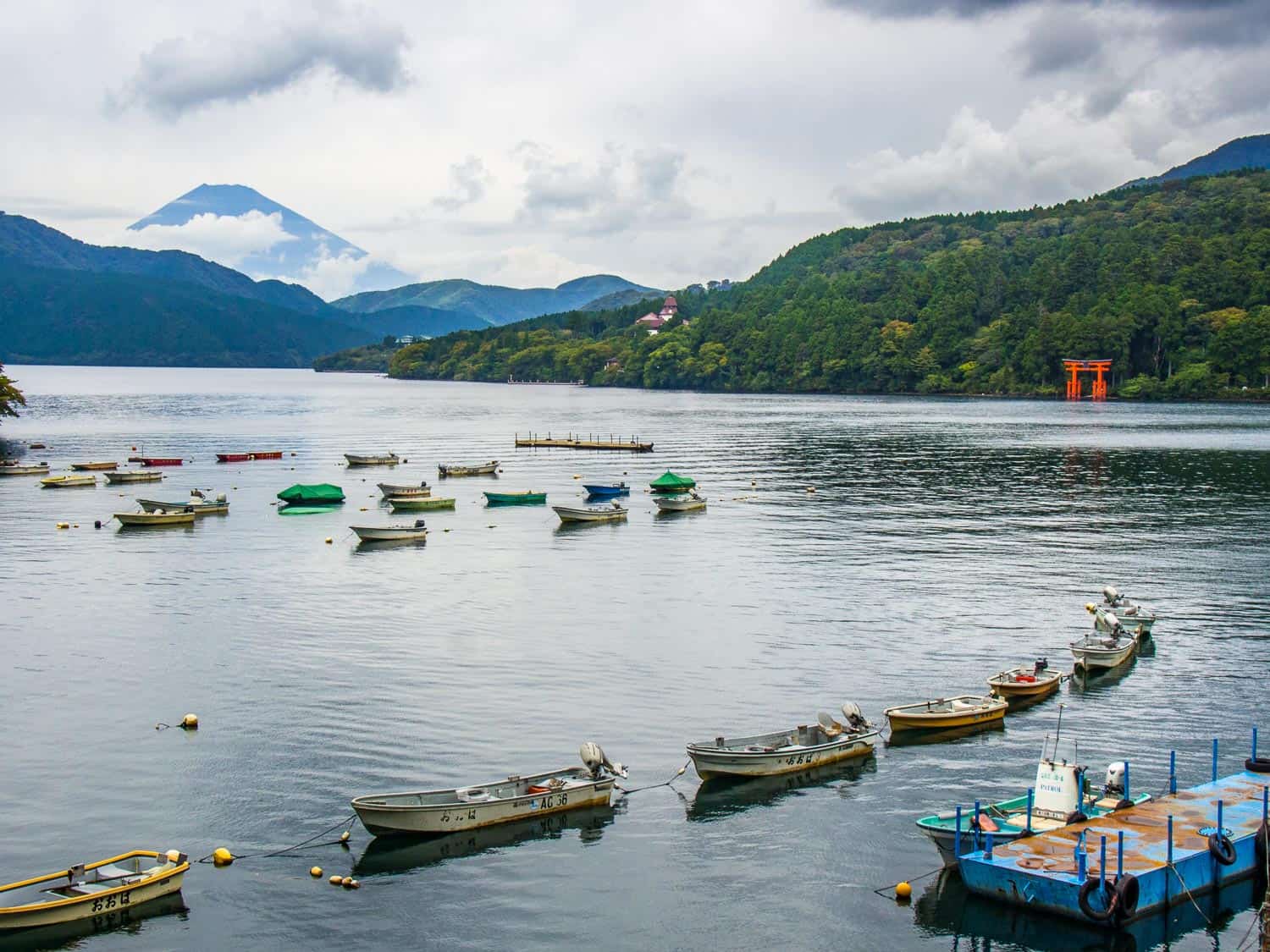 We spent 16 days in the country divided between Tokyo and travelling with a 7 day Japan Rail Pass to Nikko, Hakone, Takayama, and Kanazawa. Here are just some of our top experiences:
Dressing up as Mario characters and driving a go-kart around Tokyo—yes, on the normal roads! Insane!
Eating an exquisite 12 course Zen Buddhist vegetarian meal in a private tatami mat room at Bon in Tokyo.
Staying in a tatami room in Hotel Musashiya, a ryokan (traditional inn) overlooking Lake Ashi in Hakone. The minimalist space was so calming and we were served a vegetarian feast in our room.
Finally getting over our public nudity fears and embracing the onsen (hot spring bath). So relaxing!
Seeing Mount Fuji at Hakone despite cloudy weather.
Exploring the cute town of Takayama with its historic wooden buildings.
Taking a cycling tour with Satoyama Experience from the adorable town of Hida-Furukawa and enjoying views of rice fields, rivers, mountains and idyllic villages.
Visiting Disney Sea Tokyo, one of the best Disney parks in the world! Read our guide to the best DisneySea rides and a suggested itinerary for adults.
Being overwhelmed at the Robot Restaurant (which isn't a restaurant and doesn't have many robots), the weirdest show we've ever seen. Read our Robot Restaurant review for our attempt to put the crazy experience into words.
Finding tranquillity at the smaller temples and shrines in Nikko.
Experiencing a traditional tea ceremony in the gorgeous Gyokusen-en gardens in Kanazawa and learning the concept of "ichi-go ichi-e" (一期一会) which means "one time; one meeting" so we should cherish every experience as it will never happen again. It's a philosophy we've been trying to apply everywhere.
For more information and tips read our detailed Japan itinerary, our recommendations for unique things to do in Tokyo, and our posts on planning a trip to Japan and our random observations from our last trip.
We will not be waiting six years for our next visit to Japan. The country has really won our hearts and we can't wait to return and explore (and eat) more!
Are you a fan of Japan? Let us know your Japan destinations so we can add them to our list for next time.
If you enjoyed this post, pin it!