This page contains affiliate links. Please read our disclosure for more info.
Movenpick Resort & Spa Jimbaran Bali is a new five-star resort that opened at the beginning of 2017 a few minutes walk from Jimbaran beach. It has quickly become popular for its huge pool, extensive breakfast buffet, and pirate themed kids club.
In recent years we've come to appreciate resorts for when we're in need of a total relaxing break. After five months of solid working in Ubud, the Movenpick was just what we needed before a busy few weeks travelling around Japan. We chose to stay in Jimbaran because it's close to the airport but not super crowded like Kuta and our favourite Ubud restaurant Melting Wok recently opened a branch there.
The Movenpick Bali invited us to stay for the weekend to review their new resort. Here are our impressions.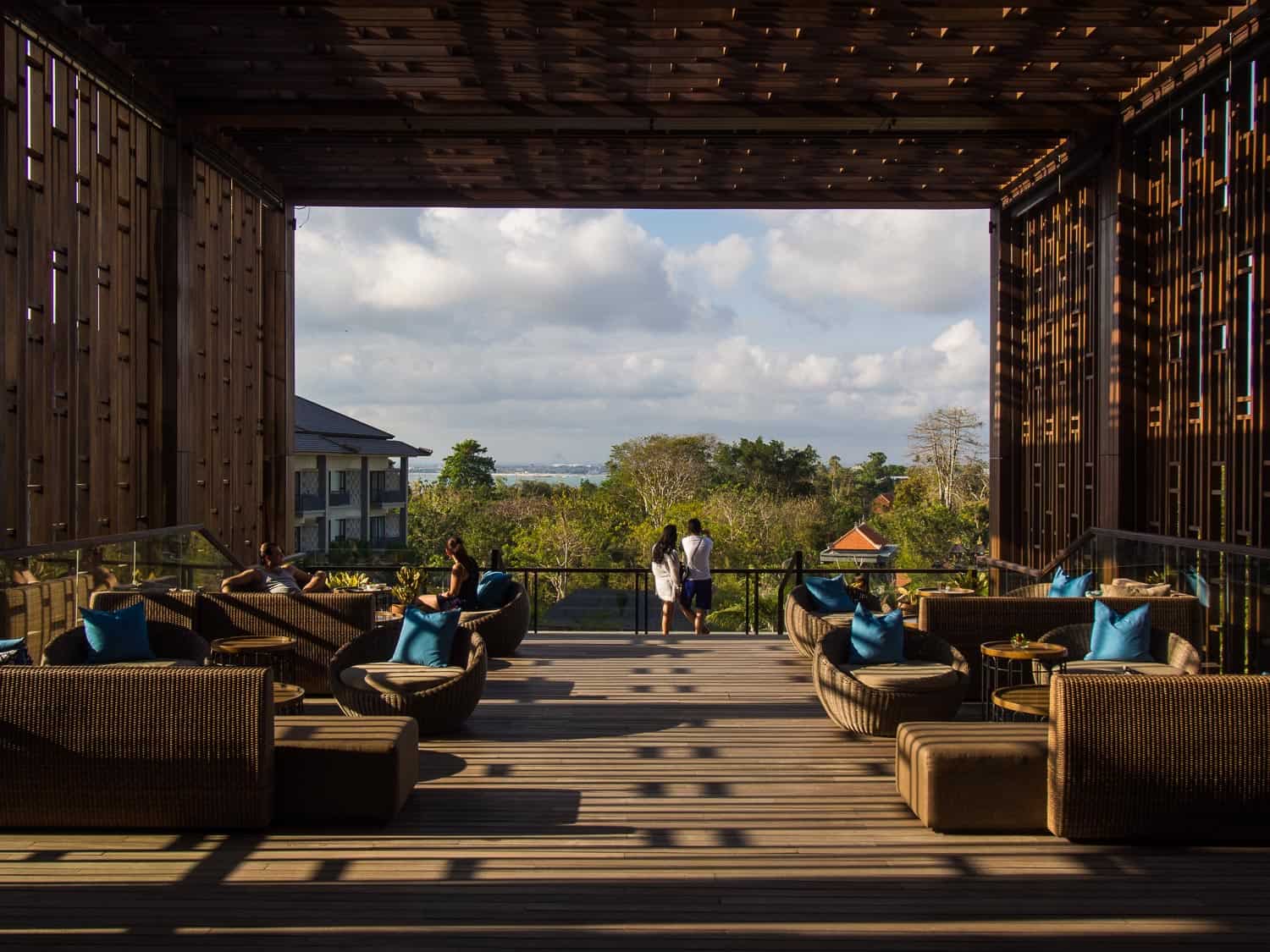 Rooms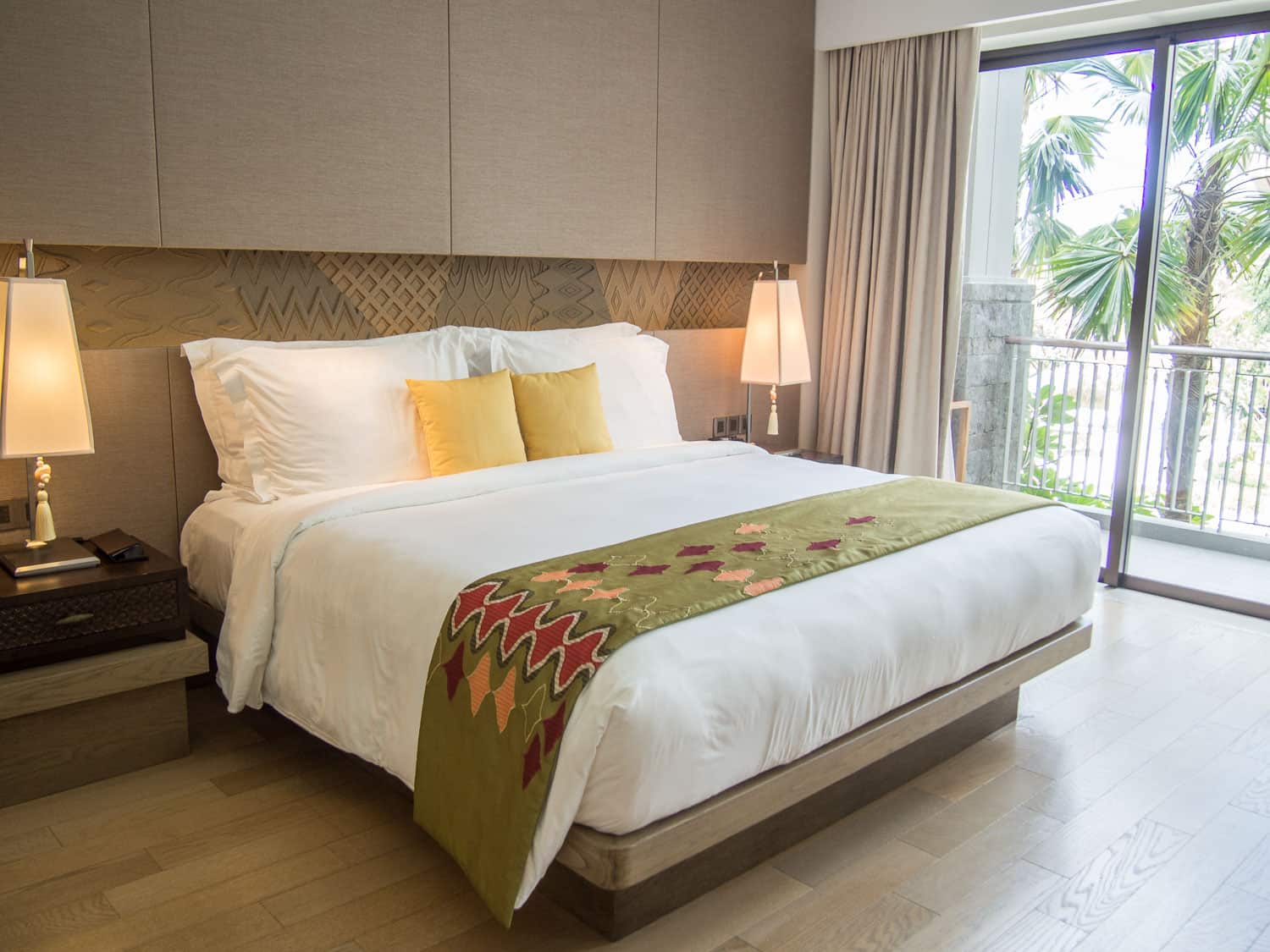 There are 297 elegantly furnished rooms at the Movenpick all with free WiFi, flatscreen TVs, and a balcony. We stayed in a Classic Pool View room, which is the same size as the Classic Room but with a view of the swimming pool. Our view was just of the kiddie section of the pool so I'm not sure it's worth the extra money. Family suites and luxurious pool suites are also available.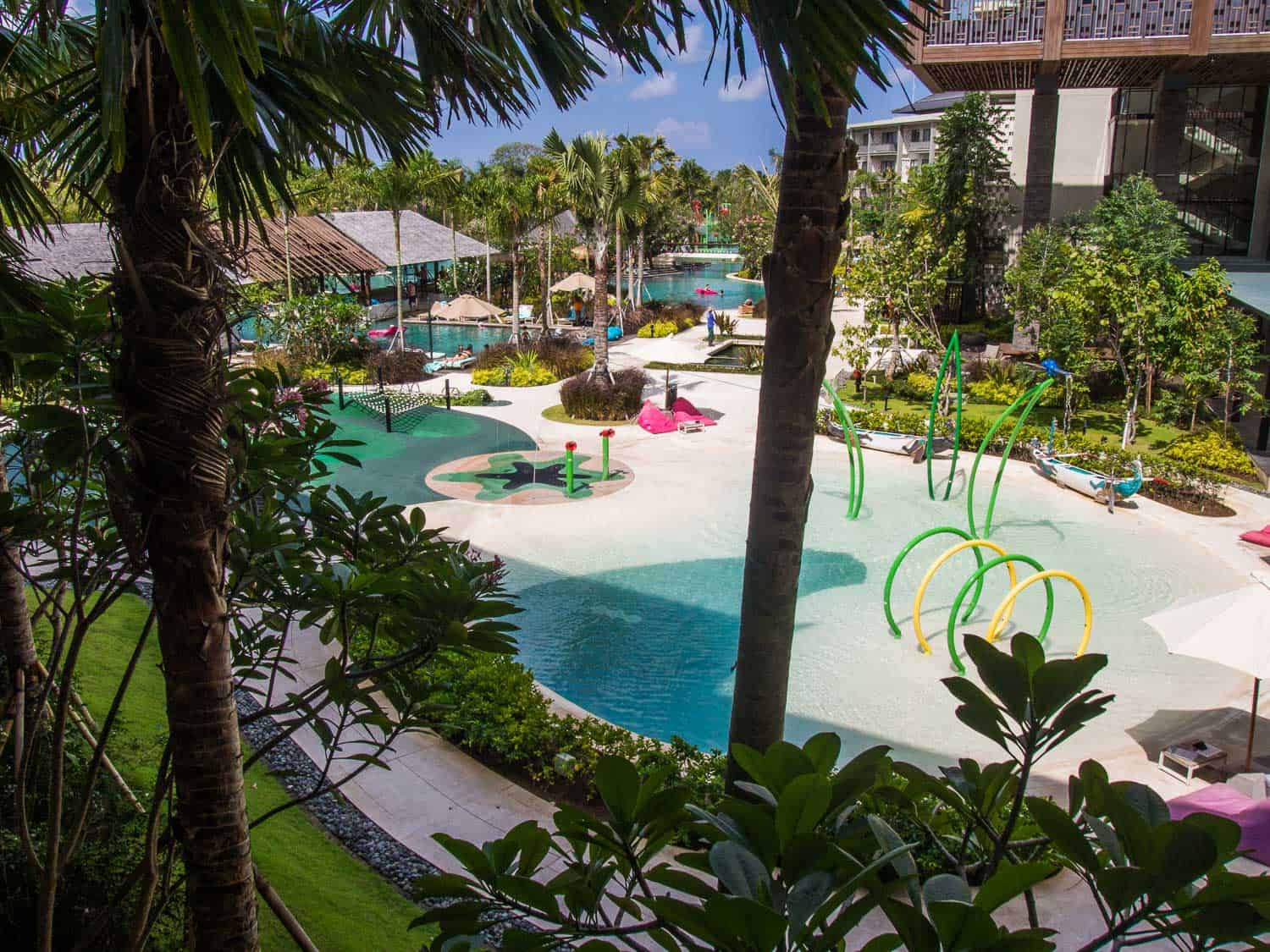 Our room was modern, bright, and well-equipped with a huge and very comfortable bed, sofa, large desk, and plenty of storage space. There was a complimentary minibar (soft drinks only), coffee and tea making facilities, safe, and good air conditioning. Room service is available 24 hours.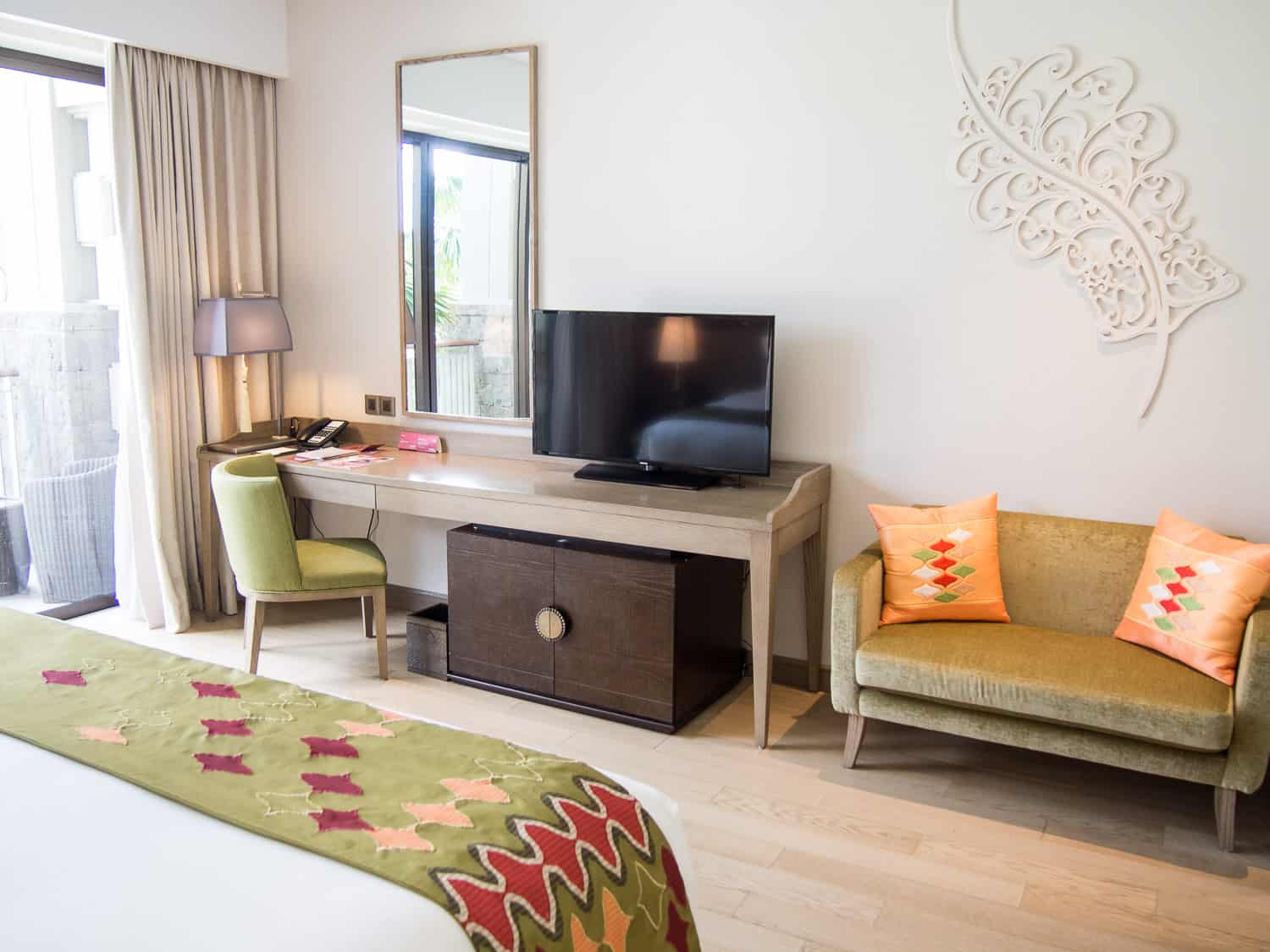 The WiFi wasn't super fast but it worked well enough. It's a bit annoying that you have to sign up to their email list on every device to get access to it.
The bathroom had a large rain shower, bath, all the amenities you'd expect, and a large window onto the bedroom (there are blinds if you are shy).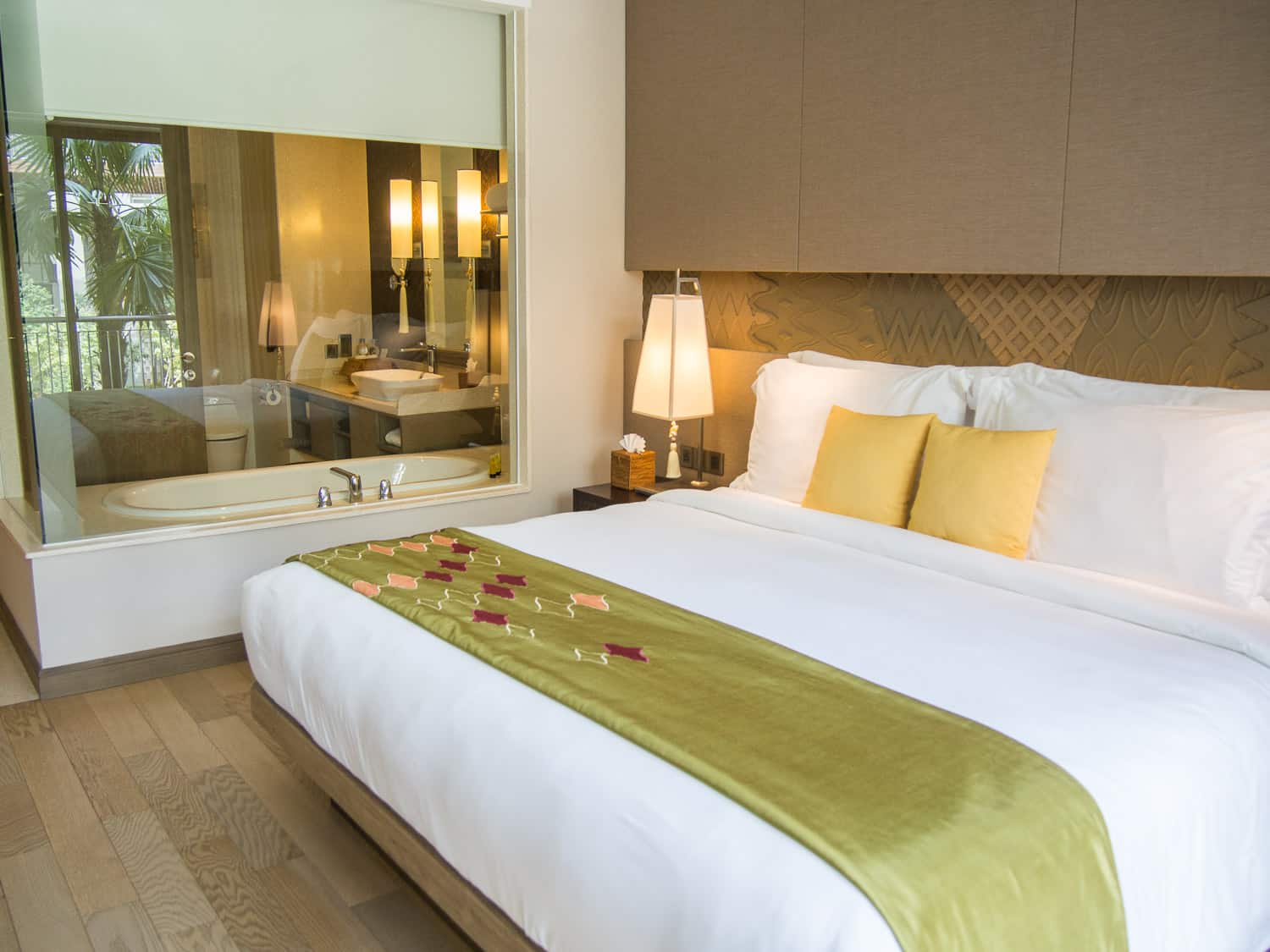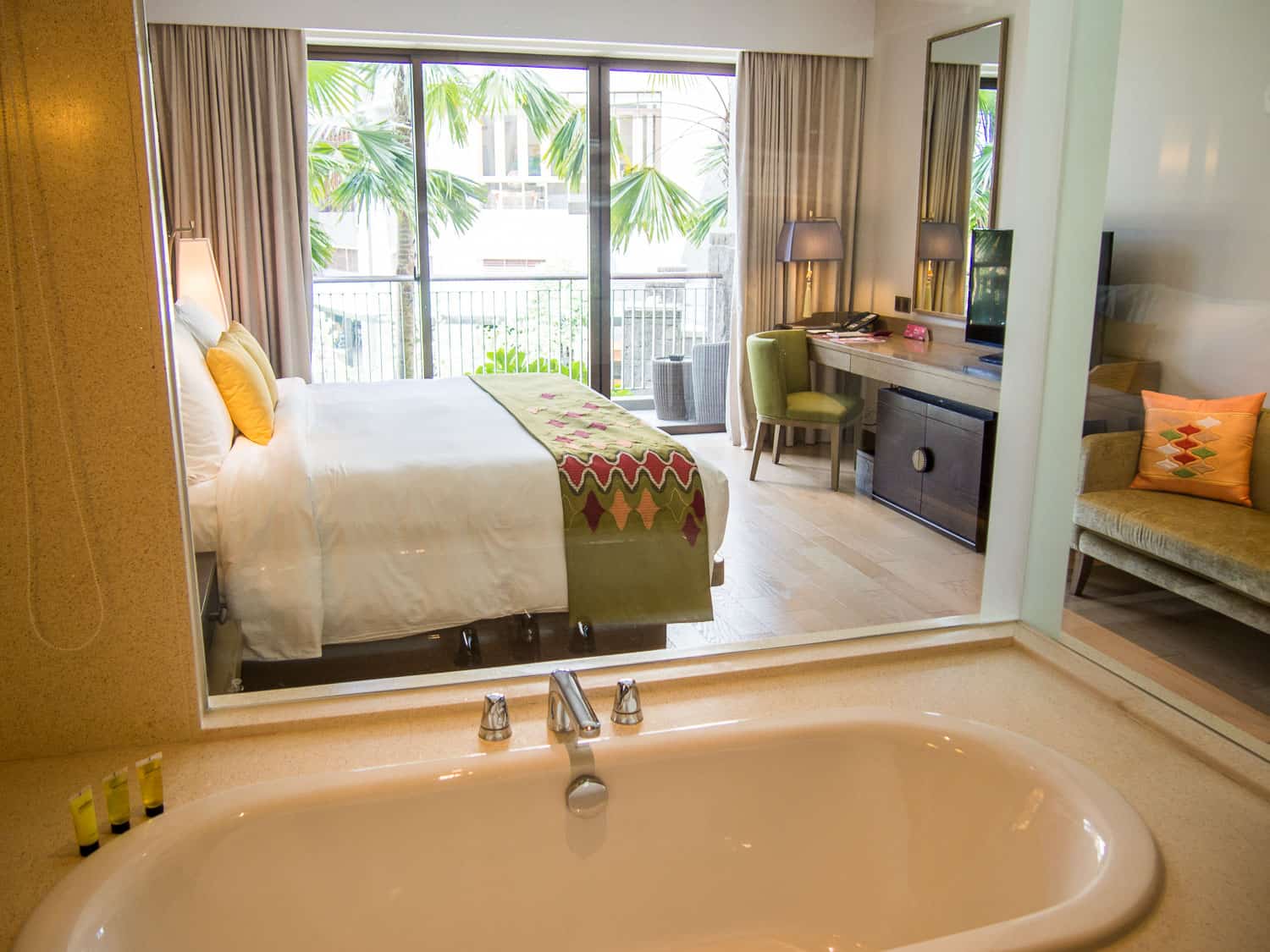 As with most large hotels I think they could do more for the environment. I'd like to see refillable toiletry bottles rather than small plastic bottles, filling stations for water rather than lots of small plastic bottles, and no changing towels twice a day (even when we hung them up as instructed). The housekeeping staff would also leave all the lights and air conditioning on.
Overall we found our room a comfortable place to relax and we slept very well.
Facilities
The Pools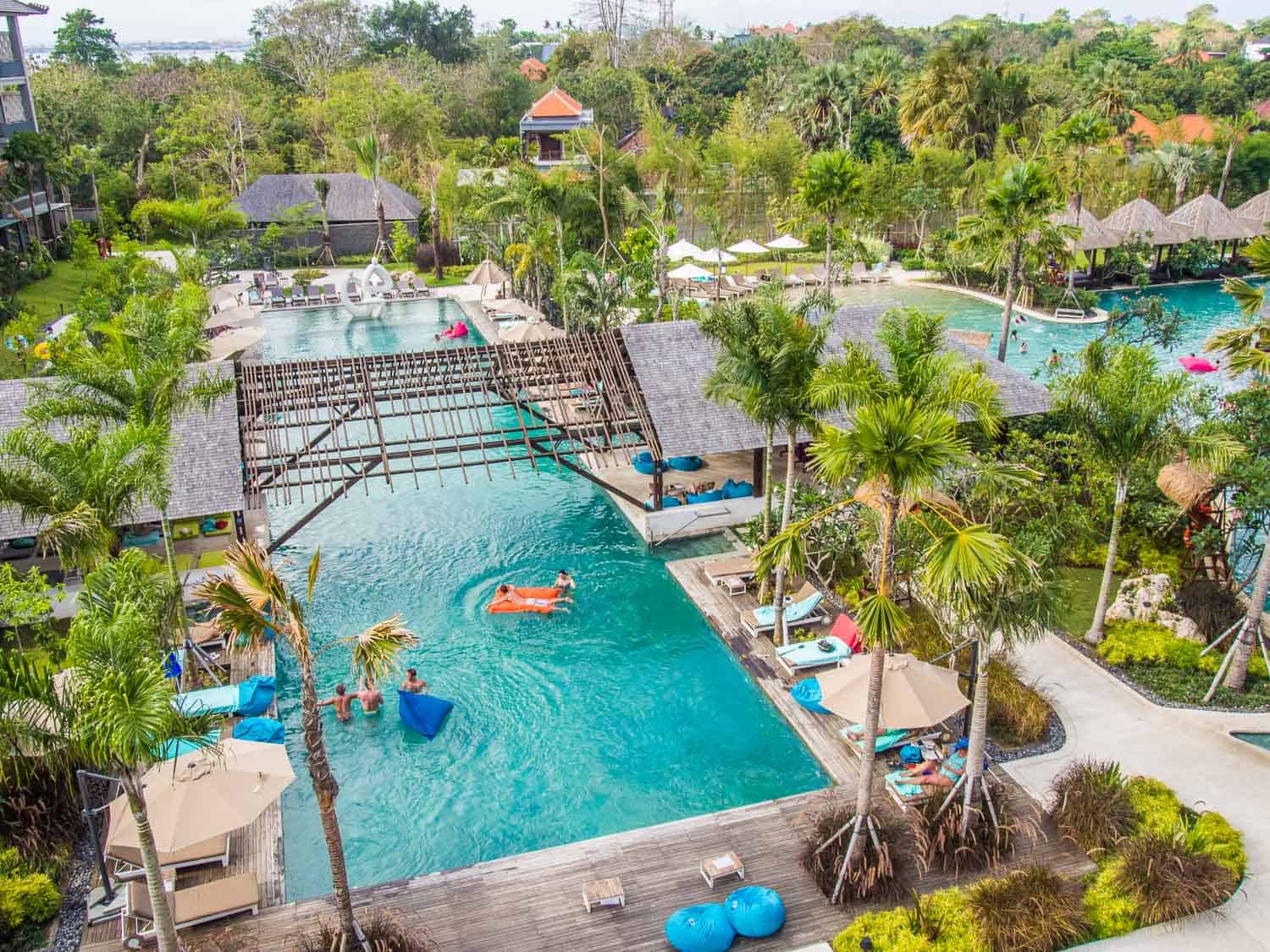 The highlight of the Movenpick Bali is the enormous 2,900 sqm swimming pool. There are multiple areas including a 45-metre lap pool, large free-form pool, beach area, swim up bar, water slide area, and children's playground. The pool is cleaned naturally with salt so there are no chemicals to irritate your skin.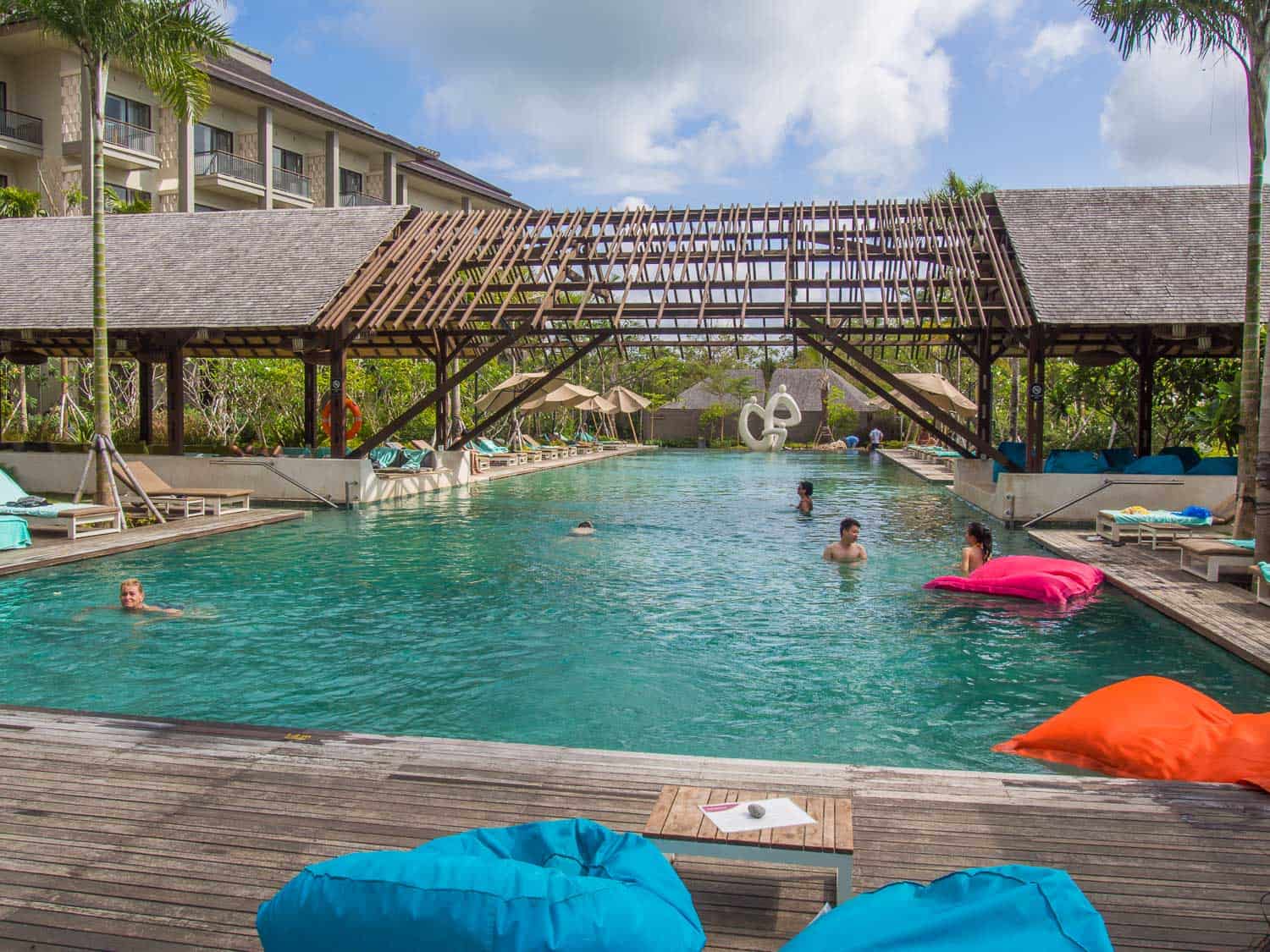 The pool is very impressive and it's easy to spend hours in it lounging on one of the floatable bean bags (we loved these!) or drinking frozen cocktails at the bar. Light meals are also available by the pool and in the morning the staff bring around complimentary fruit skewers.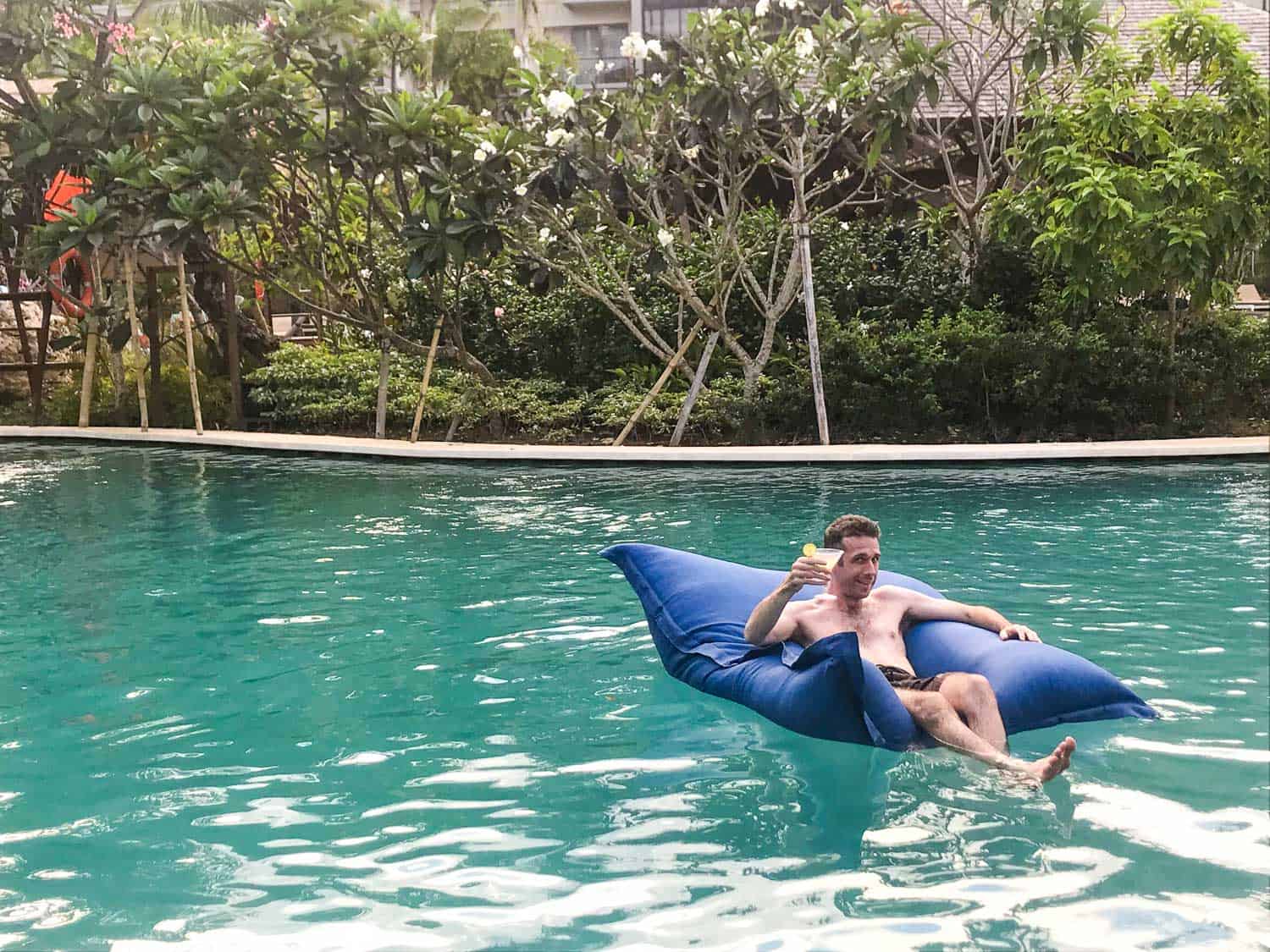 The pool is surrounded by comfortable sun loungers and a few gazebos. The problem is that there aren't enough for all guests, so if you don't reserve a spot with a towel by around 8 am (and claim it within an hour) you won't be able to sit by the pool until late afternoon when some guests may leave. It's an issue the hotel is aware of and is working on, but unfortunately space is limited.
Spa
The new spa had just opened during our visit. It's a beautiful, calming space with professional staff. We enjoyed a relaxing 50-minute Balinese oil massage.
Gym
There's a small but well-equipped gym to burn off the breakfast buffet. I preferred to run on the beach as it's so close and is long with flat hard sand that's ideal for running.
You can also rent bikes to explore the area.
Meeting and Function Rooms
If you'd like to have a wedding, event or meeting at the Movenpick, you can choose from the Akasa Ballroom, which can host up to 300 guests, and the three smaller Baga rooms.
Activities
Exercise Classes
There's a programme of classes including yoga, pilates, water volleyball, and aqua aerobics. Some are free (including the Sunday vinyasa yoga class) and some are charged.
Kids Club
The Movenpick is perfect for families due to its impressive pirate-themed Meera Kids Club, which is free for up to four hours a day. It features a slide, ball pit, trampoline, toys, cinema, game consoles, and lots of free daily activities such as Balinese dance lessons, kite flying, Indonesian language lessons, tai chi, balloon crafting and lots more. Many families say it's the best kids club they've ever experienced.
Despite not having kids, we joined the cooking class and made four different Balinese dishes (vegetarian for us) including sambal (Balinese salsa), tempeh satay, mushrooms cooked in banana leaf, and a Balinese bean salad. It was a fairly short and simple class that would work well for kids. I definitely recommend it as it's good value for families as you enjoy a delicious Balinese lunch as part of the experience.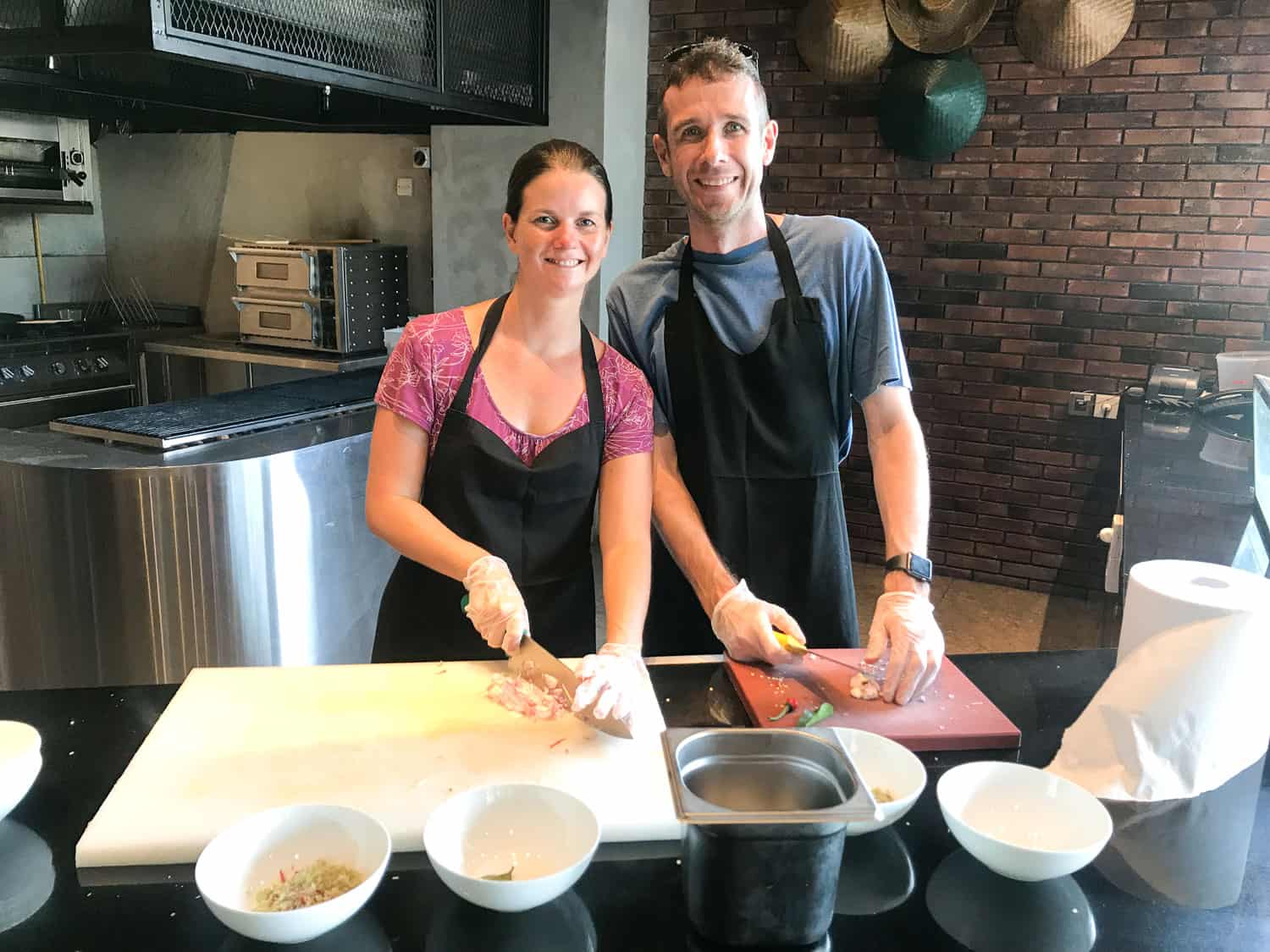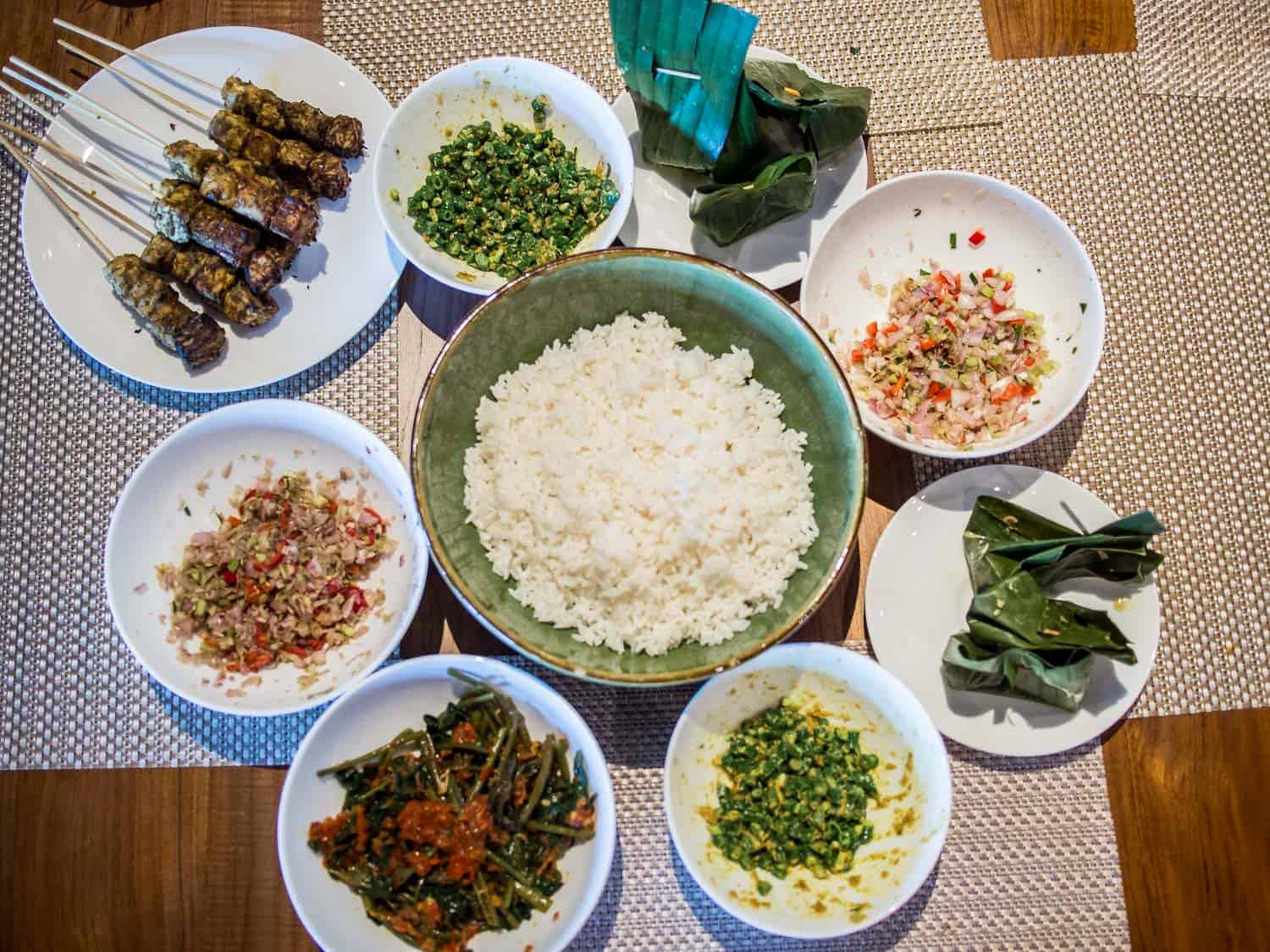 Restaurants and Bars
You can see the menus for all the Movenpick restaurants on their website.
Anasara
Anasara is the main restaurant and is open from 6.30 am until 11 pm.
The breakfast buffet is one of the best we've ever had. It's included in the room price and is generously served from 6.30 am until 11.30 am. There's a massive amount of choice and it's difficult not to overindulge. Highlights include the juice bar where you pick your own fruit or vegetables and they make a fresh juice for you, what feels like a real bakery where you help yourself to quality bread, pastries and doughnuts, and the ice-cream bar with an array of flavours and toppings.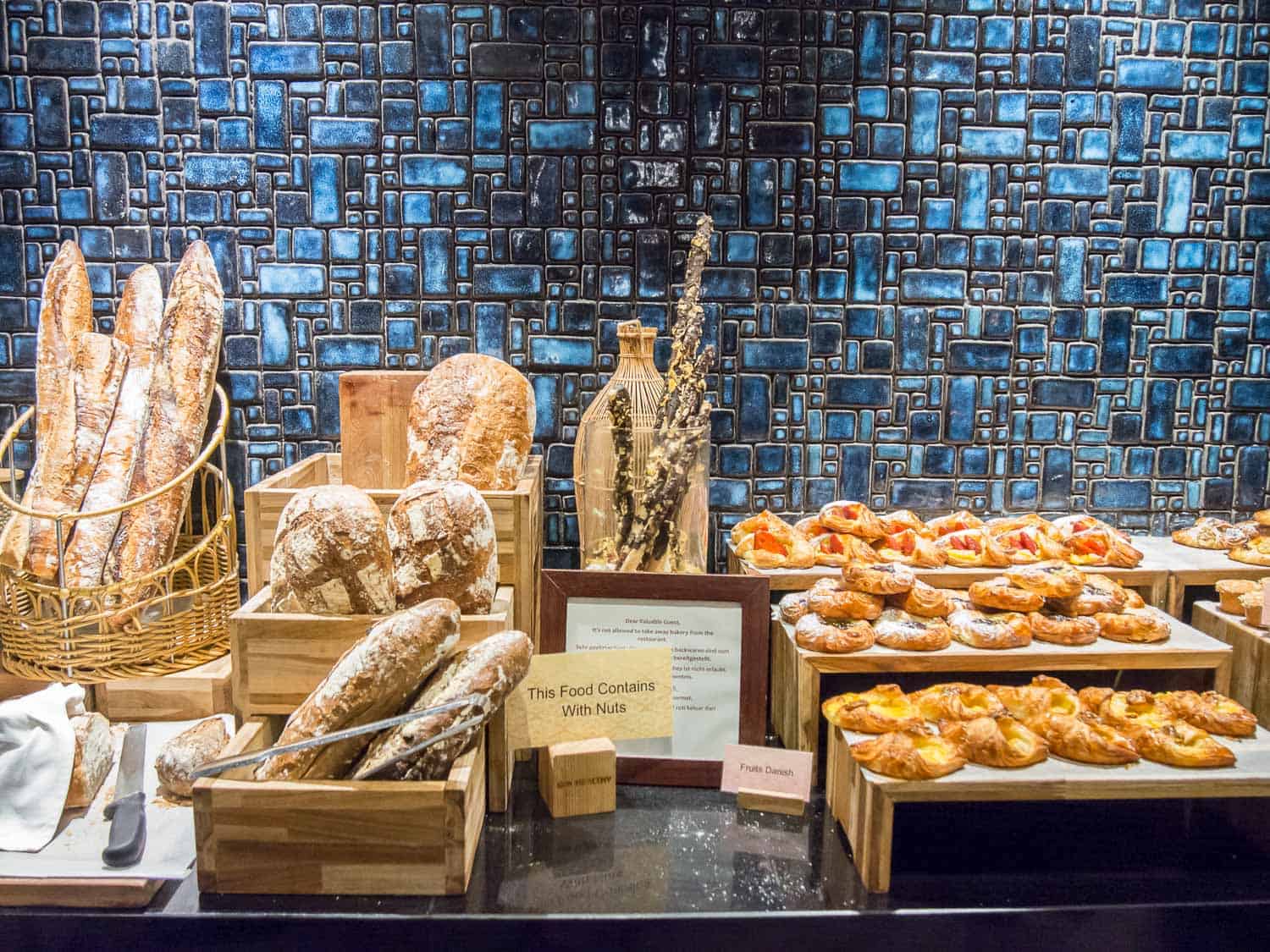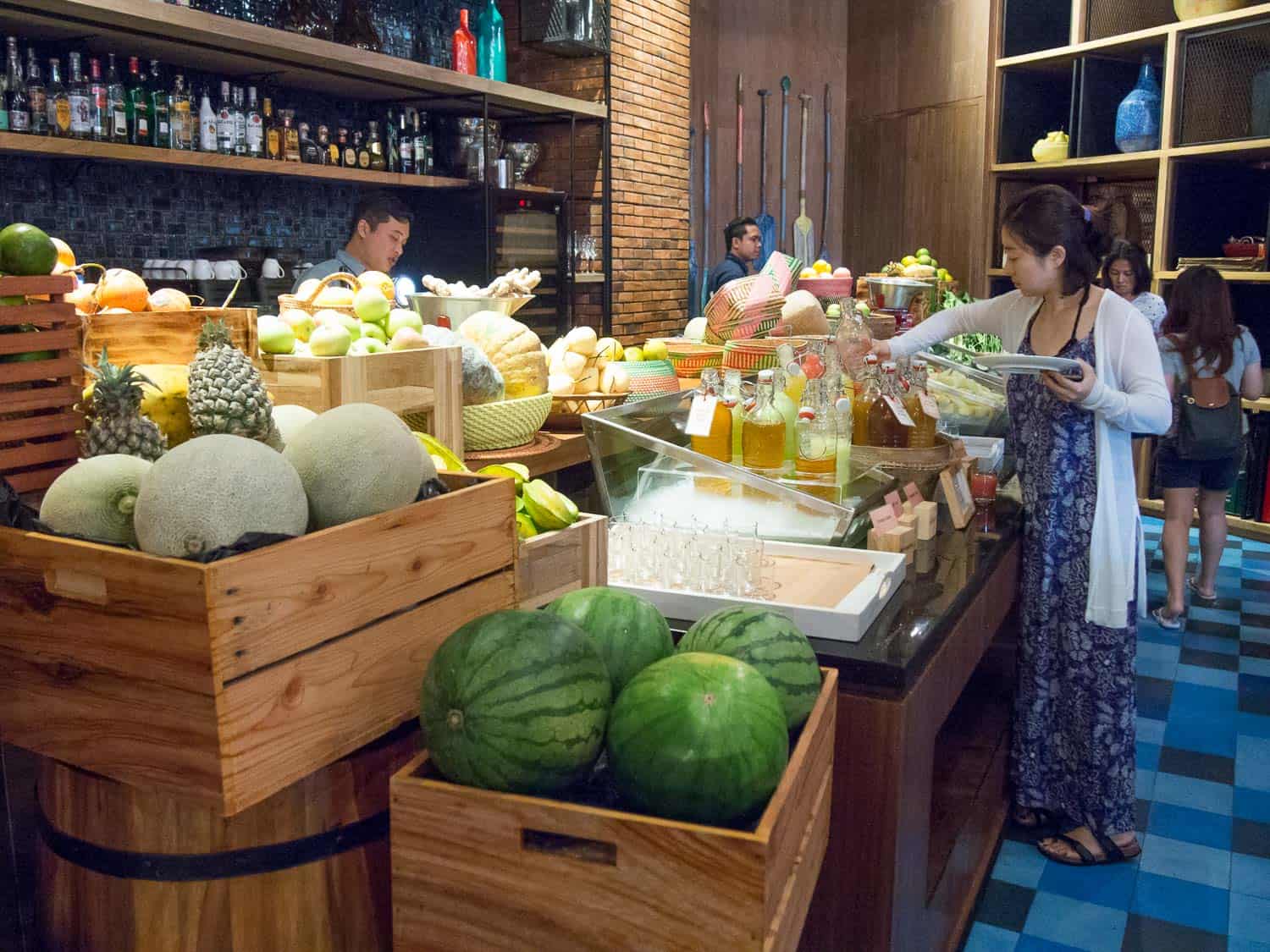 I also loved the chickpea and lentil curries, the choice of 10 sambals (Balinese salsa), the Balinese green pancakes stuffed with coconut, the excellent cheese selection, and the hummus and baba ghanoush dips. There's also an egg station, various meats, and Asian dishes like stir fry vegetables, fried noodles, congee, noodle soup, and even sushi. All vegetarian dishes are marked which was helpful for us.
There's even a separate kids buffet with a seating area where kids can watch cartoons.
Breakfast is a real highlight of the resort and a great way to start the day (I was just glad I went for a run first!).
There are also buffets on Friday and Saturday nights and Sunday afternoon. We didn't find the Sunday brunch buffet quite as vegetarian-friendly as breakfast but we still had plenty to choose from.
The rest of the time the menu is a la carte and includes European and Indonesian dishes. We appreciated that vegetarian options are marked on the menu and we had plenty of choice including falafel and halloumi wraps for lunch, salad, pasta, pizza, and Indonesian curry, stir fry and gado gado. The food is good but not spectacular.
Above Eleven Bali
Above Eleven is a trendy rooftop bar and restaurant with a fantastic view of Jimbaran Bay—it's perfect for a sunset cocktail.
We really enjoyed the innovative Peruvian-Japanese cuisine. There's a good vegetarian selection marked on the menu and we liked the vegetarian sampler which included a Peruvian causa (mashed potatoes) with beetroot, fried cassava with a trio of dips (including the best chimichurri I've had since South America), and miso eggplant.
JeJaLa Pool Bar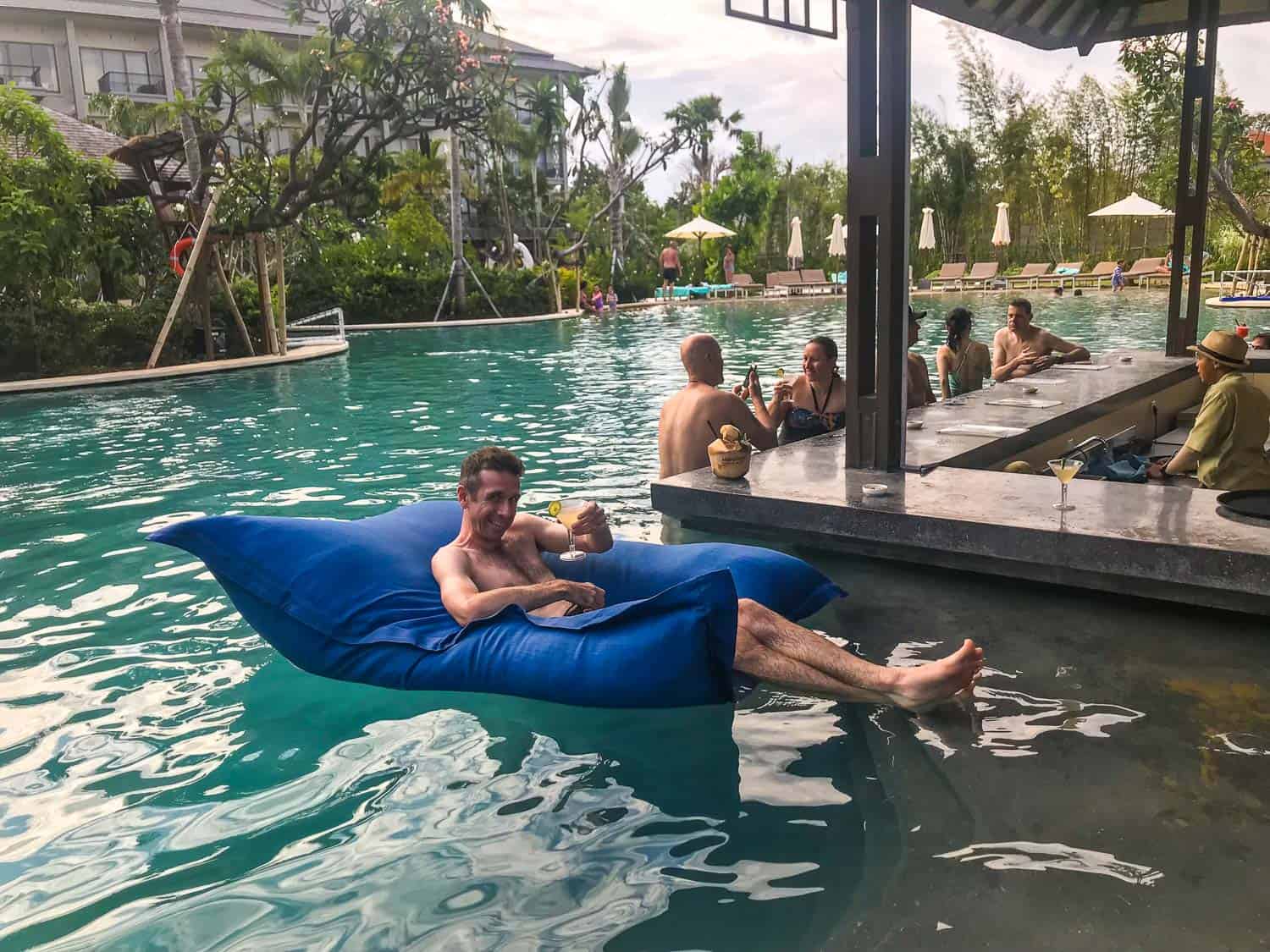 JeJaLa is the pool bar, perfect for a casual lunch at your sun lounger or cocktail at the swim up bar (with two for one cocktails from 4 to 6 pm). Simon loved drinking his margarita while lounging in the pool on one of the floating bean bags.
Katha Lounge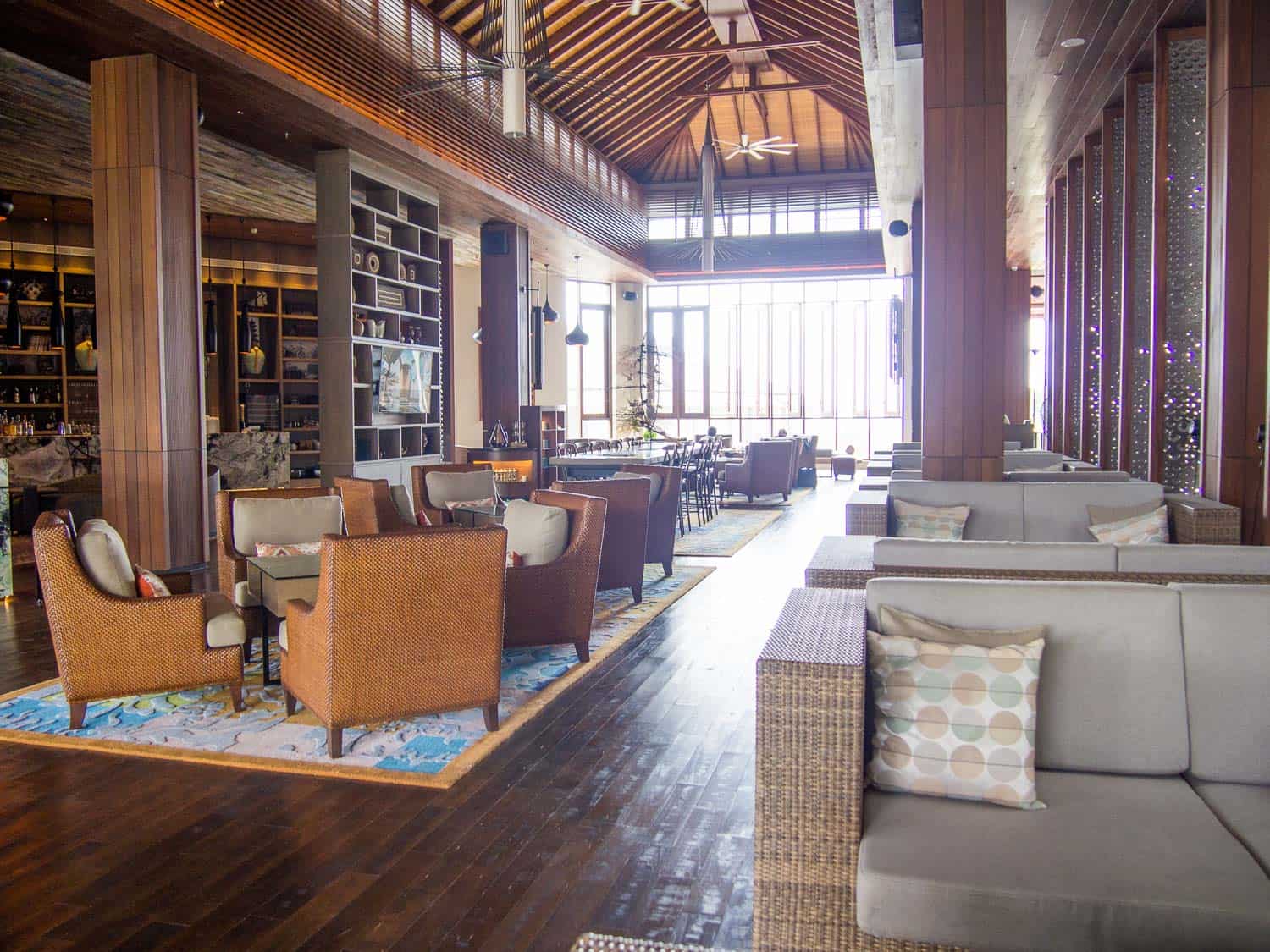 The Katha lounge is next to reception and has plenty of comfy couches. You can get coffee, tea, cocktails, pastries, cakes, and the full restaurant menu here. In the evenings you can get two for one cakes so it's a great stop after dinner.
We loved the afternoon tea buffet which had a range of sandwiches (one vegetarian), cakes, doughnuts, scones, eclairs, and sweets.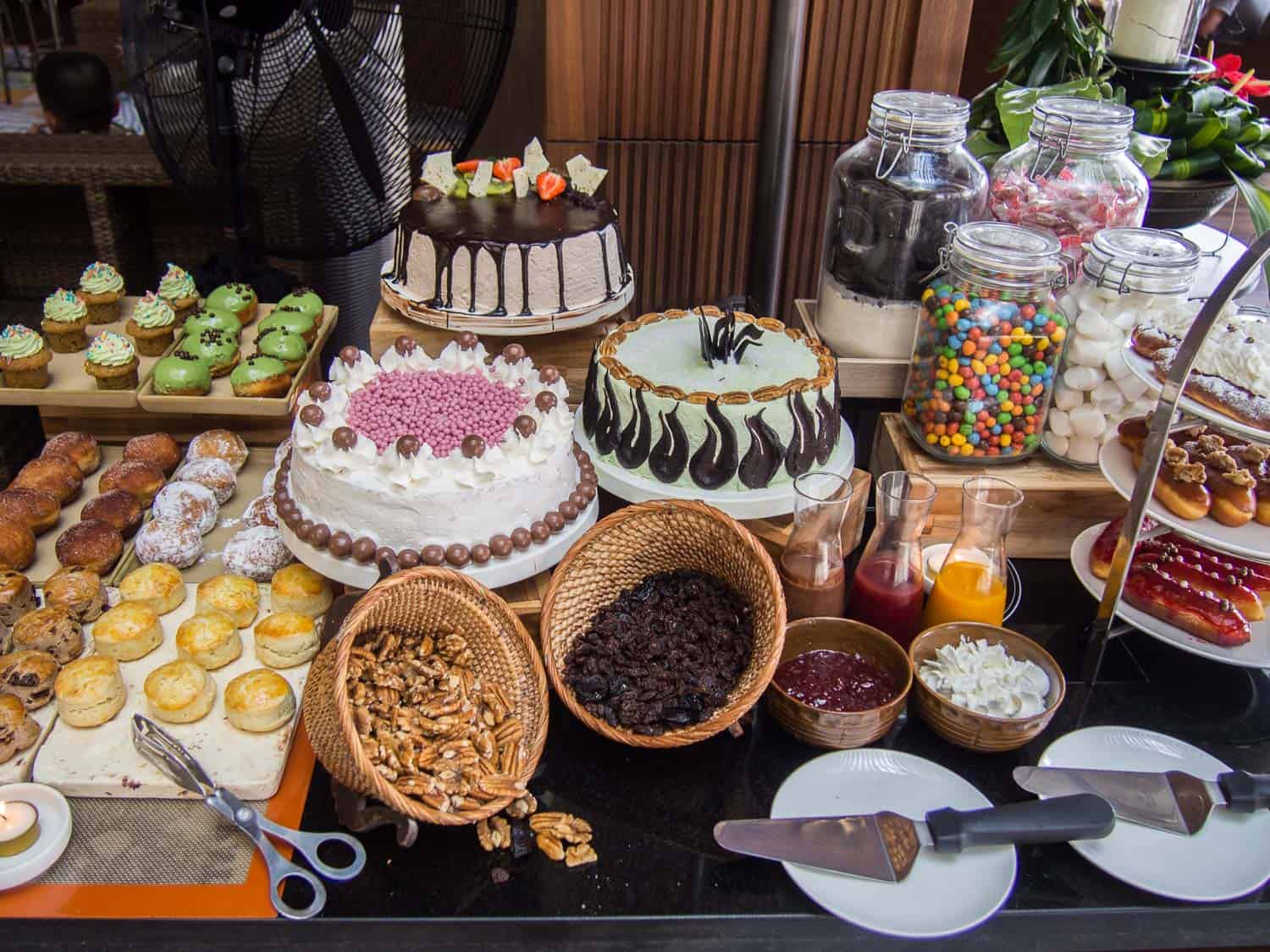 Another highlight is the free chocolate buffet every day from 4–5 pm which includes chocolate fondue, chocolate cake, and various chocolates and sweets. It's very popular with the kids!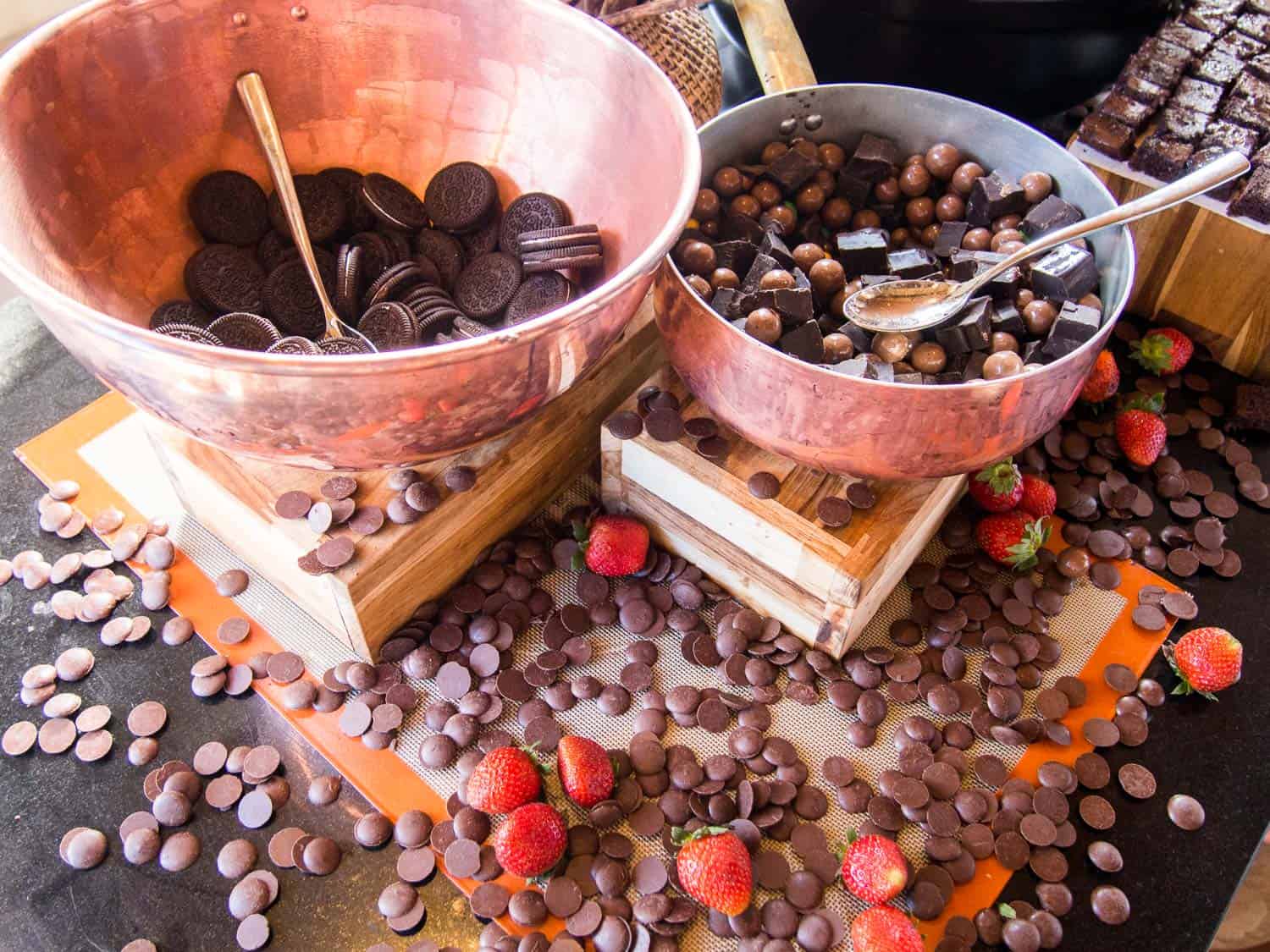 Mövenpick Café
The Mövenpick Café is next door in the Samasta Lifestyle Village and serves coffee, frappes, ice-cream, cakes, and pancakes.
Location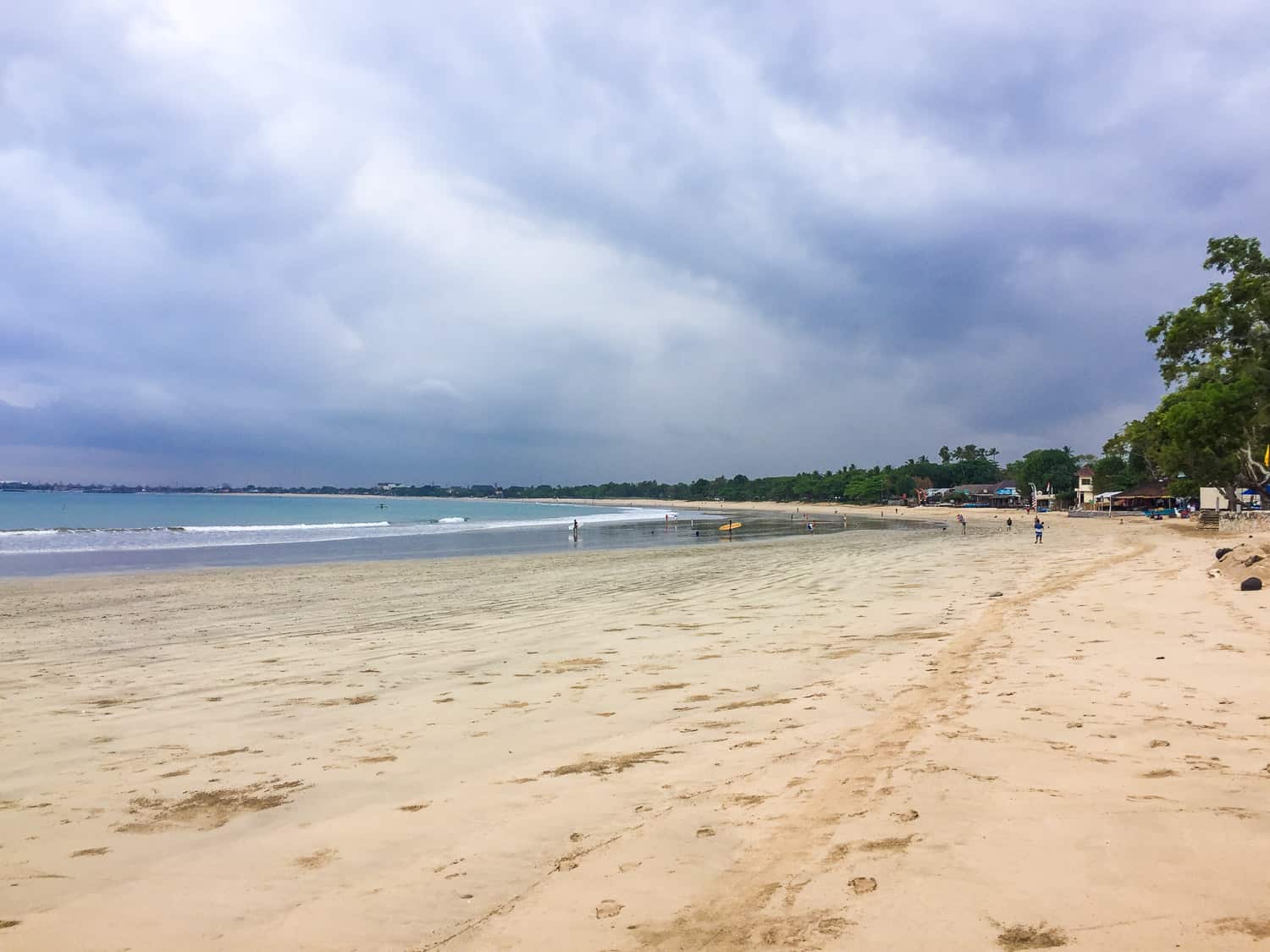 The Movenpick Bali is located 100 metres from Jimbaran Beach, which is just a 15-minute drive from Bali's Ngurah Rai international airport, so it makes a convenient first or last stop in Bali. You can see planes taking off in the distance but can't hear them.
Jimbaran Beach is much quieter and less developed than Kuta (on the other side of the airport) and has a relaxed vibe. Although there are surfing lessons available, the sea looked calm enough for swimming when we were there. The beach was quiet in the morning and much livelier at sunset when everyone comes to eat at one of the many seafood restaurants on the sand and Balinese kids play football. You can't actually see the sun going down but the sky lights up in shades of pink and orange.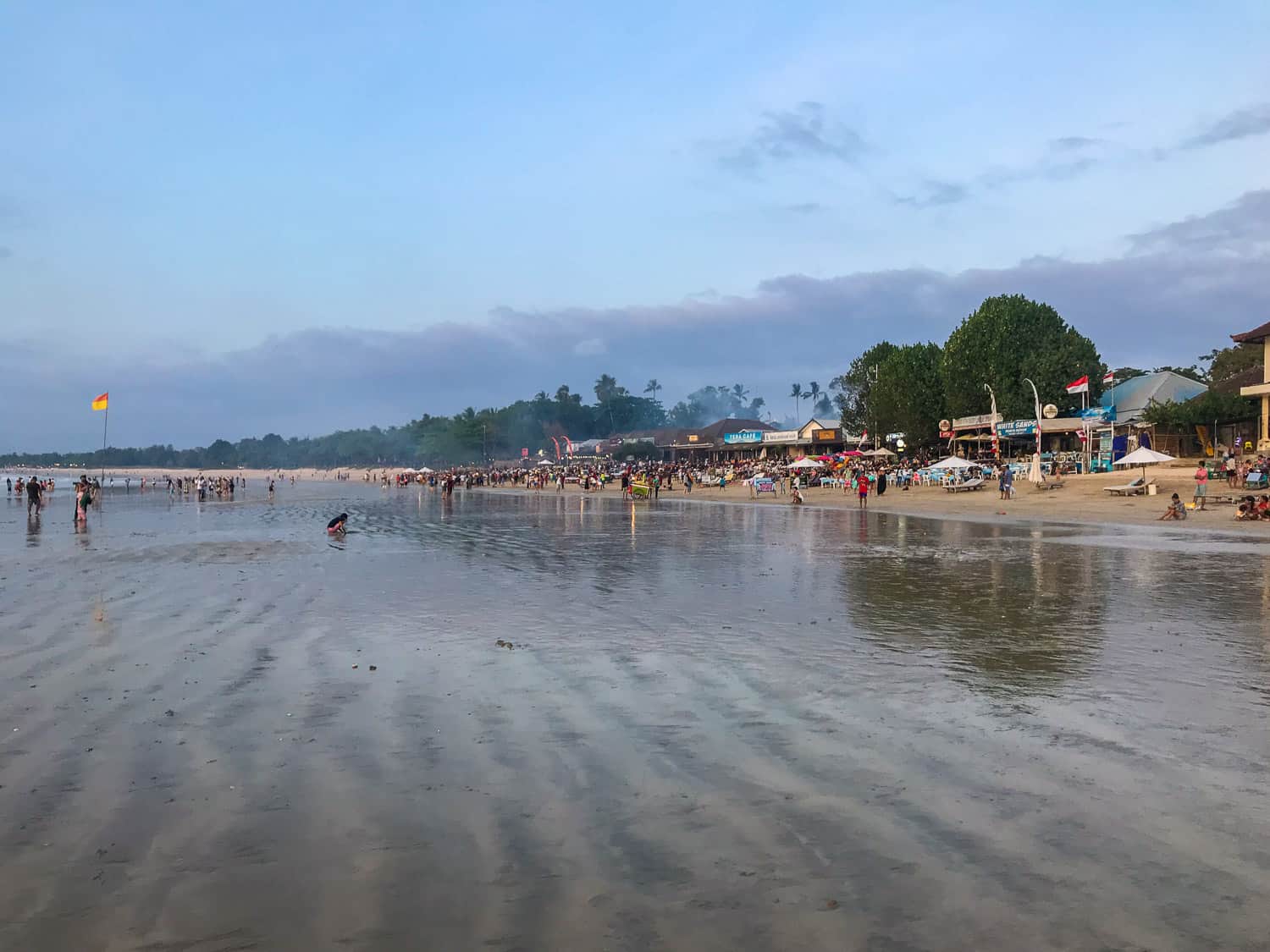 As vegetarians we headed to the new La Brasserie, the second branch of the wonderful Melting Wok in Ubud. We highly recommend visiting here for delicious and inexpensive curries (we love the tempeh but meat and fish are also available). It's a 10-minute walk from the Movenpick.
The resort is part of the Samasta Lifestyle Village so there are plenty of restaurants and a gourmet supermarket on your doorstep. We had a good and very inexpensive Balinese meal at Basé Basé and excellent pistachio and chocolate gelato at Gaya Gelato.
You can easily visit Kuta, Seminyak, and even Ubud as day trips by hiring a taxi or motorbike. Surfing, temple visits, diving, golfing, white water rafting, and trekking are just some of the activities you can do nearby.
Movenpick Bali Highs and Lows
Highs
Huge pool with multiple areas including slide and swim up bar
Floating bean bags!
Excellent diverse breakfast buffet
Free chocolate buffet in the afternoons
Complimentary activities including yoga, aqua aerobics, and pilates
Comfortable, well-designed modern rooms
Friendly staff
Beautiful spa
Excellent food with a view at Above Eleven
Three-minute walk from the beach
Very family friendly with an impressive kids club
Lows
Not a beachfront hotel
Not enough sun loungers
Could improve environmental policies
Lots of kids so the pool and breakfast can be noisy (obviously not a con for families).
Recommended For: Families
Costs
Classic rooms start from around US $150 a night. You can check prices and availability on the Movenpick Bali website.
Movenpick Bali Review Summary
Movenpick Bali is perfect for families with its impressive kids club, large pool with slide, and even free chocolate! I don't think there's a more family-friendly resort in this area. The resort is not ideal for couples looking for a quiet retreat, but we still had a relaxing stay and loved our spacious, comfortable room and the excellent breakfast buffet which will be hard to beat.
Many thanks to the Movenpick who hosted us at the Movenpick Resort & Spa Jimbaran Bali.
If you enjoyed this post, pin it!