This page contains affiliate links. Please read our disclosure for more info.
Unlike the rest of Spain, Barcelona is a very vegetarian and vegan-friendly city.
More vegetarian and vegan restaurants are opening up all the time, and even the average tapas bar has a number of tasty options.
In this post, you'll find our picks for the best vegetarian restaurants in Barcelona with a map at the end with everywhere mentioned.
Contents
Vegetarian Tapas in Barcelona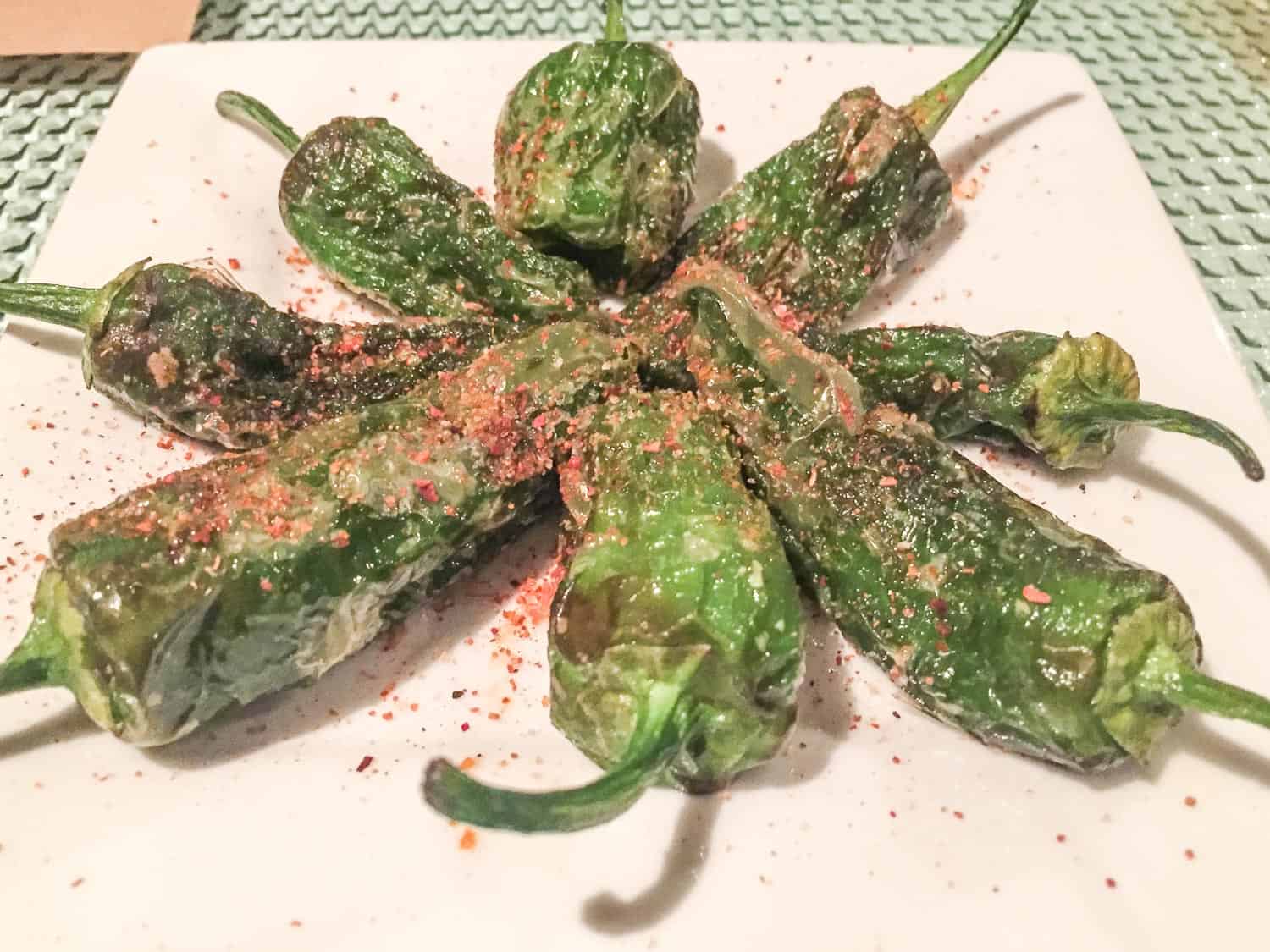 We ate almost entirely in vegetarian restaurants as there are so many options, but when we did eat in tapas bars we found there were quite a few meat-free options.
Here are some tapas to look out for (in Catalan):
Patates braves – Fried potatoes with a spicy tomato sauce.
Pebrots de Padrón – Small fried green peppers sprinkled with rock salt. Supposedly every one in ten is spicy, but we've never eaten a hot one.
Pa amb tomàquet – Toasted bread smeared with fresh tomato and drizzled with olive oil. Good for breakfast or any time of day.
Truita de patates – A thick potato and onion omelette.
Croquetes – Small fried and breadcrumbed rolls stuffed with various fillings. Meat is the most common, but you can find mushrooms, cheese, spinach and other veggie options.
Escalivada – Slow roasted peppers and aubergine.
Although we found that people in Barcelona understood the concept of vegetarianism better than elsewhere in Spain, it's always worth checking that a dish doesn't include any meat, especially jamon (ham) and anchoas (anchovies).
Best Vegan and Vegetarian Restaurants in Barcelona
There are many vegetarian and vegan restaurants in Barcelona and we couldn't try them all in a week, but these are ones that we enjoyed.
The biggest problem we had was finding places that did meat-free versions of Spanish dishes, rather than just international food, as most of them do.
1) Sesamo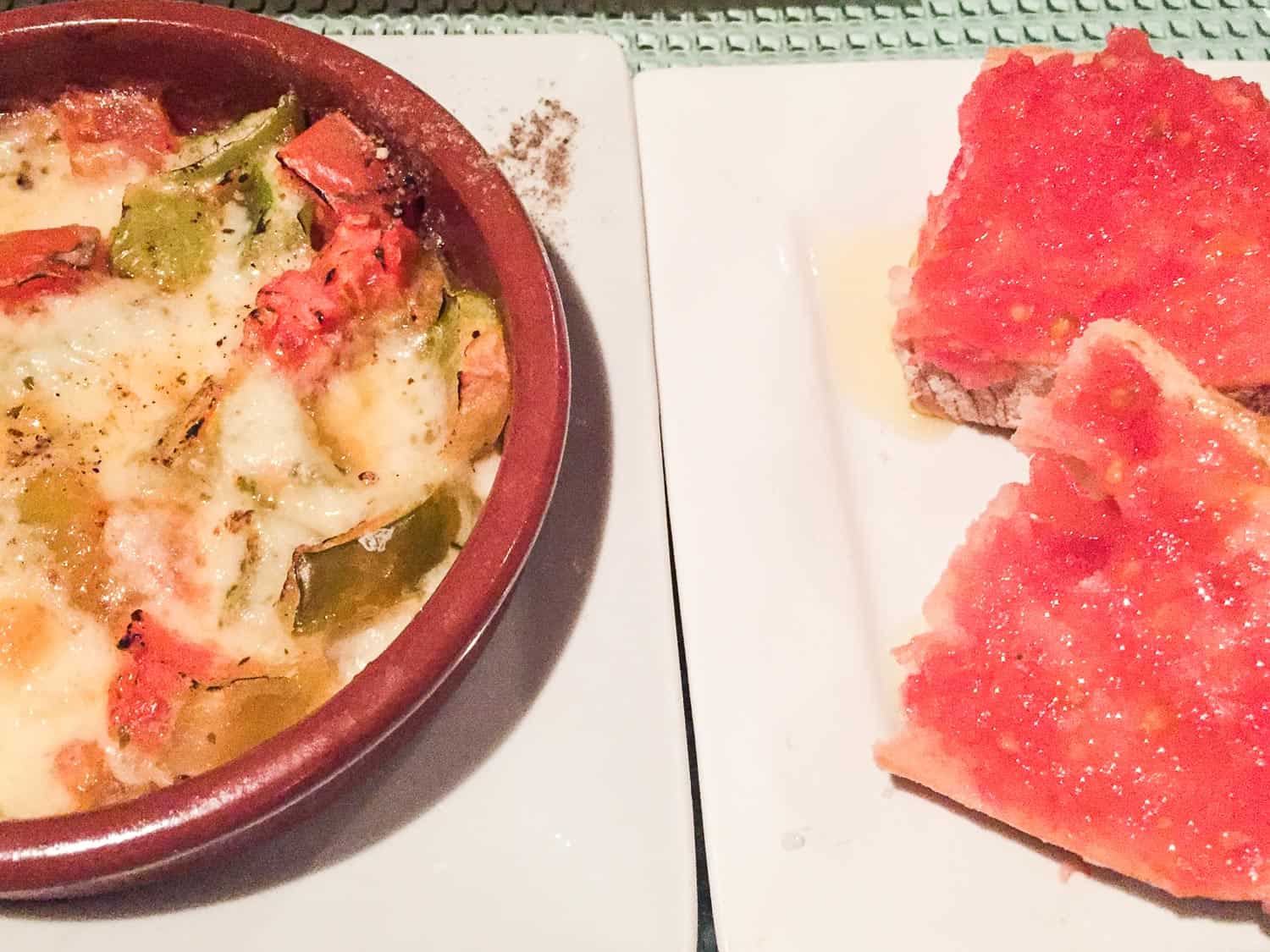 Sesamo was our favourite vegetarian restaurant in Barcelona. They serve a mix of Spanish tapas and international dishes.
We had the seven tapas tasting menu (€30 vegetarian/ €35 vegan, per person including two drinks, water, and a shared dessert), which was a great way to try a range of dishes without making any decisions.
Highlights were the mushroom croquettes, baked potatoes with a delicious artichoke dip, a gooey dish of provolone cheese with green tomatoes, and melt-in-the-mouth gnocchi with a beetroot and hazelnut sauce.
Vegan and gluten-free options are marked on the menu.
Details: Carrer de Sant Antoni Abat 52, El Raval. Open Wednesday to Monday from 7pm to late. Closed Tuesdays. Reservations are recommended.
Website: Sesamo
2) #Bubita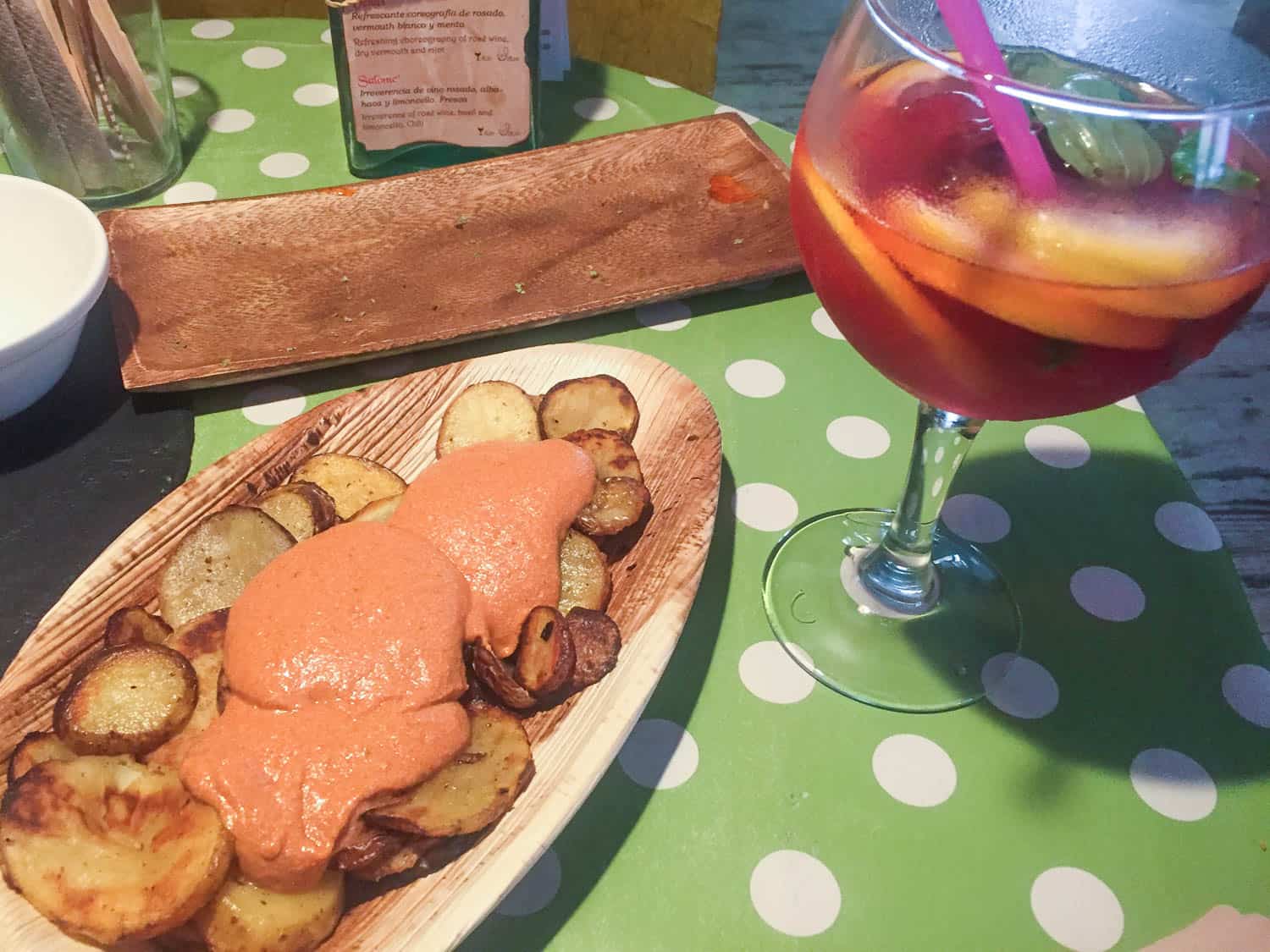 A vegan sangria bar!
The menu includes traditional Spanish tapas made vegan, burgers, and raw dishes and desserts.
The patates braves were delicious and we also enjoyed the pepper gratin and a selection of dips with bread sticks.
The tempeh skewers weren't our favourite, but we're pretty fussy about tempeh having spent five months in its home country, Indonesia.
The sangria is amazing with a large selection of interesting flavours. The Salome with rose wine, limoncello and basil was so flavourful, but the glasses are huge, so be careful if you're a lightweight like me!
Details: Calle Flassaders 15. Open daily from 10am to late.
Website: #Bubita
3) Rasoterra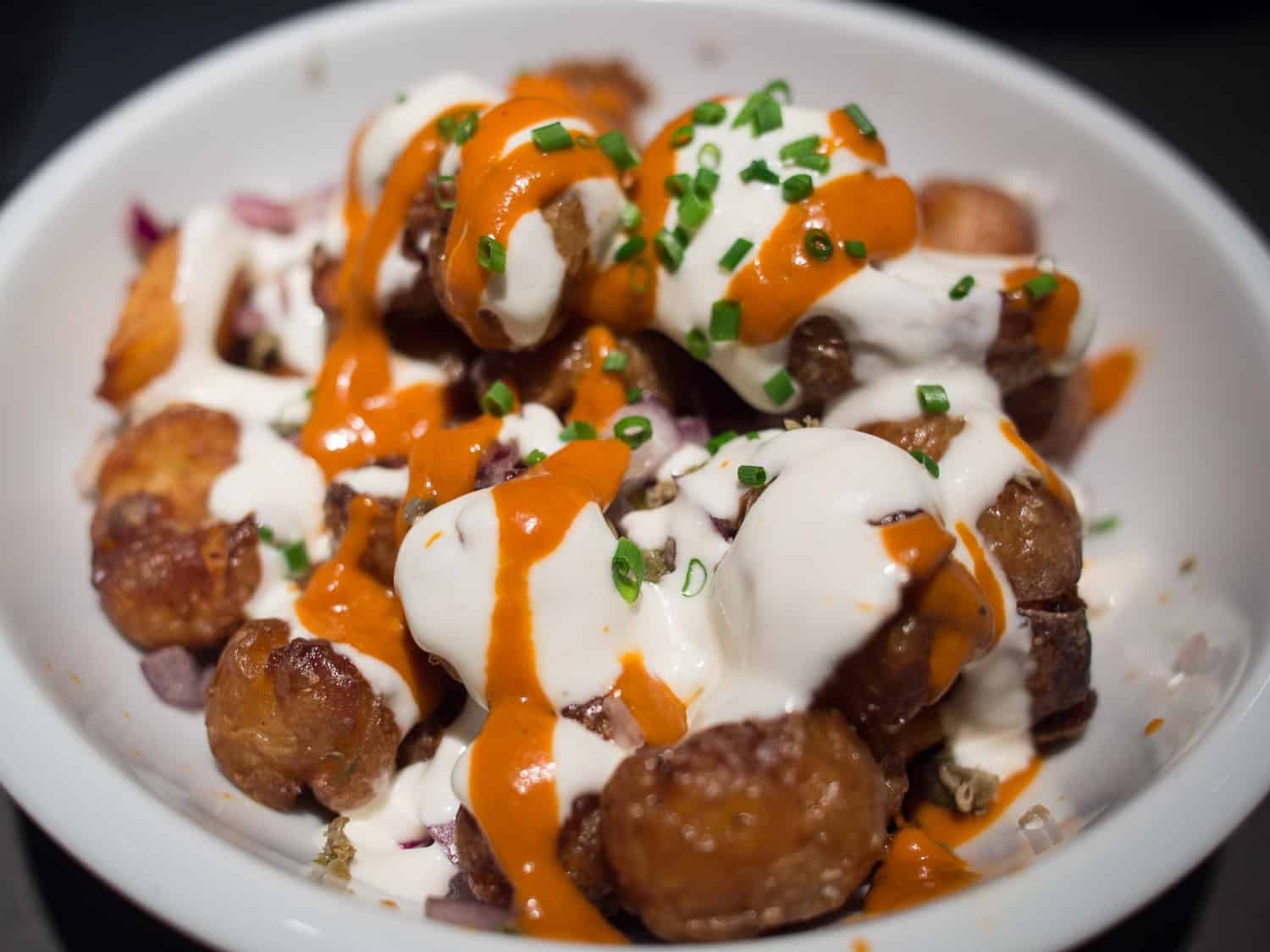 Rasoterra is a creative vegan slow food restaurant that uses organic, local and seasonal ingredients, much of it from their own nearby garden.
When we visited they had a small tapas menu featuring olives, cheese, croquettes, pa amb tomàquet, and an excellent version of patates braves with whole roasted new potatoes.
They currently have a small 4-course set menu available for €29 per person.
Details: Carrer de Palau 5, Barri Gotic. Open Wednesday to Friday 8pm – 11pm, Saturday 1pm – 4pm/ 8pm – 11pm and Sunday 1pm – 4pm. Closed Mondays and Tuesdays.
Website: Rasoterra
4) Teresa Carles
Teresa Carles is a popular vegetarian restaurant right in the centre of the city.
The food isn't Spanish, except for the excellent croquettes, but the pasta, salads, and international dishes are well done.
Vegan and gluten-free options are marked on the menu. It's a good option if you haven't adjusted to Spanish meal times as (unusually) food is served all day.
Details: Carrer de Jovellanos 2, El Raval. Open daily 12pm – Midnight.
Website: Teresa Carles
5) Quinoa Bar
Quinoa Bar is a cute and friendly vegetarian cafe with just three tables in our favourite neighbourhood, Gracia.
They serve a range of interesting, good-value salads, sandwiches, and burgers. I loved the flavourful Italian salad with raw zucchini spaghetti, pesto, sundried tomatoes and spinach.
They have a number of vegan dishes including desserts.
Quinoa Bar is another good option if you want to eat outside the typical Spanish meal times.
Details: Travessera de Gràcia 203, Gracia. Open daily 11am – 11pm.
Website: Quinoa Bar
Other Foodie Places We Enjoyed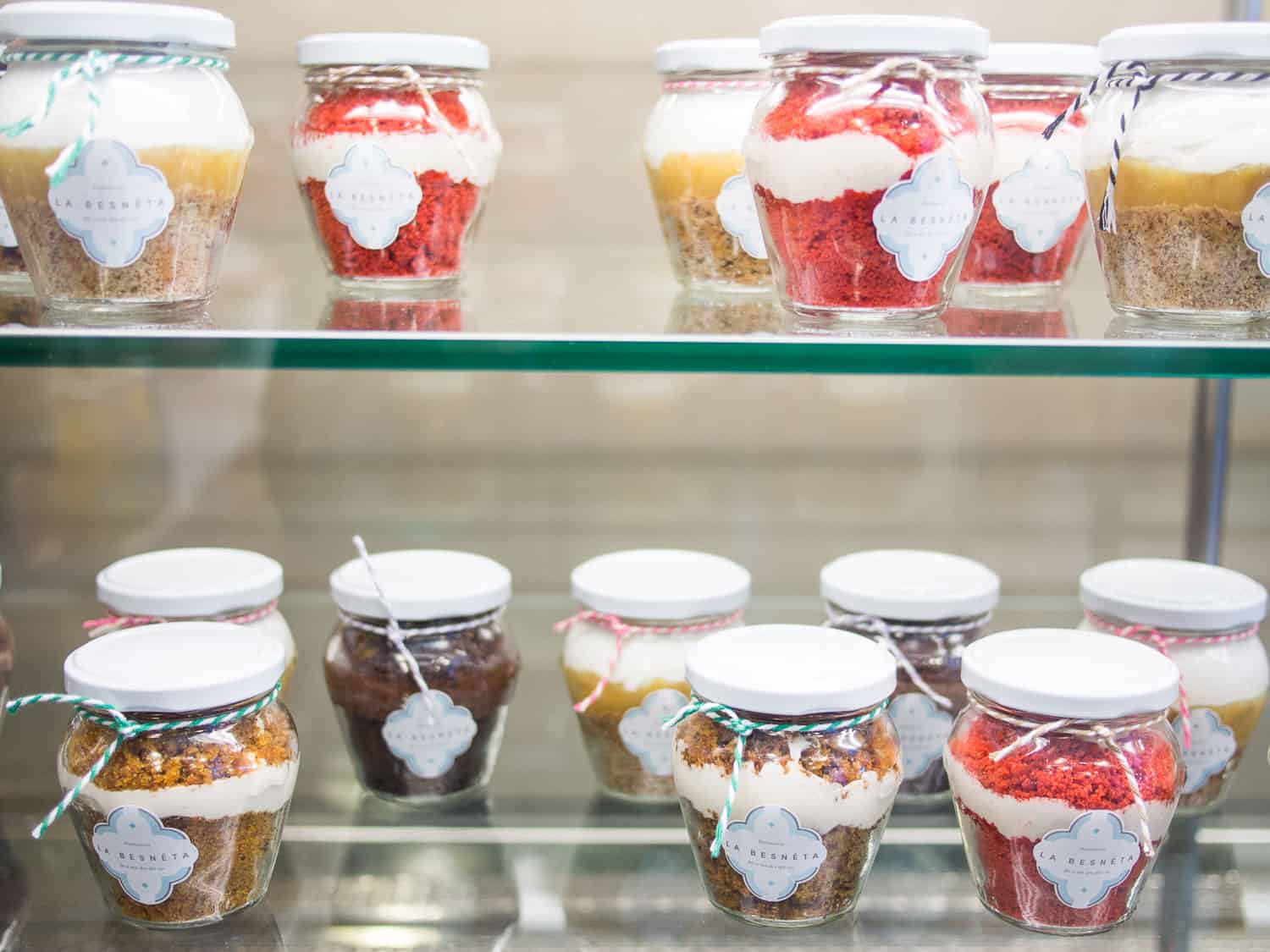 More Barcelona Vegetarian Food to Try
These are just some of the Barcelona vegetarian and vegan restaurants that we can't wait to try when we return to the city.
Vegetarian & Vegan Restaurants Barcelona Map
Summary
There are many other vegetarian and vegan restaurants in Barcelona. We like looking up recommendations on Happy Cow (or use their app to find places close by).
If you are a vegetarian or vegan travelling in Spain, it's definitely worth stopping in Barcelona as it's the easiest place to avoid meat in the country.
More Spain Tips
Barcelona
Elsewhere in Spain
If you enjoyed this post, pin it!