This page contains affiliate links. Please read our disclosure for more info.
Gaudi's fantastical modernist buildings are part of what makes Barcelona unique.
Exploring his extravagant architecture was a major focus of our trip, and to learn more about him we joined a Gaudi in Context walk.
We rarely do tours, but we find that Context Travel's walks are much better than most as groups are small (no more than six people) and are led by real experts.
In this post we'll describe the sights we saw on our tour and at the end there is a map with everything mentioned.
Contents
Many thanks to Context Travel who provided us with complimentary places on the Gaudi in Context walk.
Catalan Modernisme
The three-hour Gaudi in Context walk goes beyond Barcelona's most famous architect, Antoni Gaudi.
It also looks at the architects who inspired and were inspired by Gaudi and the background to Catalan modernisme.
In the late 19th century the industrial revolution drew many people to Barcelona and the city was forced to expand, creating the new area of L'Eixample.
Many newly rich families wanted to show their prosperity and also support the rebirth of Catalan culture, so they commissioned local architects to build extravagant homes.
Hotel Casa Fuster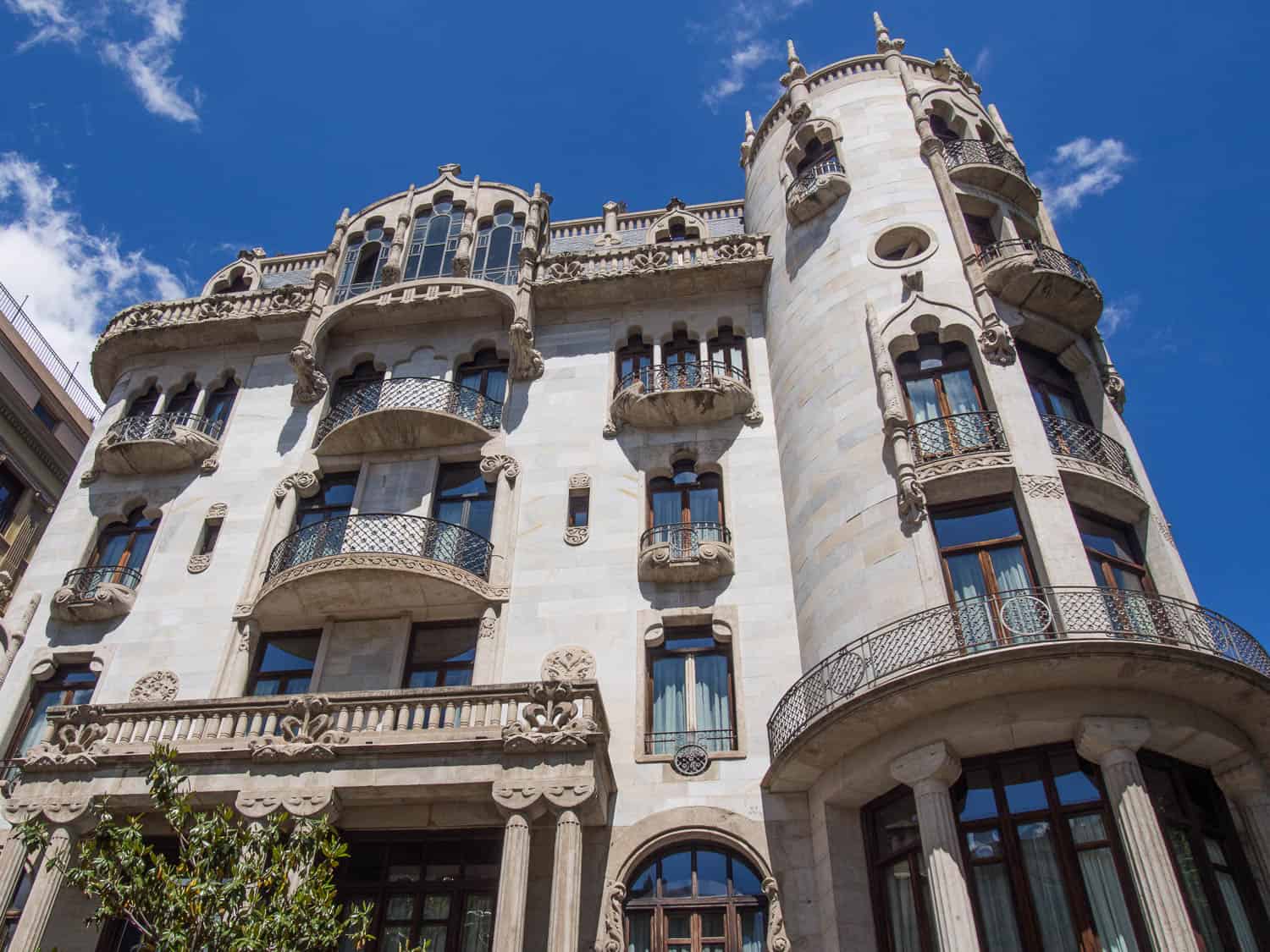 We met Aya, our knowledgeable guide and an artist herself, along with four other guests, at the Hotel Casa Fuster.
The building was originally a residential building for the Fuster family, built in 1911 by Lluís Domènech i Montaner, the father of Catalan modernisme.
It seemed a huge building for one family, but Aya explained that the owners occupied the first floor and the rest was rented out.
Casa Fuster shows how modernisme mixes past styles in a new way—Greek columns, Moorish windows, and a medieval tower.
Nature inspired modernist architects, and the building is decorated with local flowers carved into limestone such as the roses that are the symbol of Barcelona.
Casa Comalat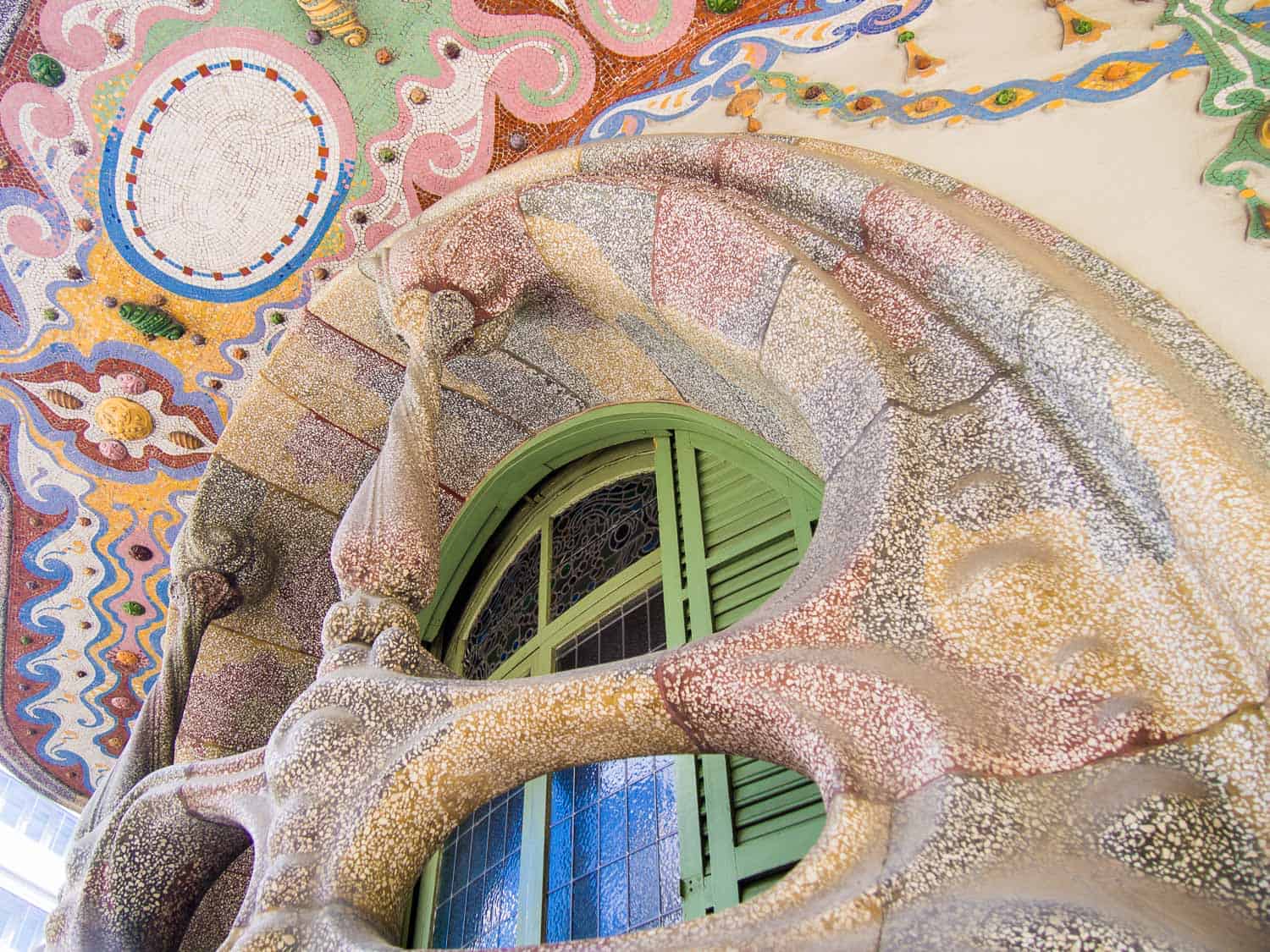 Our next stop was Casa Comalat, designed by Salvador Valeri i Pupurull in 1911.
The back facade features wavy lines and colourful mosaics—typical features of modernisme.
The front facade is so different that it feels like a separate building, with no colour, more regular lines, and a formal style.
Some claimed that Valeri copied Gaudi's style, especially the use of parabolic arches.
Whatever its inspiration, we thought it was a wonderful building, and it doesn't attract crowds like Gaudi's more famous works.
Palau del Baró de Quadras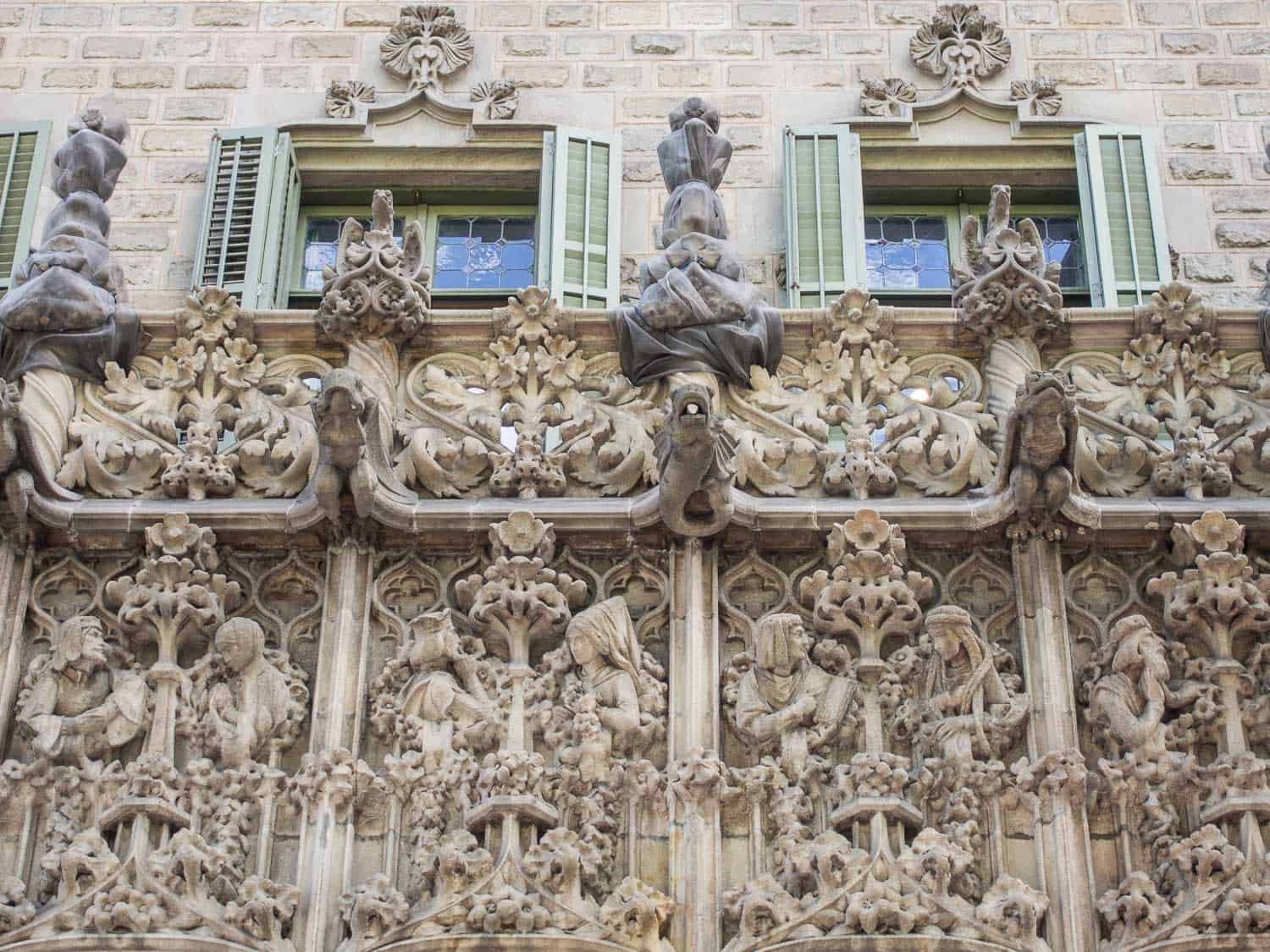 Palau del Baró de Quadras (1906) was commissioned by a baron and designed by Josep Puig i Cadafalch.
The building already existed and Puig added an extravagant facade in neo-Gothic style that resembles a castle with intricate stone carvings.
Casa Mila (La Pedrera)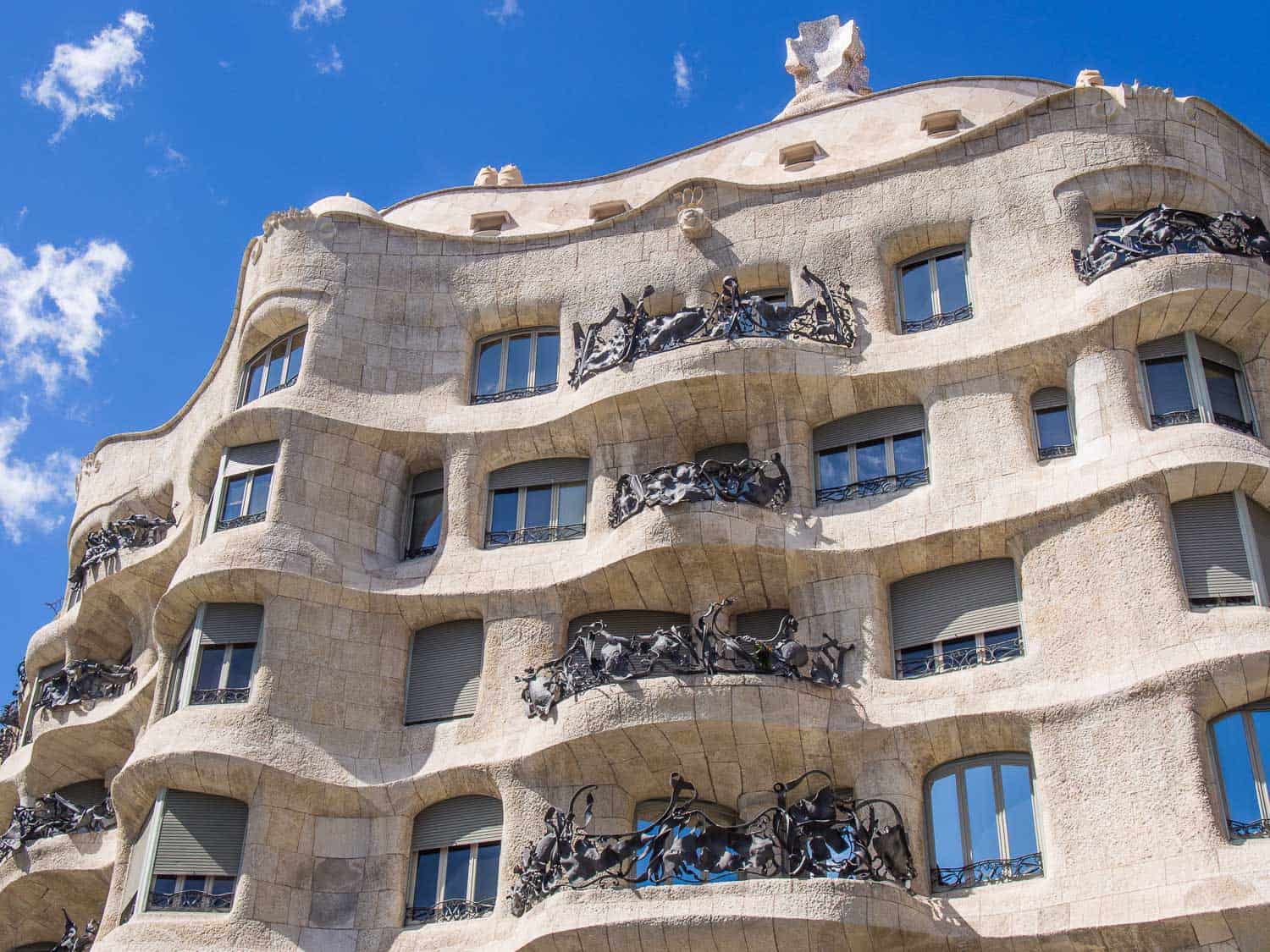 Finally, we reached Gaudi at Casa Mila, which is commonly known as La Pedrera, a nickname due to the facade's resemblance to a stone quarry.
It was Gaudi's last residential building, completed in 1912, and caused some controversy.
The wife of the family who commissioned it wasn't happy as she wanted a colourful home like Casa Batlló but ended up with something very different.
Casa Mila is striking with its undulating stone facade and twisting wrought iron balconies made from recycled scraps (each one is different).
Casa Batlló
Continuing down the Passeig de Gracia, we reached the Block of Discord, a famous collection of modernist buildings sharing the same facade.
Casa Lleò Morera was designed by Domènech i Montaner and Casa Amatller was designed by Puig i Cadafalch.
Casa Batlló was the last building on the block, finished in 1906, and architect Gaudi outdid his neighbours.
It was the most fantastical building of the day with a facade of colourful mosaics and skull-like balconies and a roof that looks like a dragon with iridescent scales.
We also visited inside Casa Batlló, which is fascinating, despite the crowds.
Everything is very organic, all curves and light. There are quirky details like a fireplace shaped like a mushroom with built-in seats. Even the chimneys combine function with beauty.
Other Gaudi Sights
Our tour didn't include the Sagrada Familia but no exploration of Gaudi's work is complete without a visit there.
It's a church like no other, and even though it's still a work in progress, it's spectacular.
Park Guell is another essential stop on a Gaudi tour. The colourful mosaic stairs and benches in the paid area of the park are unique, but also take the time to explore the rest of the large and peaceful park.
If you want to visit the Sagrada Familia or Gaudi's other attractions, I recommend booking tickets online in advance as queues are long.
All the Gaudi sites get busy, but the earliest slot of the day is probably the quietest.
Where to Stay in Barcelona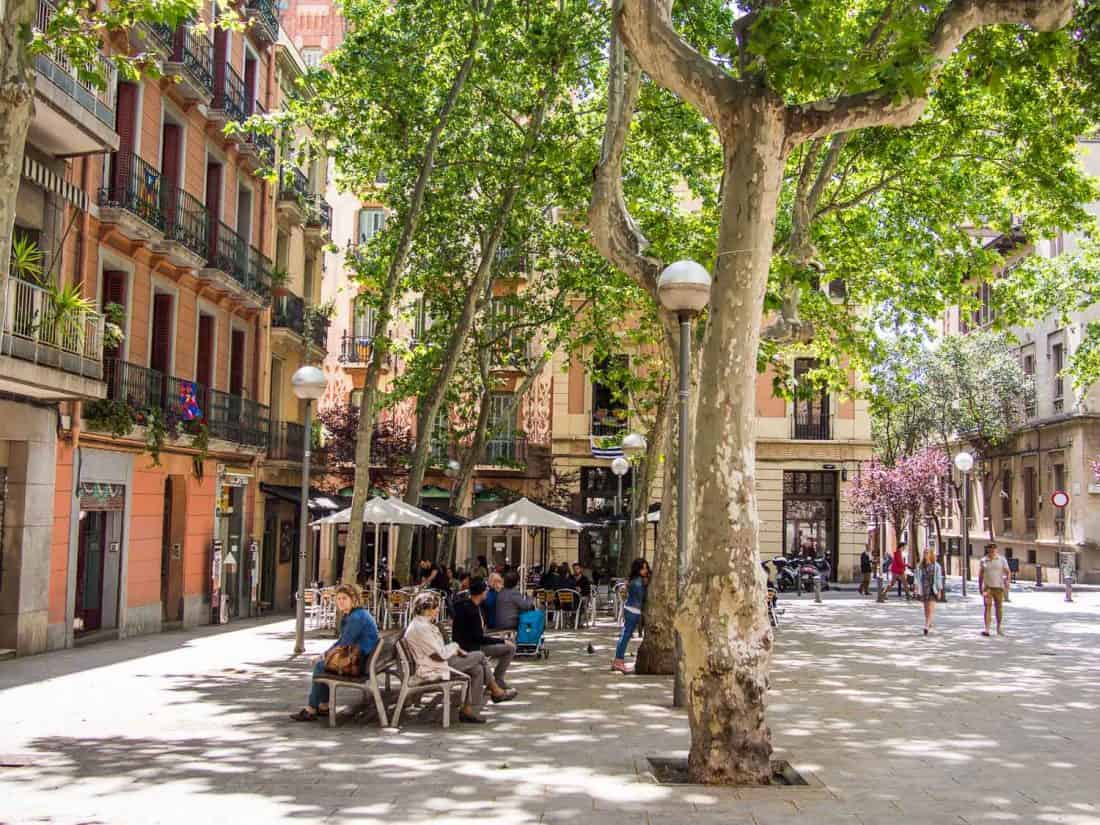 We stayed in the Gracia neighbourhood of Barcelona, which is within easy walking distance of Gaudi's most famous buildings and close to the start of the Context walk.
We loved the neighbourhood's relaxed and local feel, without the crowds of the centre, and its many independent and alternative shops, restaurants, and bars.
We stayed in Torres Rojo, a spacious, stylish two-bedroom apartment.
Other options include:
Exploring Gaudi Barcelona Map
Summary
You could explore Barcelona's modernisme architecture by yourself, but we found the Gaudi in Context walk worthwhile as it gave us a deeper understanding of the style that is so important to the city, and allowed us to go beyond just Gaudi.
Alternatively, why not try this Small Group e-Bike Gaudí Highlights Tour?
The colourful and extravagant buildings of Gaudi and his peers are a highlight of any visit to Barcelona.
More Spain Tips
Barcelona
Elsewhere in Spain
Enjoyed this post? Pin it!