This page contains affiliate links. Please read our disclosure for more info.
Many people think the best place to stay in Barcelona is on Las Ramblas, the famous boulevard in the centre of the city. Sure, you'll be close to the tourist sights here, but it's also crowded, noisy, and full of overpriced restaurants and pickpockets.
We decided we wanted to experience the city a different way and stay in a neighbourhood with more locals than tourists. When we found an apartment in the Gracia neighbourhood, it seemed the ideal place to see an alternative side of the city. It was definitely the right decision for us. We loved Gracia, and it has many advantages over staying in the heart of the city.
Quiet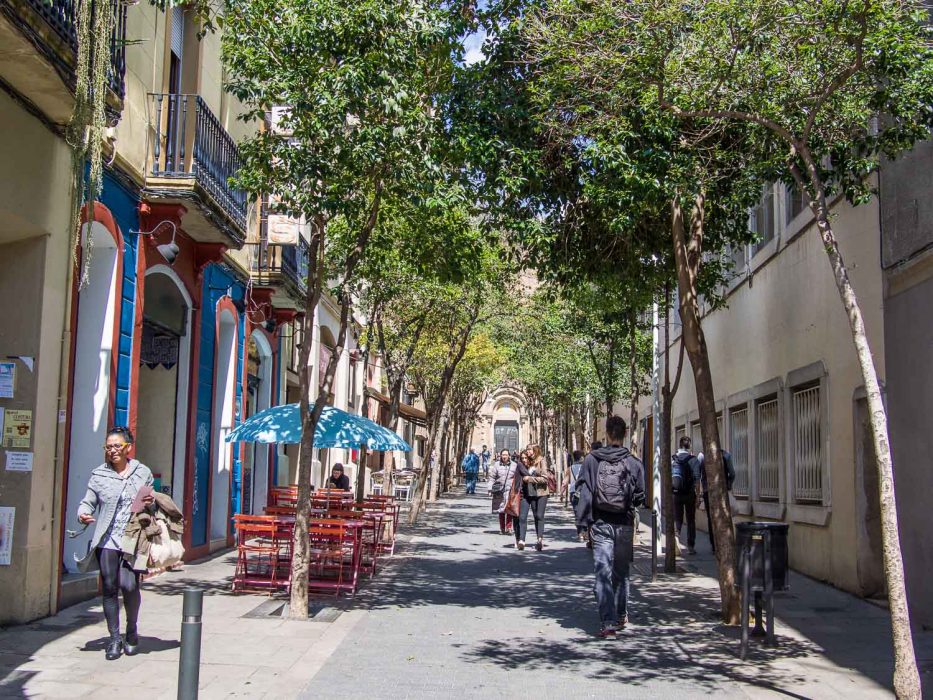 With its narrow streets and leafy squares, Gracia has a village feel, and it was, in fact, an independent town until it was swallowed by the city in the late 1800s.
Unlike the busy centre, it's uncrowded—tour buses don't make it out here, and it's a very local area. The local population is a diverse mix of cool hipsters, young families, and the elderly. Traffic is minimal, so the neighbourhood feels quiet and relaxed, perfect for wandering.
Safe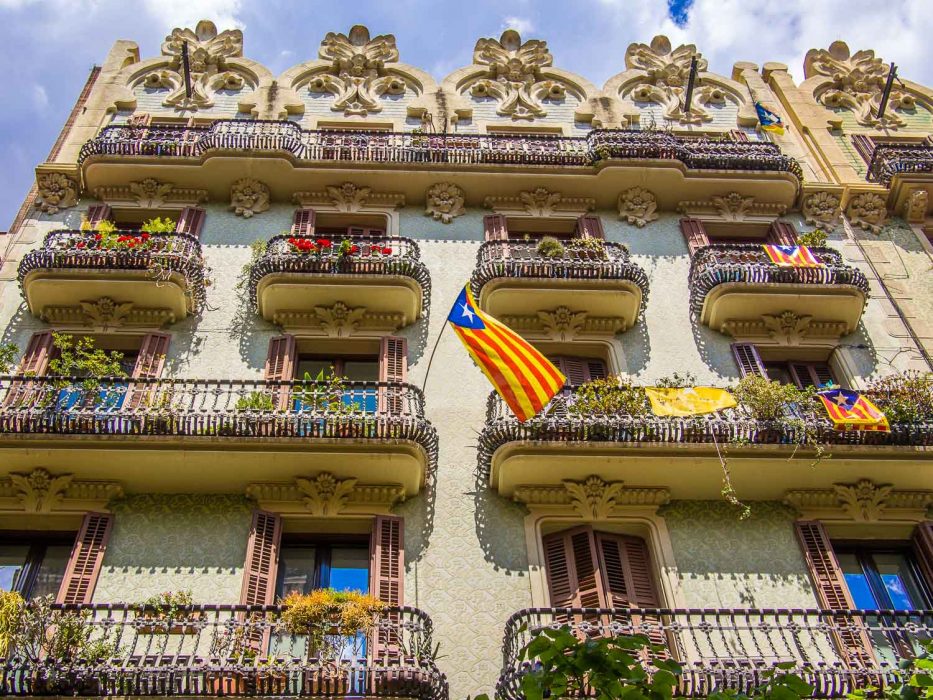 Barcelona is notorious for pickpockets, but you are most at risk on busy Las Ramblas. As Gracia is uncrowded, it doesn't attract the thieves that target tourists, so we felt much safer, and Simon didn't feel he had to walk around with his hands in his pockets.
Walkable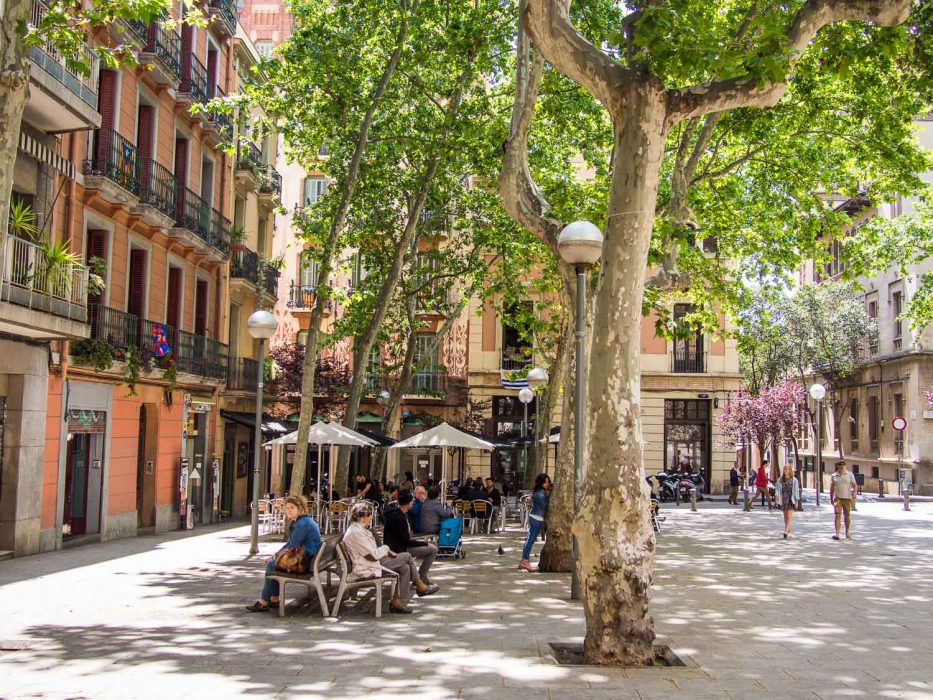 Many of Gracia's streets are pedestrian-only, and it's a very walkable neighbourhood with lots of backstreets to get lost in and pretty squares to stop for a rest on your wanders.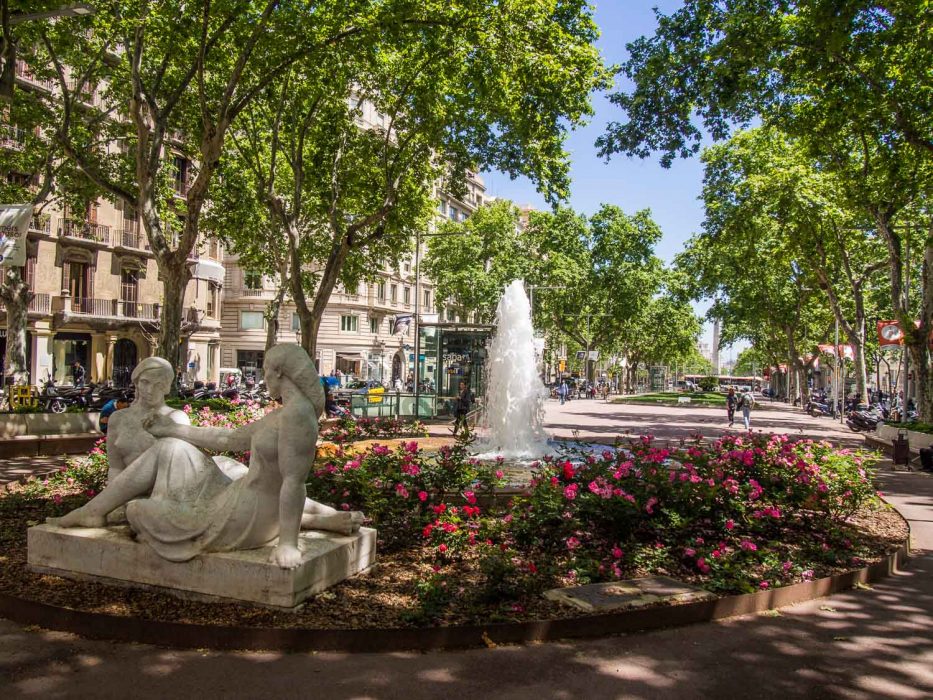 It's also very accessible for the rest of the city. You can take the metro (Fontana, Lesseps, or Diagonal stops), but we walked everywhere–the Gothic Quarter was a 30-minute walk down the grand Passeig de Gracia, and the beach at Barceloneta was 50 minutes away with lots to see along the way.
Creative
Garcia is a very alternative and artsy area. There are plenty of independent art galleries and many creative pursuits on offer. We saw classes available in psycho dance, slam dance, musical theatre, swing dance, yoga, reiki, and much more.
Delicious Food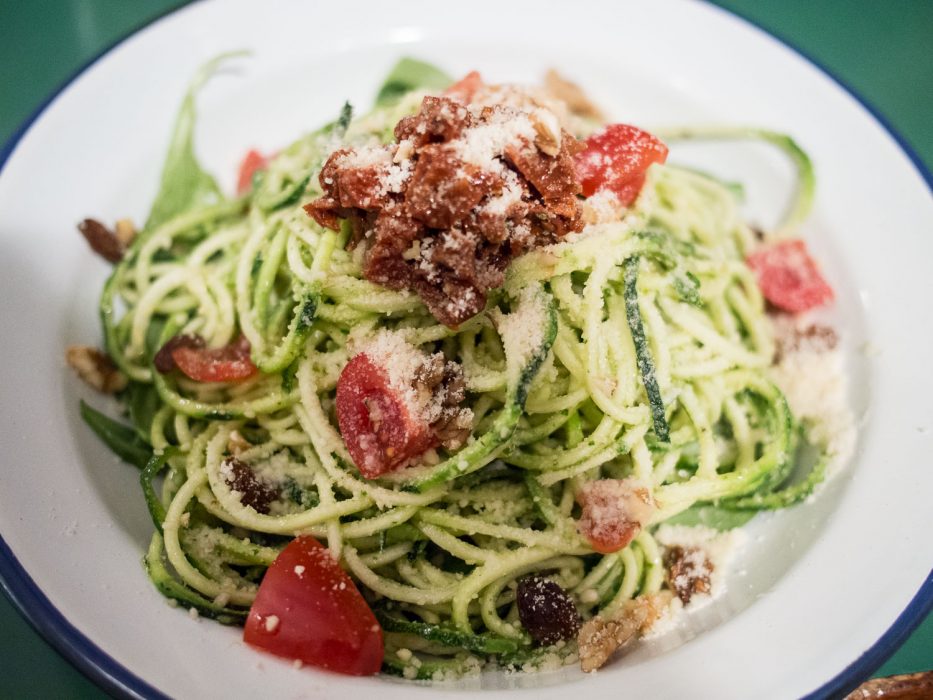 Gracia is known for its many affordable restaurants and bars. There's a huge range available from a vegan bakery to Thai restaurants to traditional tapas bars. We found the area very vegetarian-friendly.
Quinoa Bar has delicious veggie burgers and creative salads, Vegetart is perfect for cheap vegan takeaway items like potato tortilla, and Les Tres a la Cuina always has meat-free options on its inexpensive lunch menu that uses seasonal ingredients.
Even the tapas bar on our corner (Casa Pages) had plenty of veggie options, which is not always the case in Spain.
We didn't even have time during our week stay to try all the vegetarian restaurants in the neighbourhood. Next time we want to visit Bar Bodega Quimet which a reader recommended for its friendly local atmosphere with a good choice of vegetarian tapas.
Read more about the best vegetarian restaurants in Barcelona.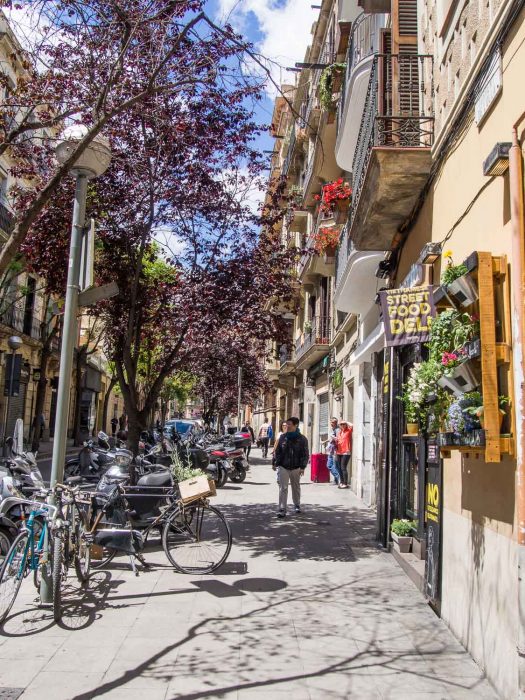 Great Shopping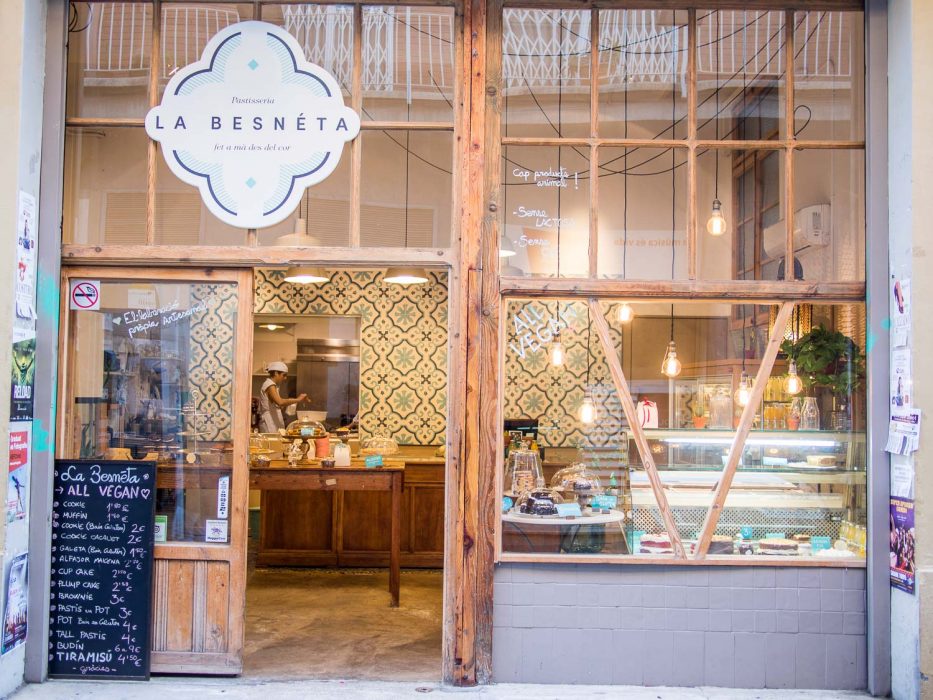 Big chains are rare in Gracia; it's all about local independent businesses including stylish boutiques, organic grocers, and cosy bookstores.
To be honest, the only shopping we're interested in is food shopping, and Gracia has some wonderful options.
The Mercat de l'Abaceria is an indoor produce market with a huge array of fruit, vegetables, olives, cheese, nuts, dried fruit, and cooked and dried beans and lentils.
Gra de Gracia is an amazing bulk-buy store where you can buy as much or little as you like of spices, nuts, seeds, rice, beans, granola, and other health food items—perfect for temporary residents like us.
It felt like there was a bakery on every corner and although all the bread was a good standard, we preferred to take a short walk to one of the best bakeries in the city, Baluard at Hotel Praktik Bakery, for excellent croissants and creative loaves.
Close to Gaudi Sites
Exploring Gaudi's fantastical modernist buildings was our focus in Barcelona (after eating, of course), and Gracia is in the ideal location for it.
We were staying in easy walking distance of Casa Mila, Casa Batllo, the Sagrada Familia, and Park Guell. Gracia even has its own little-known Gaudi site—Casa Vicens, which is the first house he designed.
Affordable Apartment Rentals
We much prefer renting apartments to staying in hotels, and Gracia has some fantastic options that are more affordable than in the centre.
We rented a two-bedroom apartment from Waytostay, but you can also check out Airbnb.
Our Gracia apartment, Torres Rojo, was spacious, bright, stylish, and modern with wooden floors and white walls decorated with artwork.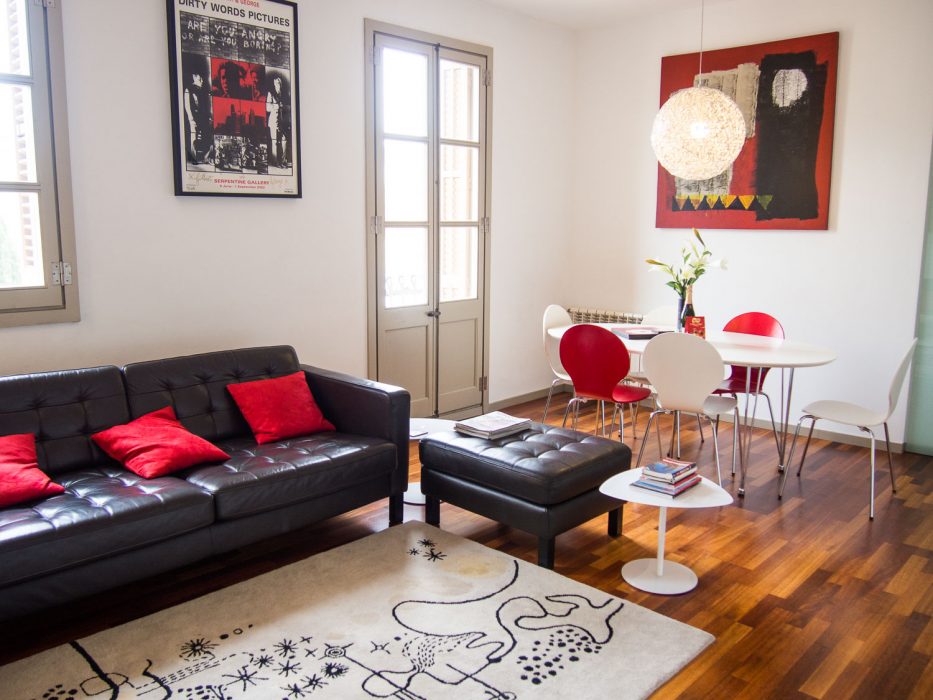 Two small balconies overlooked the rooftops of the neighbourhood.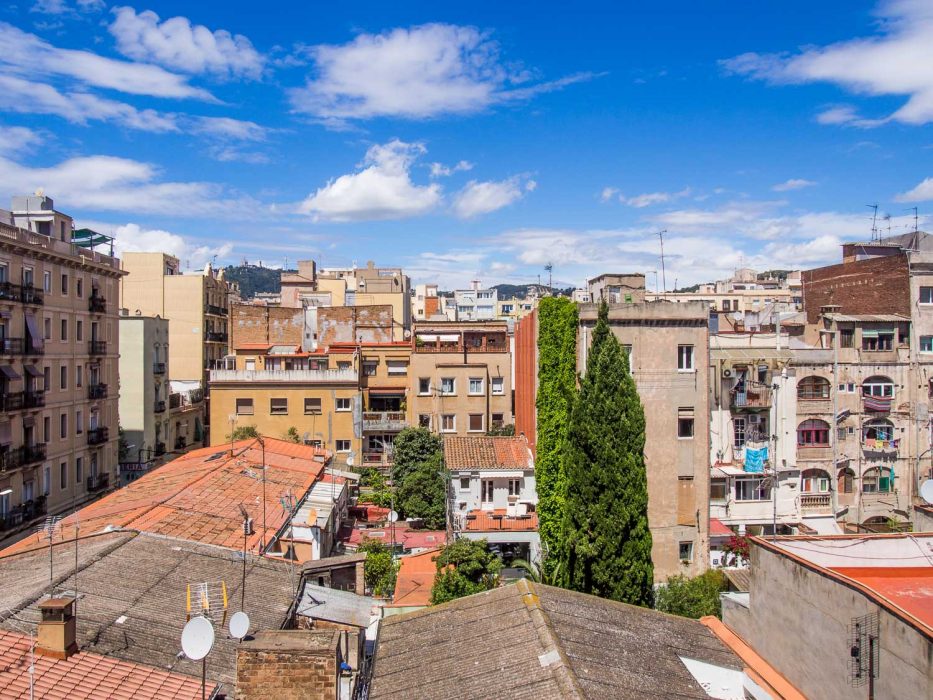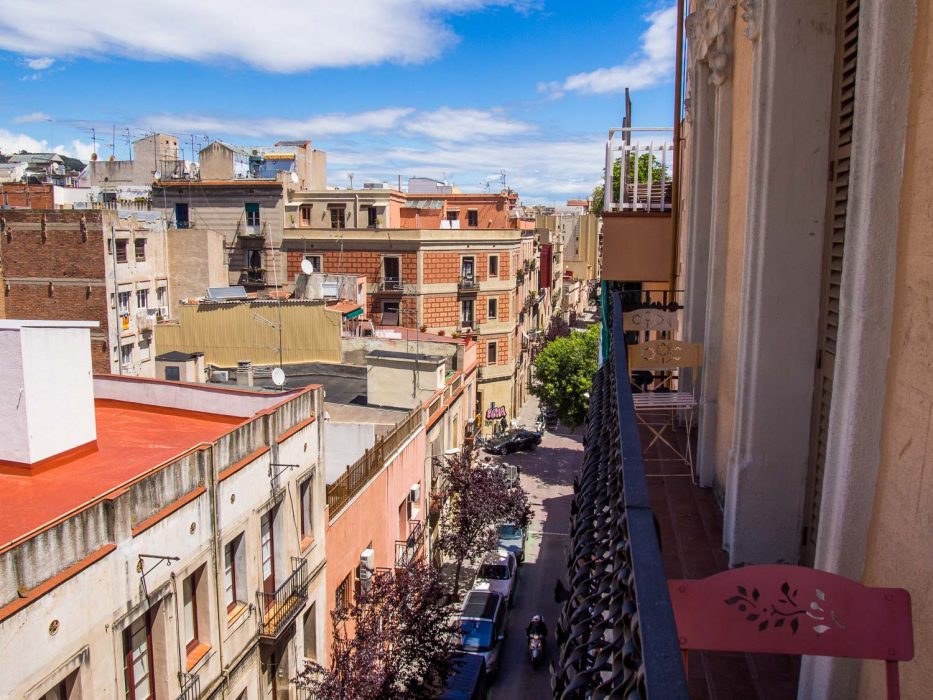 The apartment was well-equipped with everything we needed including good WiFI, heating, washing machine (and detergent) and dryer, dishwasher, iPod dock, oven, and basic kitchen supplies like washing up liquid, spices, oil, and vinegar.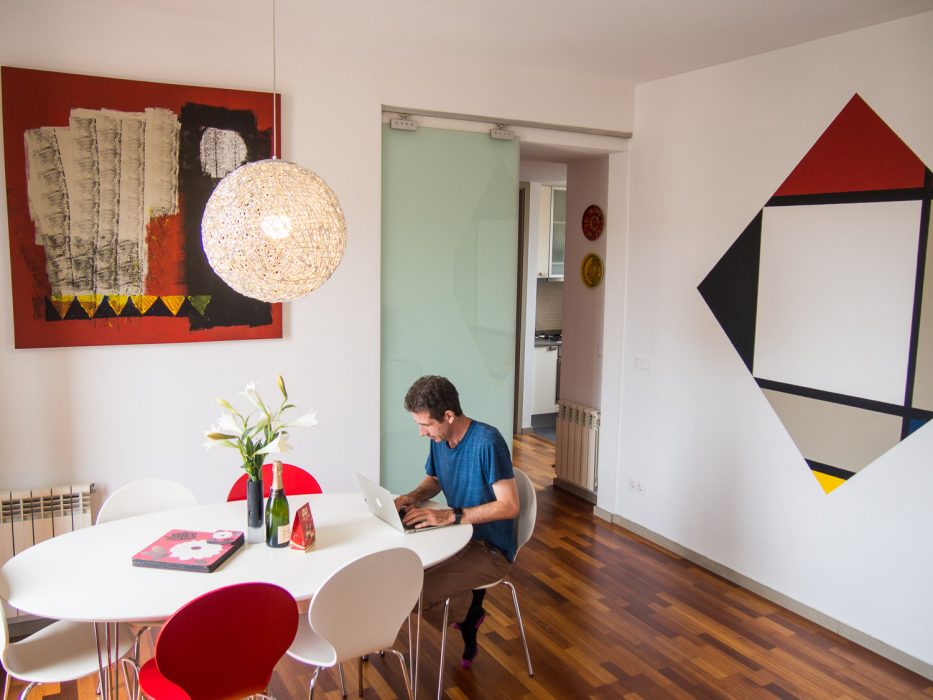 The main bedroom was lovely with a super comfy bed and lots of storage space. The second bedroom is smaller with a single bed.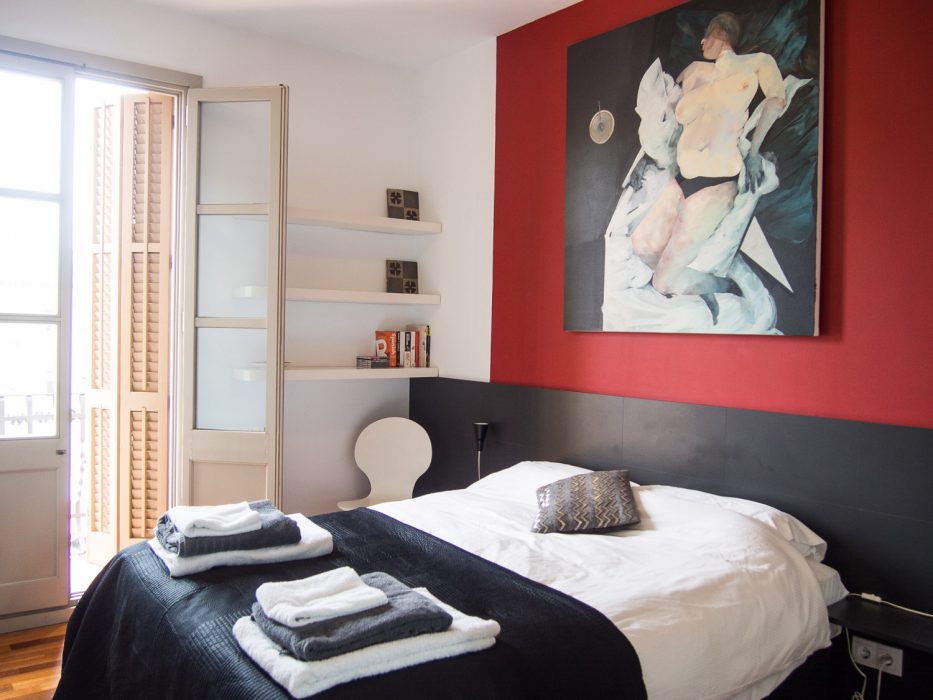 The location is perfect on a quiet street with no traffic noise but only minutes away from bakeries, bars, restaurants, and the market. There are a few metro stations close by, but we found it easy to walk all over Barcelona. There's no lift so you do need to be able to walk up four flights of stairs.
The Torres Rojo apartment costs from €128 a night.
Gracia, Barcelona Map
This map shows our favourite places in Gracia. Our apartment is in yellow, restaurants are red, food shopping is green, and sights are in blue (a few Gaudi sights are just outside the neighbourhood).
Gracia Resources
We loved experiencing local life in Gracia and the more we explored, the more we discovered to love. The quiet streets, bohemian vibe, delicious food, and creative culture made it the perfect neighbourhood for us to stay in Barcelona. We would love to come back for a longer stay, especially during the Gracia Festival in August.
If you enjoyed this post, pin it!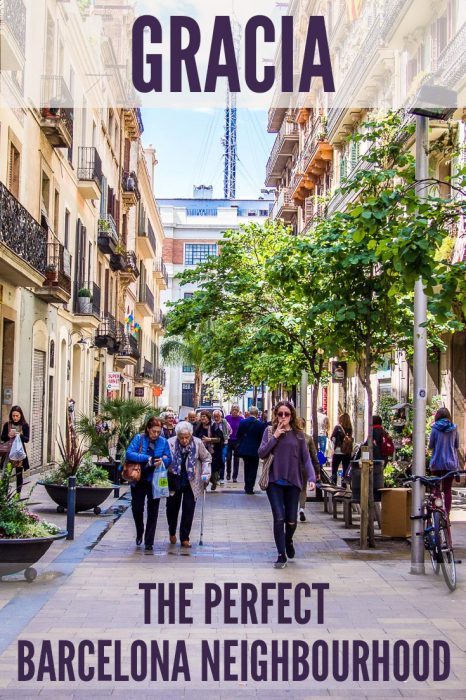 This post was originally published in 2016 and updated in 2019.