This page contains affiliate links. Please read our disclosure for more info.
We have a theory about vegetarian restaurants around the world: there are different levels and a place has to go through the early stages before they get to the good stuff. Vegetarian restaurants start off as health focused, often the realm of hippies with yoga classes advertised on the walls, but unfortunately the food can be bland and uninspiring, really just a compilation of vegetables on a plate, with too much tofu and soya for our liking (although tofu is taken to a new level in Japan).
When vegetarianism becomes more established in a place, things start to change. Vegetarian restaurants become less about eating super-healthy food and more about experimenting with new flavours. Vegetables, beans, pulses and dairy products are used creatively without the need to fall back on meat substitutes. These are the kinds of restaurants that make even meat eaters drool, that challenge all preconceptions about meat-less cuisine, where the fact that they are vegetarian is secondary to the fact that it is just damned good food. These are the kinds of restaurants that make us very happy and that we travel the world in search of.
We have found these dashes of vegetarian genius in San Francisco, in Kyoto, Japan, in Chiang Mai, Thailand, and amongst the vegetarian wasteland that is South America in Buenos Aires and Lima. And on a recent weekend in London we discovered that the capital of our native land is in fact leading the veggie revolution. We ate at two astounding restaurants that took vegetarian food to a whole new level.
The Gate
We visited The Gate last year at the branch in Hammersmith which has since closed for refurbishment, so we tried out their new, more conveniently located branch in Islington. The Mediterranean and Middle Eastern influenced menu was just as creative as we remembered and the setting was bright and stylish.
It was our 13th anniversary so we celebrated with bellinis with fresh raspberries.
Choosing from all the deliciousness on the menu was a difficult task—we wanted it all but settled for sharing the carciofini as a starter.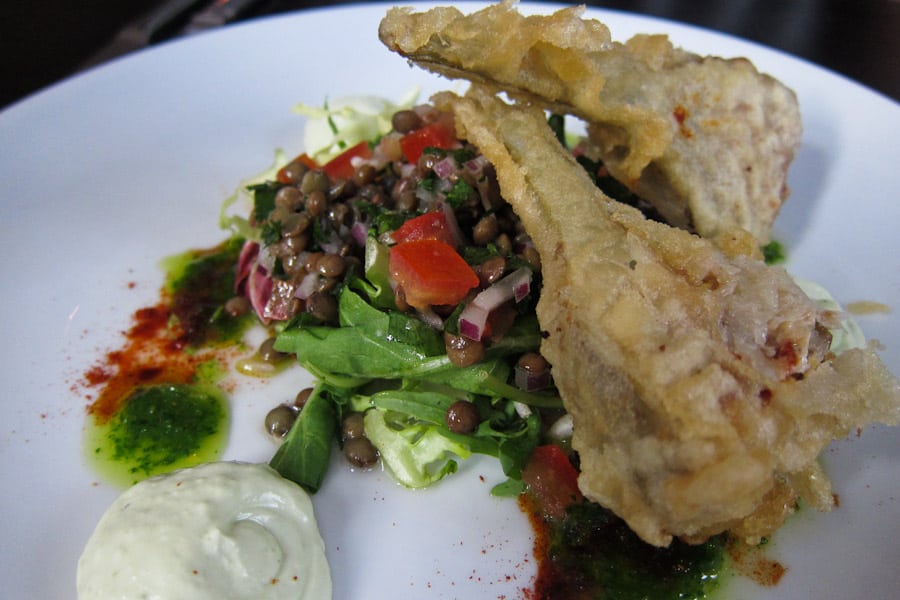 Battered baby artichokes were stuffed with goat's cheese, leeks, sundried tomatoes, basil and pine nuts, and served with a puy lentil salsa and wild garlic aioli. Every bite filled our mouths with new sensations, the flavours working harmoniously together, the tangy salsa balancing the creamy artichokes. Although popular in Italy we don't see artichokes on the menu often enough in the UK so it made an interesting change.
The mains were just as inspiring. The corn cake could have been dull but it was masterfully and artistically put together.
Corn and polenta were seasoned with chilli, coriander and thyme, and served with a colourful stack of roasted baby artichokes, aubergine, tomatoes and sweet potato. The piquant chipotle chilli, red pepper and black bean salsa added to the flavour explosion.
My favourite main though was the heavenly asparagus rotolo.
The asparagus was char-grilled with courgettes and red peppers and rolled in a layer of potato with herb ricotta and goat's cheese. It's not like any dish I've eaten before and was comforting and full of flavour. The sauce vierge with capers, tomato and lemon added a pleasing tang.
Dessert wasn't quite as spectacular but we enjoyed our apple, rhubarb and ginger crumble.
The Gate has become one of our favourite restaurants. We love the unique menu that always surprises us with dishes we've never sampled before.
How much? Our meal with two bellinis, bread basket, one starter, two mains and one dessert cost £56. It's not cheap but good value for the quality.
When? Open 12–2.30pm for lunch and 6–10.30pm for dinner, with mezze served all day.
Where? The Gate is located at 370 St John Street, Islington. The nearest tube station is Angel.
Vanilla Black
We like food to challenge us and Michelin-recommended Vanilla Black definitely took us out of our culinary comfort zone. It's unlike any vegetarian restaurant, any restaurant, that we've been to before. The imaginative menu features bizarre combinations and surprises with dishes like rhubarb and brie ice cream crumble—as a starter.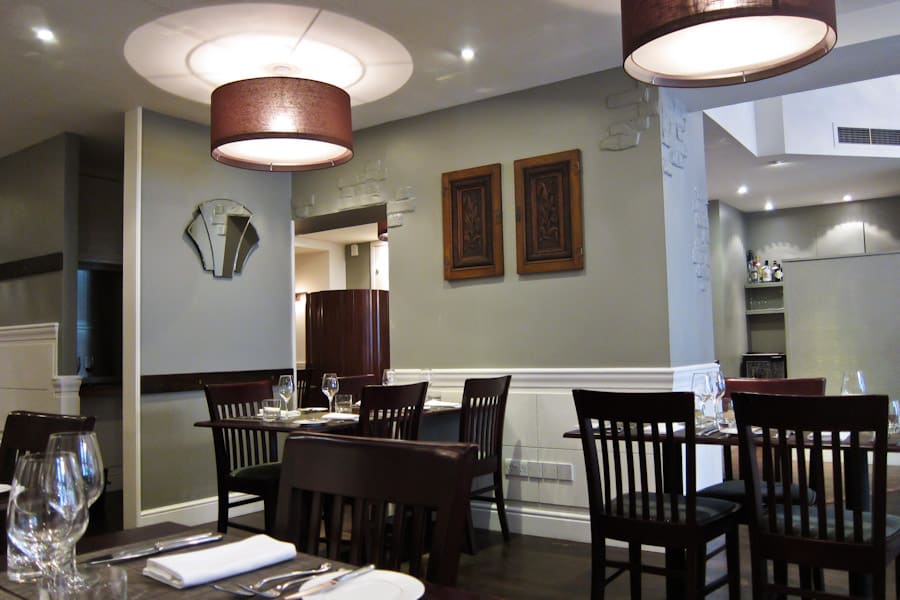 The dining room is classy, with a formality reflecting the clientele from the nearby business area.
Ordering from the menu is a rather confusing, but fun process as you are never sure what you'll end up with. One of our starters was whipped jacket potato but we've never seen a jacket potato look like this.
It was sublime—a comforting, creamy, soup-like dish with hidden blobs of melted Wensleydale cheese, a tangy tomato syrup and delicate crispy shallots.
The Maldon sea salted Yorkshire feta with cumberland sauce blurred the boundaries between starter and dessert with a cheesecake like mix of creamy cheese, sweet fruity sauce and biscuity base.
We loved the challenge to our taste buds and the surprise each bite brought. As with all the dishes at Vanilla Black the presentation was beautiful; each plate a work of art.
We have ambivalent feelings about mushrooms but Simon declared his main of mushroom mousse the tastiest mushroom dish he'd ever eaten.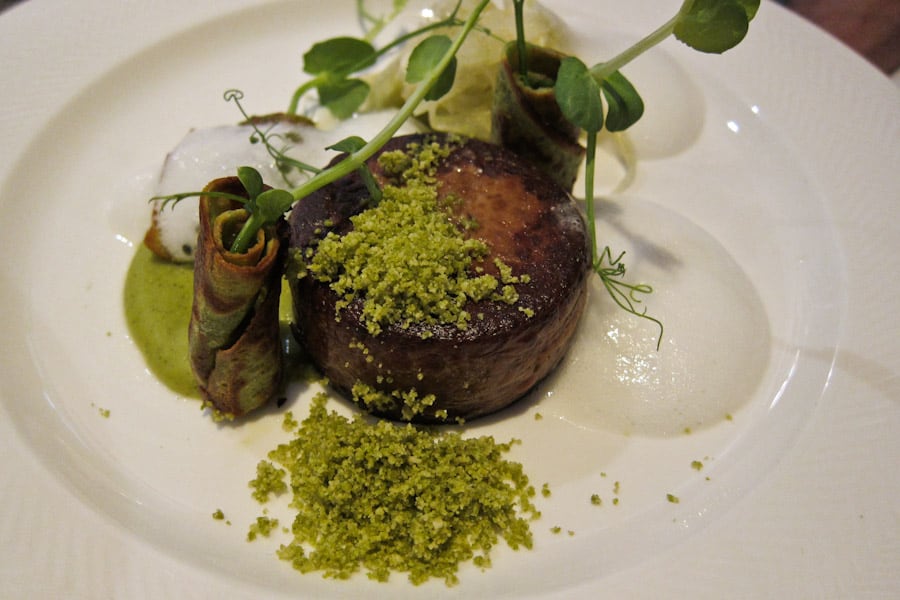 For me it was just too earthy but Simon raved about the well balanced palette of flavours, with the mushrooms' earthiness balanced by the light, freshness of the mousse and the accompanying pancakes. We couldn't quite identify everything on the plate and it was the first time that we've come across haute cuisine foam in a vegetarian restaurant.
My goats cheese and toasted cauliflower mille feuille was much better in my opinion with creamy cheese between crispy layers, served with tangy cauliflower.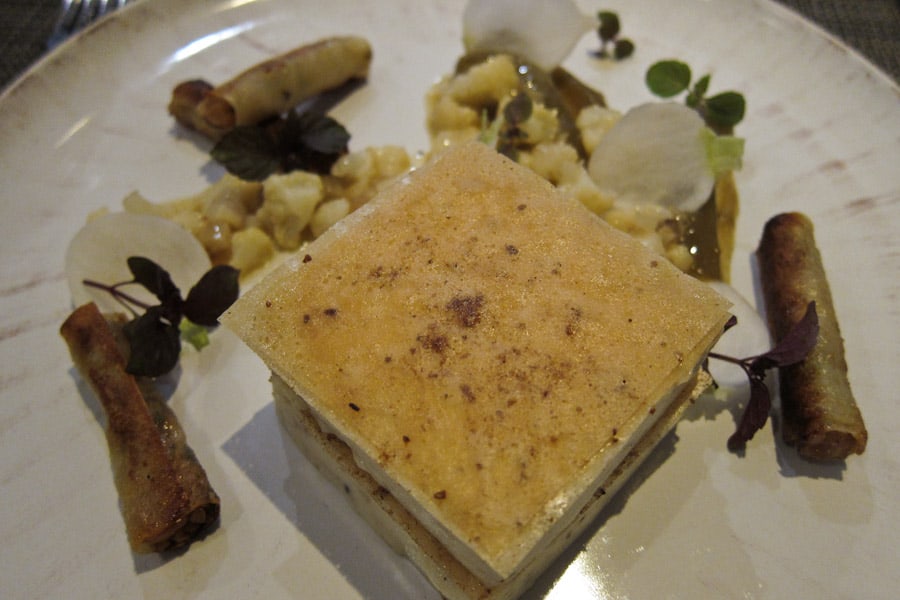 We hadn't planned to have dessert but every course was so intriguing that we didn't want the meal to end. Our peanut butter cheesecake was deconstructed and artfully recompiled accompanied by cracked cocoa beans and banana and thyme bread. It was an interesting mix of flavours – sweet, salty and bitter that worked when combined together.
The food at Vanilla Black was rich and luxurious and it was the most inventive menu we've ever experienced featuring dishes we could never have dreamed up. It pushes the boundaries of cuisine and would satisfy meat eaters as well as vegetarians, as long as you have an adventurous palate.
How much? The set menu for two/three courses is £18.50/23.50 for the lunch menu and £26/35 a la carte.
When? Open Monday to Friday 12–2.30pm and 6–10pm and on Saturdays 6–10pm.
Where? Vanilla Black is located at 17–18 Tooks Court, Holborn. The nearest tube station is Chancery Lane.
The Gate and Vanilla Black are how vegetarian restaurants should be—wonderful, creative food served with the freshest ingredients, that even meat eaters will enjoy.