This page contains affiliate links. Please read our disclosure for more info.
We knew this was a different kind of hotel when upon check-in Simon was offered the option to sing for our key while the reception staff danced, or dance while they sang. He opted to sing some Elliott Smith while the staff tangoed, and so began our stay at The Hoxton Hotel.
Unconventional check-in routines and fun-loving staff aren't the only things that make The Hoxton stand out from the many dreary chain hotels in London. The funky design oozes hipster style, there's a quirky attention to detail throughout, and they don't rip you off with hidden costs.
Plenty of extras are thrown in for free – WiFi (no codes needed), breakfast delivered to your door, water and milk in the fridge, newspapers, printing and faxing, and one hour of phone calls to landlines in most of Europe, USA and Australia. Instead of an overpriced minibar you can purchase snacks and drinks at supermarket prices in the lobby shop.
Rooms
The Hoxton aims to provide luxury on a budget and each of the 205 rooms are designed to maximise comfort, space and style. The rooms aren't huge but are certainly bigger than we expected in London and there's space for a queen-size bed, desk, wardrobe and chaise longue.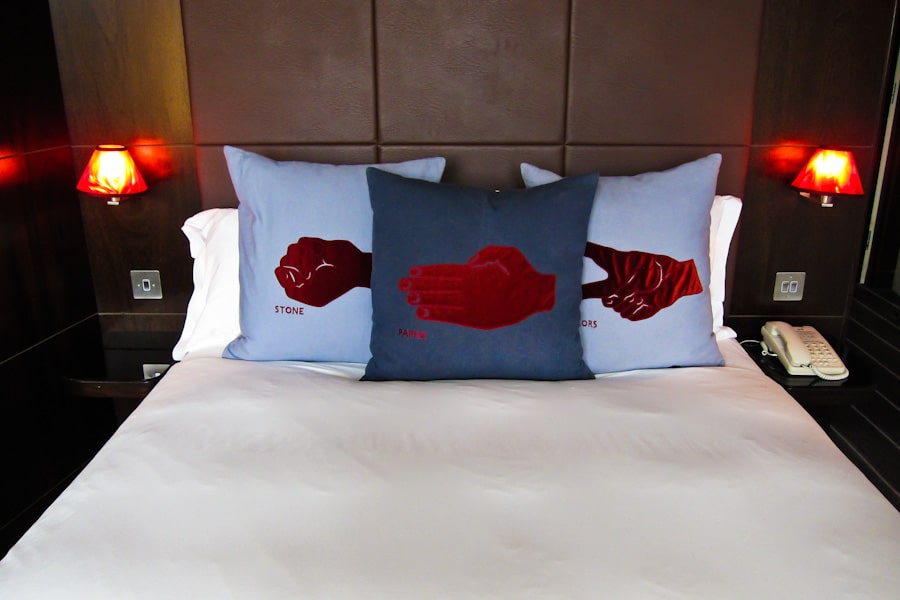 The contemporary design is elegant and understated with a neutral colour scheme enlivened with dashes of red, funky cushions, mood lighting, and a wall etching of London's skyline. The large window lets in lots of natural light.
The bed is the most important part of a hotel room and The Hoxton delivers a decadently comfortable one with 300 thread count linen, snuggly duck-down duvets and Hypnos mattresses (if they are good enough for the Queen…). We certainly found it hard to get up in the mornings so we loved the fact that the free breakfast is delivered to your door, allowing for lazy breakfasts in bed.
You order breakfast for a time that suits you by hanging a paper bag on a special hook outside your door. It's a light breakfast of fresh orange juice, a banana, and a granola and fruit yogurt but we found it filling enough and the quality was much better than the processed white toast we're stuck with in many hotels. Coffee and tea making facilities and milk are provided. If you want a bigger breakfast there's room service or you can pop downstairs to the Hoxton Grill (hot breakfasts are £5-10).
WiFi is fast and the desk would be a comfortable place to work (typical as we were having a weekend off to celebrate our 13th anniversary). The flat screen TV plays movies and TV shows on demand (£7.50 for 24 hours).
The bathrooms are also stylish and ultra clean. There's plenty of space, big fluffy towels (oh how I love a good-sized towel), quality CO Bigelow toiletries, and a large walk-in shower with a choice of a luxurious rain shower head or a detachable one.
The bar and restaurant area downstairs are buzzing, especially on weekends, but we weren't disturbed by the noise at all and our room was blissfully quiet.
Facilities
The lobby is one of the The Hoxton's highlights – it's huge with high ceilings, lots of comfy couches and armchairs, exposed brickwork, and a couple of roaring fires. The open plan layout leads through to the lively bar and restaurant The Grill which was always busy and had a very hipster vibe on Saturday night.
There's also a plant-filled, lantern-lit courtyard for when summer arrives in London (it did so for about an hour during our July weekend).
If we weren't already in love with The Hoxton then the iMac workstation sealed the deal. There are 27 inch iMacs with internet free (of course) for guests. Seriously, could this hotel get any cooler?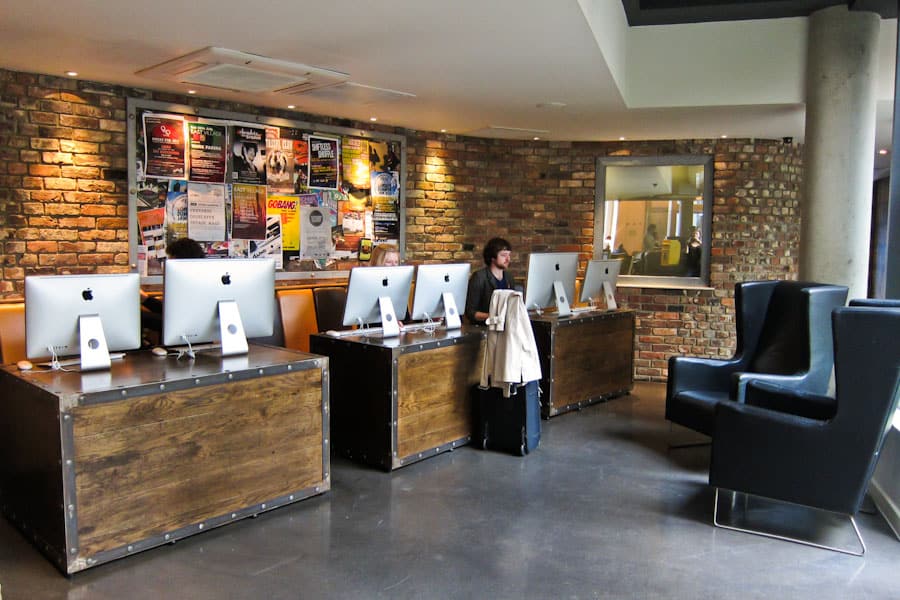 Area
The hotel takes its name from the Hoxton area in East London. Many visitors to the city won't have heard of Hoxton – it's certainly not a tourist area – but it is one of the trendiest neighbourhoods in London. In this hipster mecca you'll find cutting edge art galleries, graffiti decorated walls, and funky independent shops and cafes (or both – many of the clothes stores doubled as coffee shops). It's not all effortlessly cool though – on the walk from the tube down Old Street there are more kebab shops than hipster bars. The contrast gives you an insight into both sides of London.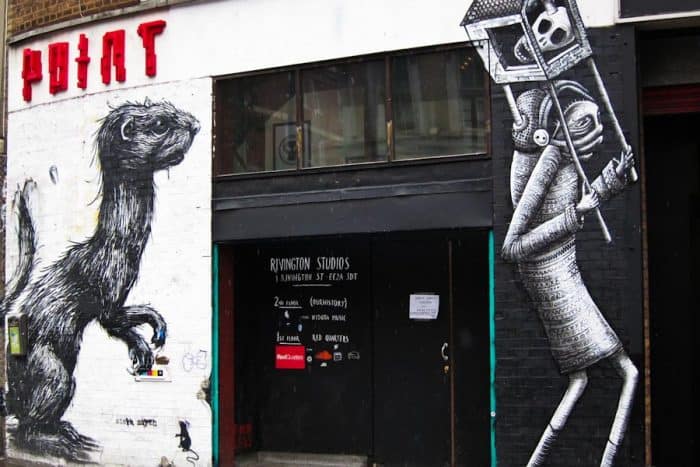 If you are not sure where to start the hotel handily provides a Hoxton Guide with a map and personalised reviews of their favourite restaurants, shops, bars, clubs and cultural venues. Just following some of their recommendations would make a fun alternative weekend in London.
We weren't in London for the tourist sites so loved the location a short walk from Old Street tube just three stops from Euston. It's not far from central London so you can easily get the underground everywhere, and we also walked to Islington for dinner at veggie restaurant The Gate. Liverpool St Station and Brick Lane (for Indian food) are also close by.
Summary
A fun and funky, great value place to stay in London that makes a refreshing change from bland corporate chains.
Highs
Good value if you book in advance
Lots of free extras
Friendly, fun staff
Stylish, hip design
Spacious lobby and buzzing bar/restaurant
Breakfast delivered to your door
Cool neighbourhood
Lows
You need to book in advance to get the best rates
You have to pay for the TV (but it is reasonably priced for on-demand)
Recommended for: Couples and individuals looking for a comfortable, stylish hotel that doesn't cost a fortune.
Location
The Hoxton is located at 81 Great Eastern St in Hoxton, just a five minute walk from Old Street tube station on the Northern line.
Cost
The Hoxton applies a budget airline approach to pricing – the earlier you book the less you pay. Every three months they have a sale where you can get rooms for £1 a night, but unsurprisingly these sell out fast so sign up to their fan club mailing list to be the first to know about upcoming sales.
Otherwise prices for a double room start from £59 if you book six months in advance up to £199 booking a few days before.
For more information see hoxtonhotels.com.
Thanks to The Hoxton who gave us a discount on our room.