This page contains affiliate links. Please read our disclosure for more info.
The Dales Way is an 80-mile long distance walking path in northern England.
It starts in Ilkley, just south of the Yorkshire Dales National Park, and finishes in Bowness-on-Windermere, a tourist town in the Lake District National Park. Somehow we found ourselves hiking it in six days in early September.
We're not serious hikers and doing a multi-day walk was not something we had a desire to subject ourselves to, so it was a rather surprising decision.
The inspiration for the Dales Way walk came from Simon's step mum who walked it with a friend in June. She raved about the scenery along the way and explained that it doesn't have to be done in hardship—you can stay in B&Bs and arrange for baggage transfer between them.
It's also one of the easiest long distance paths in the UK, well-signposted and without many hills to climb.
The idea stuck in our heads, and even though we rarely walked more than two hours, we decided it would be good to try something new and get out of our comfort zone.
It turned out to be one of the best travel experiences we've ever had.
In this guide, I share what to expect on the walk, all the practical details you need to know, and a detailed Dales Way itinerary including where to stay and eat and the highlights of each day.
Contents
What to Expect on the Dales Way Walk
England is one of the best places for walking in the world because of the right of way laws that make it possible for a huge network of trails to crisscross the country including across private land.
Much of the Dales Way takes you through farmland and the scenery is just gorgeous.
The Yorkshire Dales is the quintessential English countryside—rolling hills, drystone walls, fields of lush grass with grazing sheep and cows, and postcard villages of stone houses.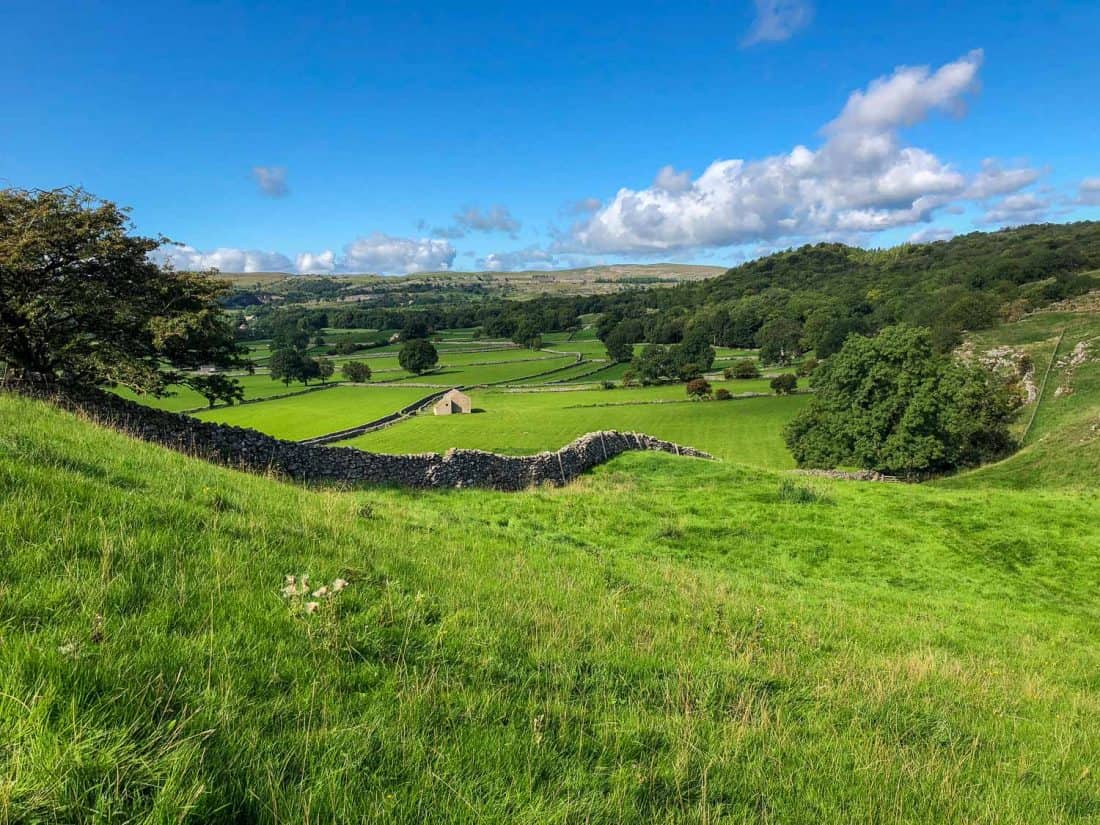 The first few days of the walk follow the river and when the sun is shining it feels idyllic.
The middle section is more remote through wild and misty moors, and it ends surrounded by the dramatic peaks of the Lake District (but you don't have to climb them).
As the trail passes through fields of animals you'll be opening and closing gates of all kinds and climbing many stiles over the stone walls.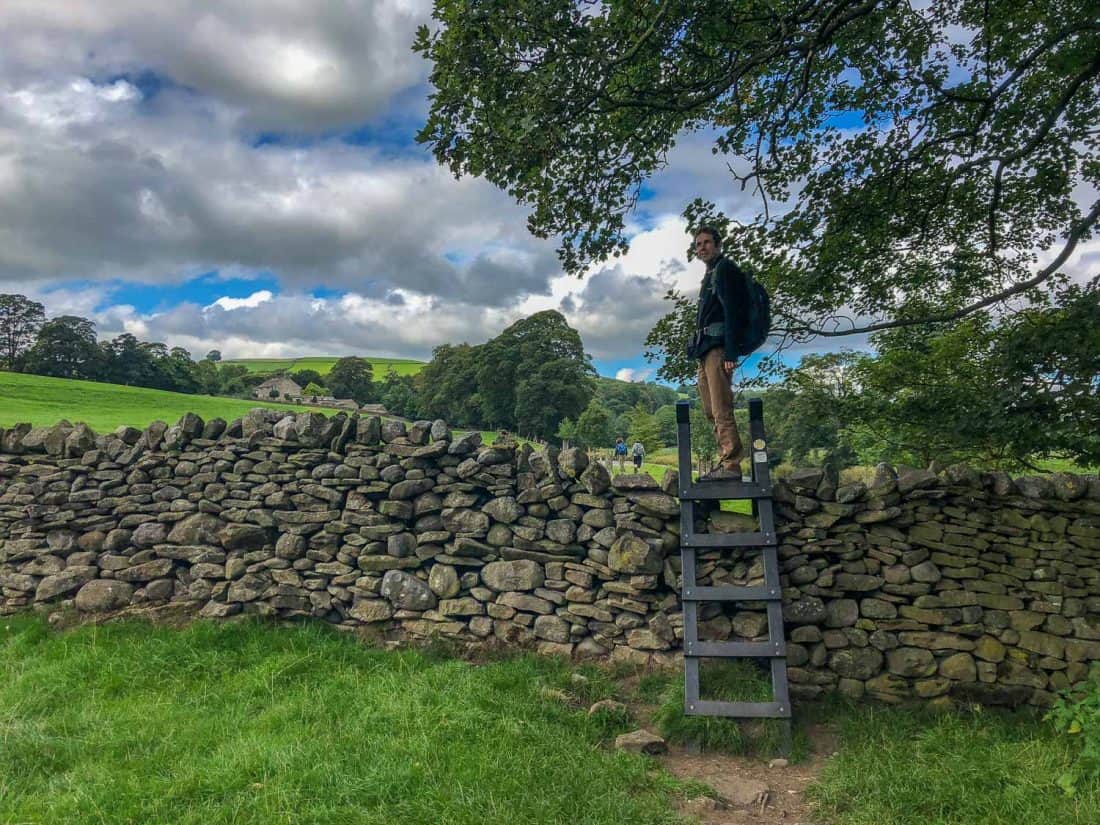 The most common Dales Way route takes six days with between 10–16 miles and 4–7 hours of walking each day.
You don't need to follow an exact itinerary though—some people do it in a fast-paced four days, while others take a leisurely eight days and have more time to explore along the way.
You can walk the Dales Way in either direction, but most people go from Ilkley to Bowness.
On four out of our six days we passed through villages where we could stop for lunch (and maybe a pint). The other two days were more remote and we took a packed lunch.
We didn't find the trail crowded, except for Bolton Abbey on Day 1 and at the end in the busy Lake District.
Most of the time we walked alone and never came across more than a couple of other Dales Way hikers. Sometimes we'd walk for hours without seeing another person (but always lots of sheep).
Most of the people we saw walking the Dales Way were over 50, so it's a hike that's accessible for all ages.
Why We Loved the Dales Way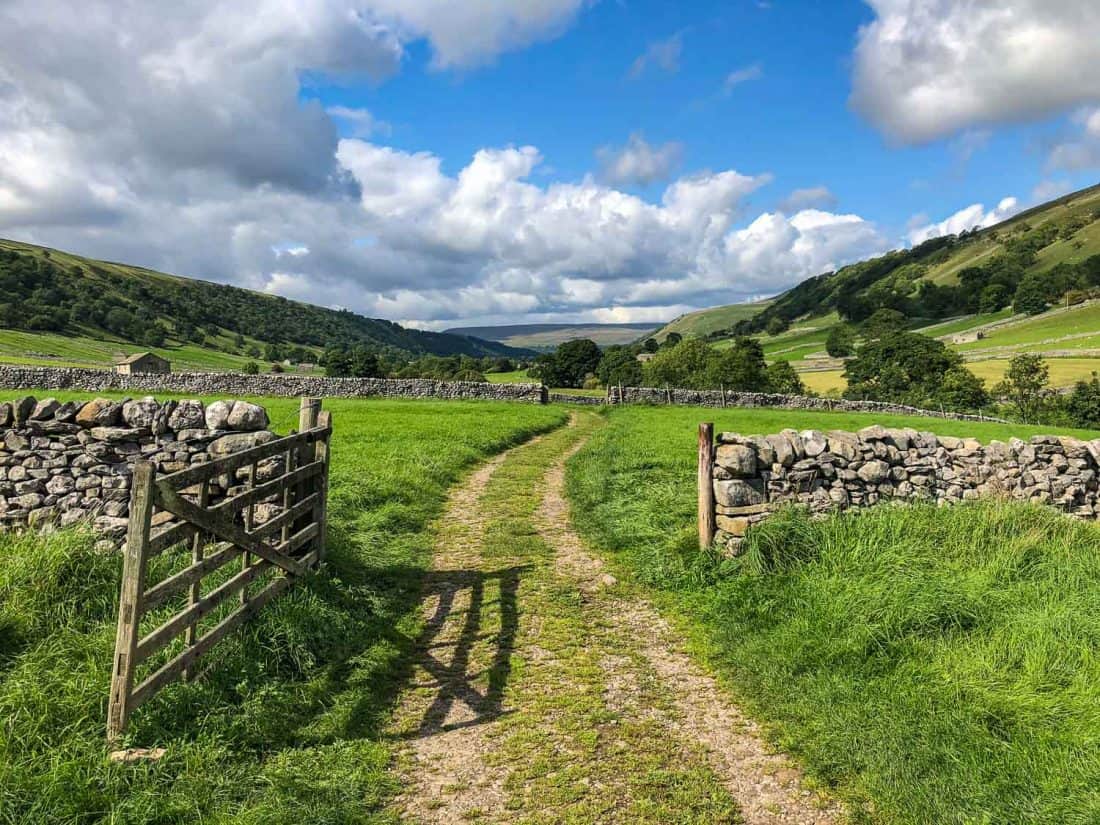 When we reached the end of the Dales Way we wanted to turn around and walk it all again (despite my painful black toenails). We were sad it was over as it had been a blissful escape from the real world.
It was so relaxing to have nothing to do each day but walk—no appointments, no to-do list, no transport to deal with. Most of the time we had no phone signal (most B&Bs have slow WiFi), so it was a digital detox from our devices, too.
The scenery was so beautiful it made us happy to be out in it, even when raining. In the Yorkshire Dales we felt like we'd stepped back in time—the villages are unspoilt and we drank in 15th century pubs.
We felt like we'd walked into a scene from Downton Abbey when we came across country gentlemen in tweed with their trousers tucked in their long socks out shooting grouse. (We're not hunting fans, but it does make you feel like you're in a different time).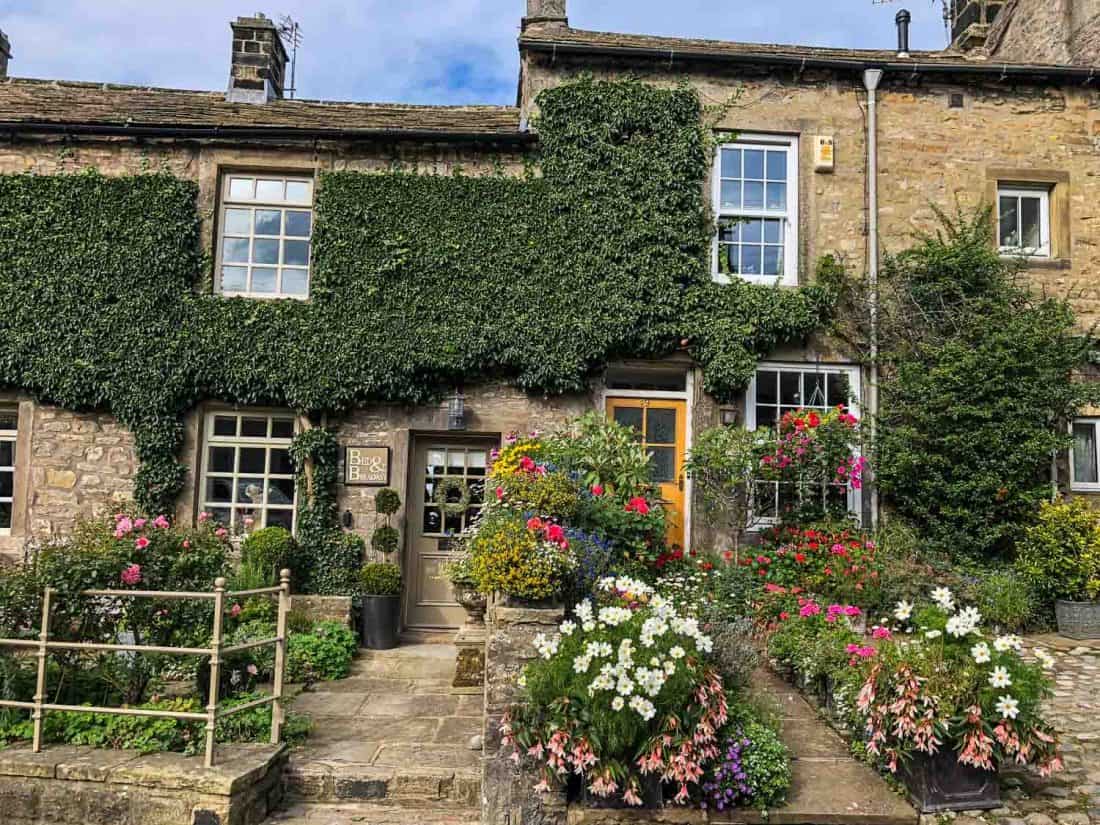 At the end of each day we were tired, but it was the good kind of tired where you reward yourself with a pint and a hearty meal.
It helped that we stayed in comfortable B&Bs and had a lovely place to shower and relax after a day's walking.
One surprise was how good the food was—we enjoyed delicious soups and cakes in cute tea rooms for lunch and pub dinners which always had a few vegetarian options (the pies at The George were especially noteworthy).
Another bonus of the Dales Way was that it was easy to find our way—we didn't get lost once (unusual for us when out walking).
Best Time to Walk the Dales Way
The Dales Way walking season runs from April to October.
Once the clocks go back at the end of October most walkers find the days too short and the weather too cold, and some B&Bs close in the winter.
July and August should supposedly have the best weather (it can never be guaranteed in England), but they are also the busiest as it's the school holidays.
Simon's step mum had perfect weather in June without any rain, but no year is the same.
We did the walk in early September and it was colder than we expected (having been training during the summer heatwave).
The first two days were ideal with a mix of sun and cloud and temperatures of 12–16ºC. After that it started to feel rather wintery with temperatures of 7–12ºC during the day and even lower at night, and we had rain for at least part of every day.
Be prepared for rain at any time of year.
Dales Way Baggage Transfer
The baggage transfer service is brilliant and made all the difference to how enjoyable the walk was.
We didn't have to carry a heavy pack each day—just a small day pack with food, water, guidebook, and waterproofs.
It also meant we didn't have to worry too much about what we packed in our main bag, especially helpful for first timers as we weren't sure what we'd need.
Two companies offer baggage transfer along the Dales Way and each charge £9.45 a bag per day.
We went with Brigantes because they allowed us a more flexible start time on our first day. Usually your bag needs to be ready for collection at the B&B by 9.30am and they'll drop it off by 4pm at your next destination (often it arrived earlier).
As we weren't staying overnight in Ilkley before the walk started, we wanted to drop our bags off at 10.30am and Brigantes were happy for us to do so—we left them at the Riverside Hotel near the start of the trail.
Sherpa Van is the other company and they needed us to drop off our bags by 8.30am in Ilkley, not very practical if you aren't staying overnight.
They do allow you to book just one bag though, so we could have shared an overnight bag and saved money. Brigantes has a minimum of two bags per booking.
Sherpa Van does the booking via an online form. With Brigantes we emailed them our itinerary and they posted us the baggage labels and payment details.
Brigantes has a 17kg maximum weight limit per bag and with Sherpa Van it's 20kg.
Communications and Maps
Phone signal was limited on much of the walk, including in many of the villages. Only one place we stayed didn't have WiFi (Shepherd's Cottage), although not everywhere had a connection in our room.
The Dales Way is mostly well signposted, but you do need a map for some confusing sections.
Our main method of navigation was the View Ranger app (now merged with Outdooractive). For £26.99 a year you can get a subscription to all the Ordnance Survey (OS) maps in the country and you can download areas for offline use.
The Dales Way is clearly marked on the OS maps and was easy to follow. There are a number of advantages of an app over paper maps:
GPS works even without phone signal and it shows you where you are on the map. We never got lost but we saw a few walkers with paper maps who did.
You don't have to carry anything extra.
A subscription is cheaper than buying all the OS maps you'd need for the walk (plus we used it for training walks too).
It was easier to take a phone out of a pocket than a map out of a bag.
Simon's iPhone is water resistant, so he could look at the app in the rain.
Just make sure you download the maps in advance and take a phone battery charger (as Simon's phone was new we never needed it).
We also had detailed hand-drawn maps in our guidebook which we used occasionally.
If you don't want to use an app or buy all five OS maps needed, the Harvey Dales Way map covers the whole route and is lightweight and waterproof.
Dales Way Guidebook
We used the Trailblazer guidebook Dales Way by Henry Stedman which was brilliant.
It's small enough to carry but has everything you need to know including accommodation and eating recommendations, history and wildlife, where to find shops and ATMs, and what to look out for on each day.
It's very useful for both planning your route and navigating each day with the detailed, large-scale, hand-drawn maps. There's also information on camping and walking the trail with a dog.
Dales Way Accommodation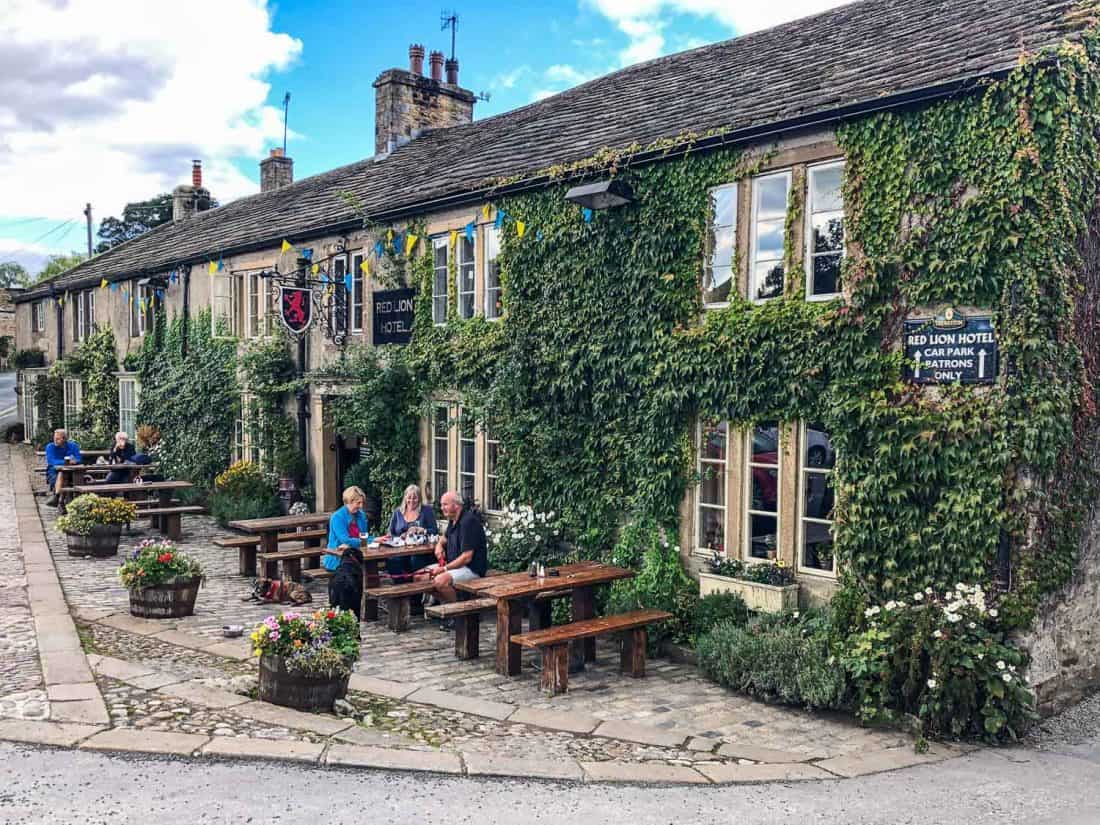 It is important to book your accommodation in advance as in most places there aren't many options. We booked seven weeks in advance and got all but one of our first choices.
Booking Dales Way accommodation was a little different from our usual travels. Only our first and last nights were available on our favourite accommodation site Booking.com. Instead we had to consult our guidebook and lists of B&Bs online.
Not every B&B has a website and in two cases I had to phone to book (which I haven't done in nearly a decade!)—like I said, the Yorkshire Dales is like stepping back in time.
Luckily, we had some recommendations from Simon's step mum, and she also told us the places to avoid, so we ended up loving everywhere we stayed—see the Where to Stay section in each day below.
Sherpa Van can also book Dales Way accommodation for you for a fee.
To save money you could camp, but your route will be limited by where there are campsites—the Trailblazer guidebook has suggested camping itineraries.
Dales Way Money and Costs
Most pubs and cafes accept credit cards, but two B&Bs we stayed in were cash only, so check in advance. We took cash with us as there are only ATMs in Grassington and Sedbergh along the route.
Our six day/ five night Dales Way hike cost us £878 in total or £439 per person not including our stay in Bowness at the end.
Our average cost per night for accommodation (not including our splurge in Bowness) was £83 for an ensuite double room including breakfast.
There are a few cheaper options, but it'll be difficult to reduce that budget by much without camping.
Baggage transfer is £9.45 per bag a day.
We spent about £30 per person per day on food and drink. We ate out for all our meals except for one packed lunch that we bought for ourselves in Sedbergh. I didn't drink during the hike but Simon had a few beers every day.
Food
Most people eat out at the cafes and pubs along the way. The food was surprisingly good even for vegetarians (until the last two nights) and the local beers and homemade cakes in pubs and tea rooms are a highlight of the walk.
I recommend making dinner reservations in advance. Most places have limited options and they do get booked up. It's also less to worry about at the end of the long day.
For the first three nights we ate at our accommodation (because there were no other options) which was nice and easy.
We brought snacks with us but you'll find shops in Burnsall, Grassington (more choice), Kettlewell, Dent, Sedbergh (more choice), and Burneside.
There's a long stretch between Kettlewell and Dent without any shops so make sure you stock up.
Transport to Start/Finish
We got a lift to Ilkley but you can get the train there. From London it takes 3 hours and from Manchester it's 1.5 hours, both with a change in Leeds.
From Bowness you have to take a short bus or taxi ride to Windermere station. From there it's 2 hours to Manchester or 3.5 hours to London, both with a change in Oxenholme.
If you need to return to Ilkley, it's a bit tricker and you'll have to change two or three times, but it can be done in 3 hours.
It's always cheaper to book your train in advance. You can check times and book trains on the Trainline website or app.
Packing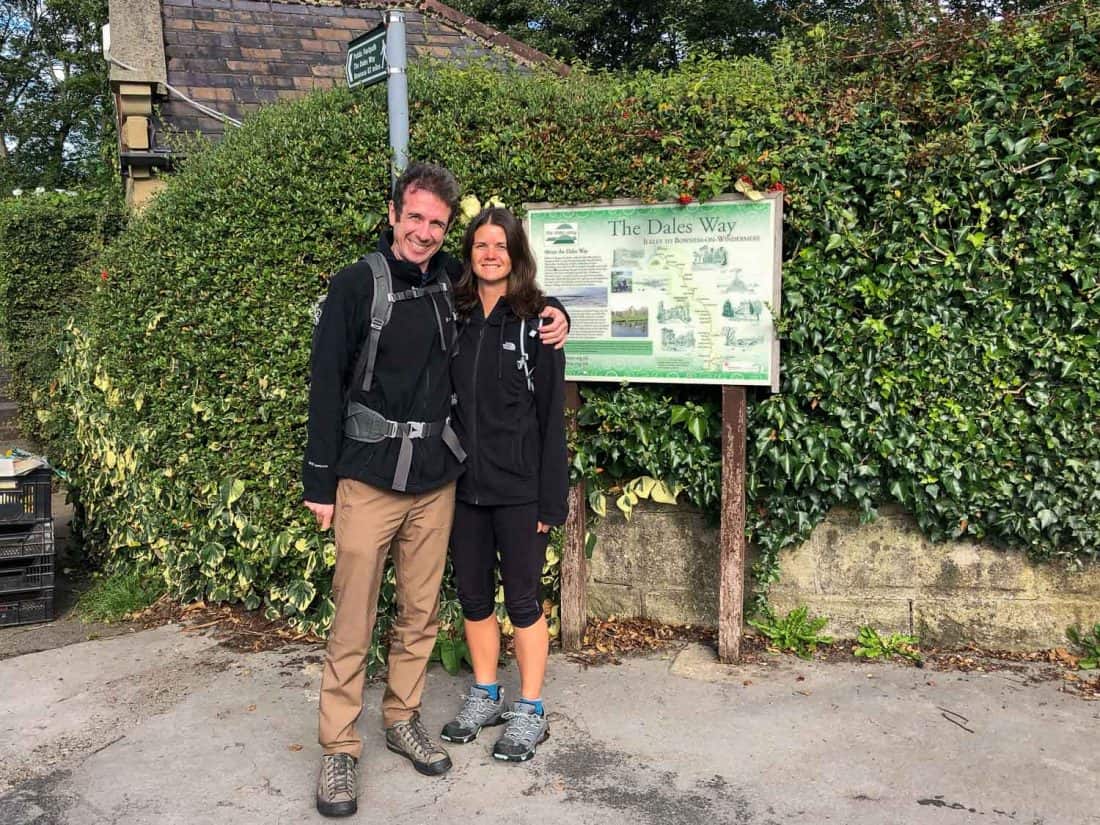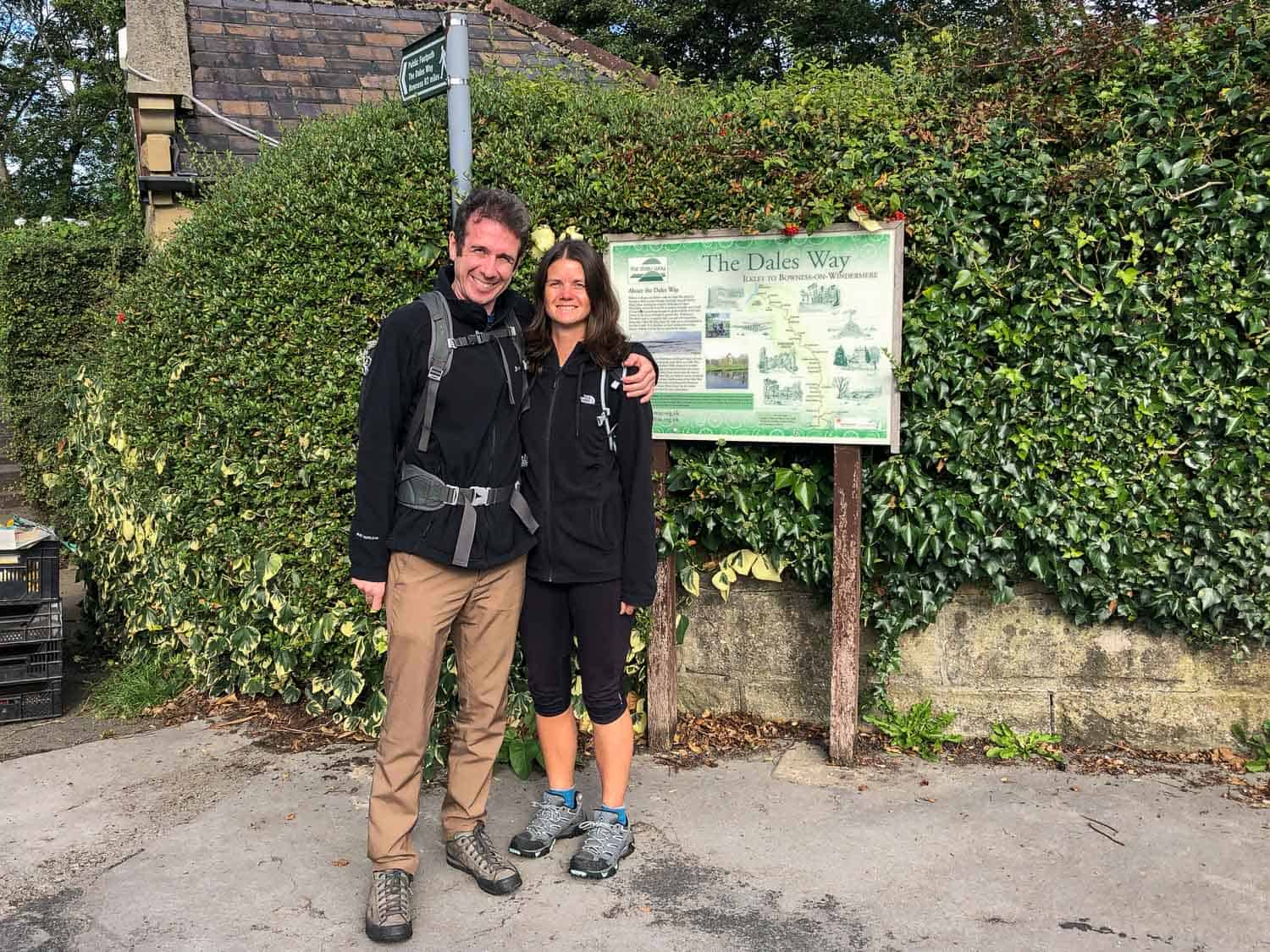 See our Dales Way packing list for exactly what we took with us.
The three most important items are comfortable hiking shoes or boots (ideally waterproof), waterproof jacket and trousers, and a comfortable daypack.
Most people wear hiking boots but we were fine in waterproof hiking shoes.
Simon wore his usual Scarpa Margarita GTX (the only shoes he owns and he wears them everywhere), which aren't hardcore hiking shoes but they were so well worn in he didn't have a mark on his feet.
I made the rookie error of ordering hiking shoes online and even after seven weeks of wearing in my Merrell Moab 2 GTX shoes I still got blisters and worst of all, extremely painful black toenails. I recommend buying shoes a size bigger than usual to allow for your feet swelling.
Training
Although it's not a very strenuous hike it's a good idea to be reasonably fit. We already regularly walked about 3 miles and starting six weeks before we did one 8–10 mile walk and a couple of 4–5 mile walks each week.
While some longer walks would have been a good idea, we didn't find the Dales Way too much of a struggle and were surprised how well our legs felt.
Our Dales Way Itinerary Summary
This was our 6 Day Dales Way itinerary including distance walked on each stage and where we stayed each day.
Total walked: 83 miles
Our mileage was taken from Simon's Apple Watch and includes any small detours we took off the trail. Guidebooks may show slightly different distances.
Dales Way Map
This Dales Way map shows the route we took. The red pins are the start and end points of the Dales Way, the purple pins are where we stayed overnight, blue pins are points of interest, and green pins are places to eat or drink.
Day 1 Ilkley to Burnsall
Distance: 14.2 miles (22.9km) including diversion to Appletreewick
Walking Time: 5 hours 15 minutes
Total Time (with breaks): 6 hours 40 minutes (10 am – 4.40pm)
Highlights: Bolton Abbey, Tea Cottage lunch, Strid Wood, idyllic river walking past Barden Bridge, Craven Arms pub, Burnsall.
We dropped off our bags at Riverside Hotel in Ilkley, close to the start of the Dales Way, and took the requisite photos by the sign announcing that Bowness is 82 miles away.
It was easy, flat walking to begin without many people around. Once we left the outskirts of Ilkley it was pretty but undramatic scenery following the River Wharfe through green fields of sheep, cows, and horses.
We passed a few cute villages and the 15th-century St Peter's Church in Addingham and had to walk a few short sections on the road, but it was mostly on a grassy path and was easy to follow the trail.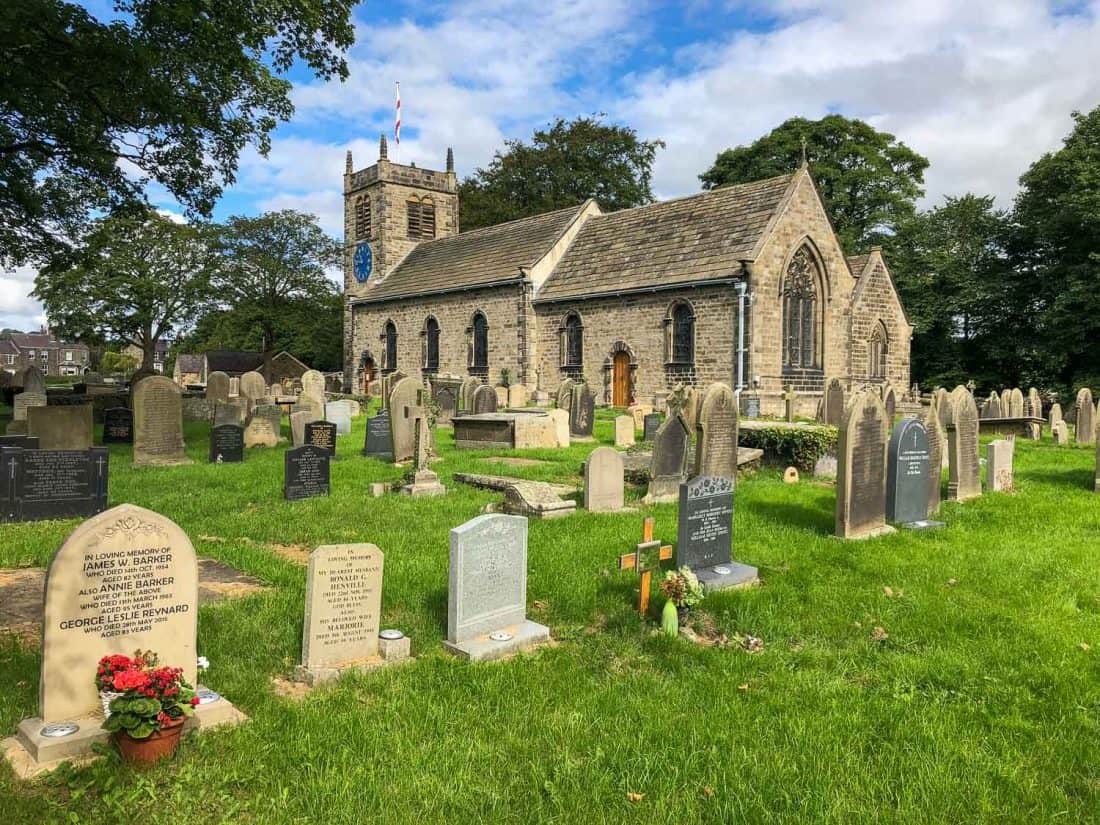 Bolton Abbey
We arrived at Bolton Abbey at about noon after 5.5 miles (9km) of walking.
There were a lot more people around here, but it's well worth stopping to enjoy the views of the ruined 12th century monastery that was shut down by Henry VIII.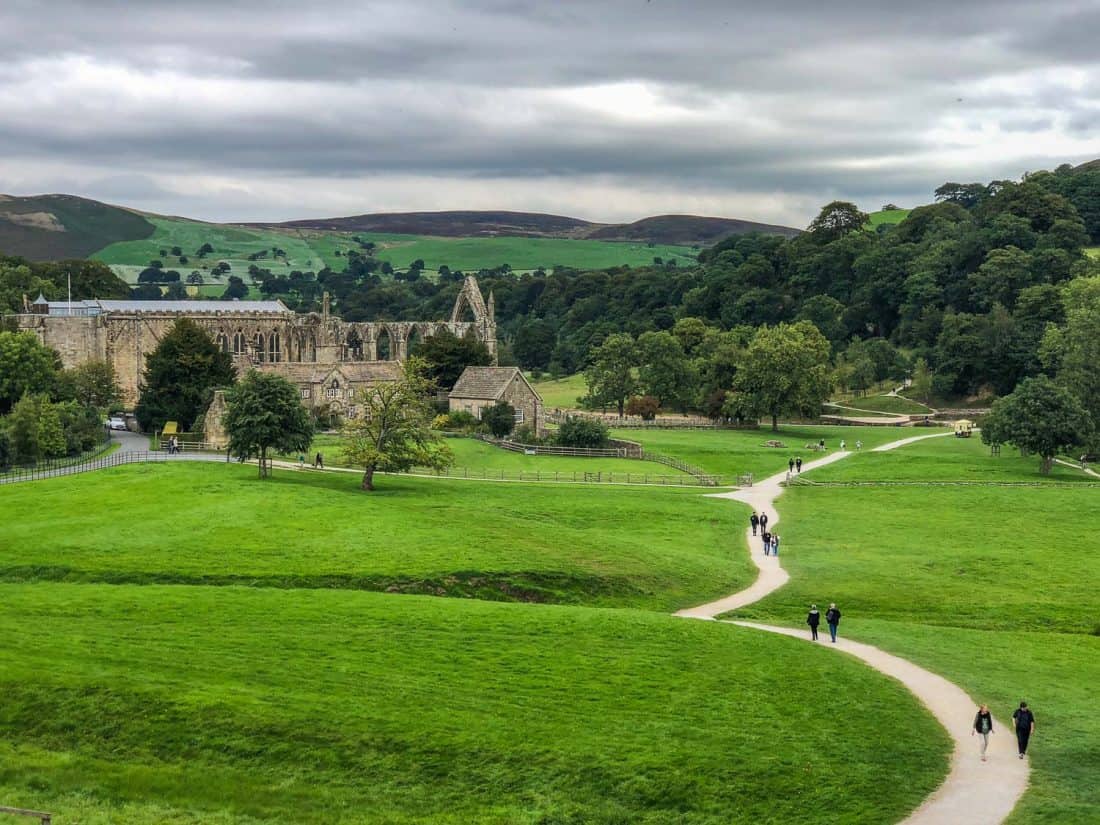 It's the perfect lunch spot with a few tea rooms. We chose Tea Cottage, a typical stone cottage decorated with flower pots and with a lovely garden with views of Bolton Priory.
The menu of soups and sandwiches had more interesting vegetarian choices that the typical country cafe.
Simon had sweet potato and curry soup and I had a roast vegetable and hummus sandwich with raw courgette and pesto side salad.
We couldn't resist the delicious looking cakes—the lemon drizzle cake was good and the chocolate cake was even better.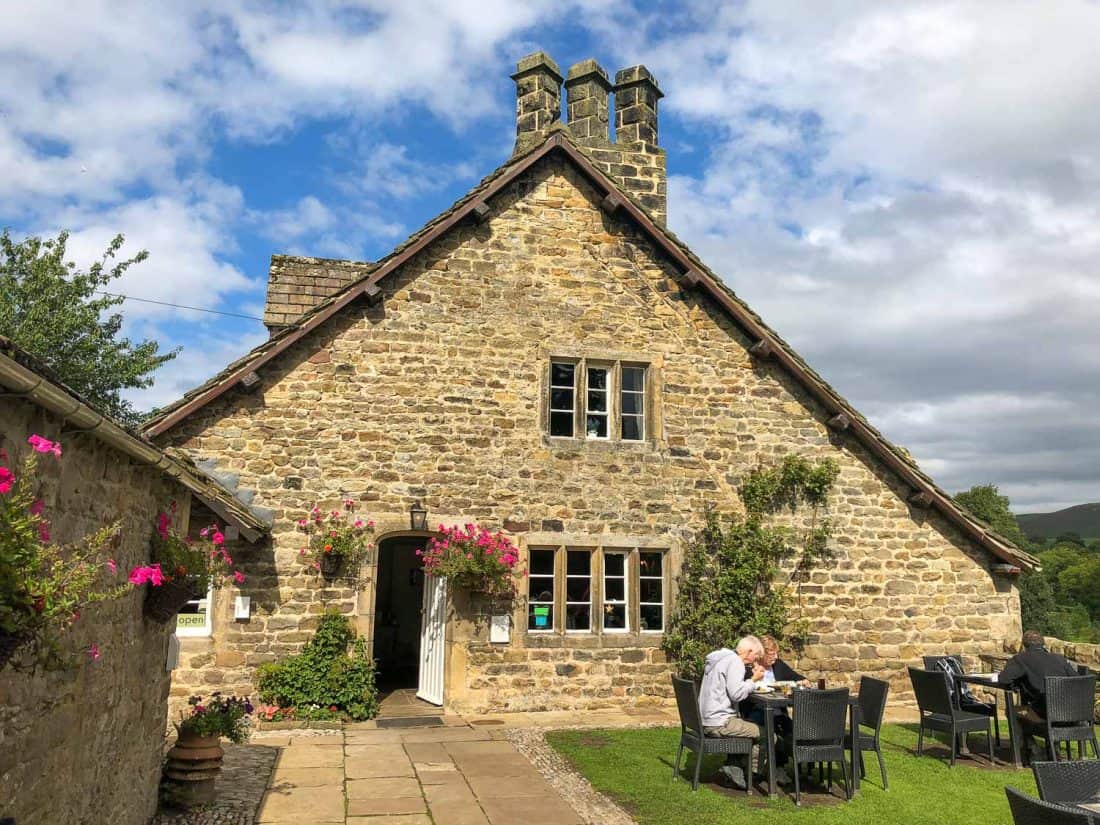 Just past the Priory are the famous stepping stones across the river (or there's a bridge for the nervous), then the path continues through the woods with various adventure activities for kids.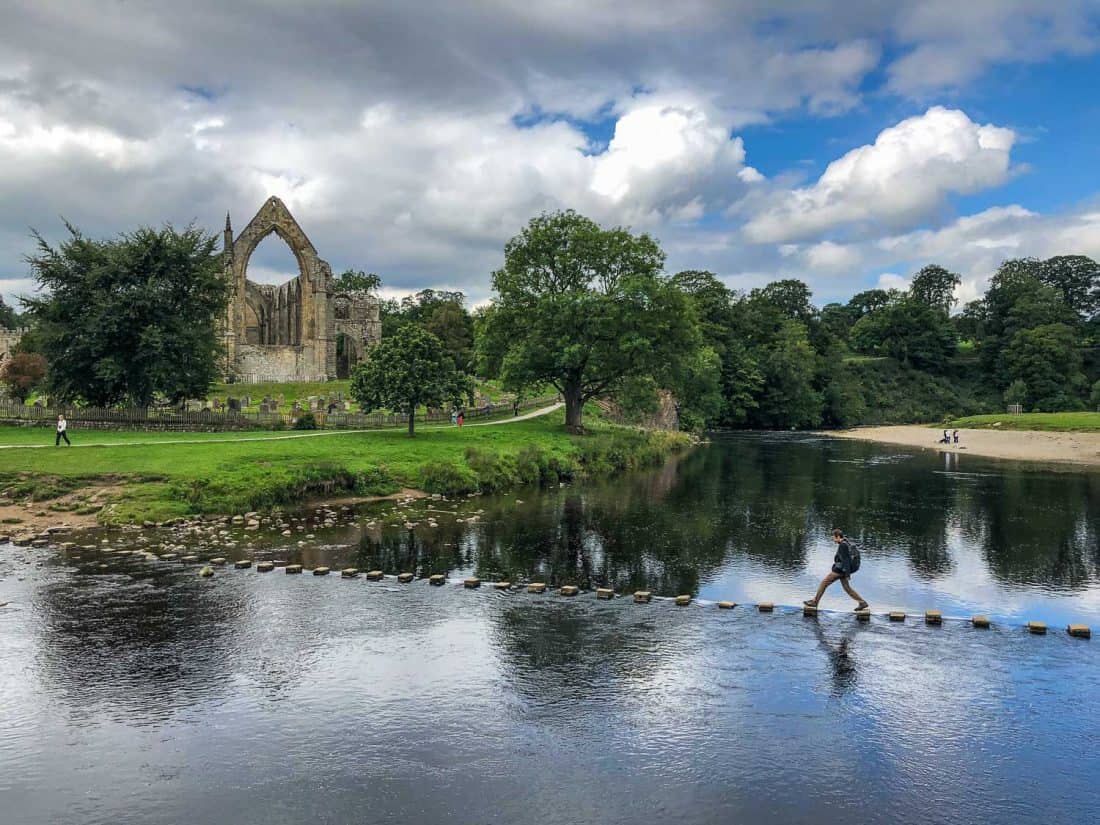 Strid Wood is next—the longest section of woodland on the walk—with a cafe and toilet at the beginning. This section was fairly busy with day trippers but it's a lovely easy walk along the river through the oak trees.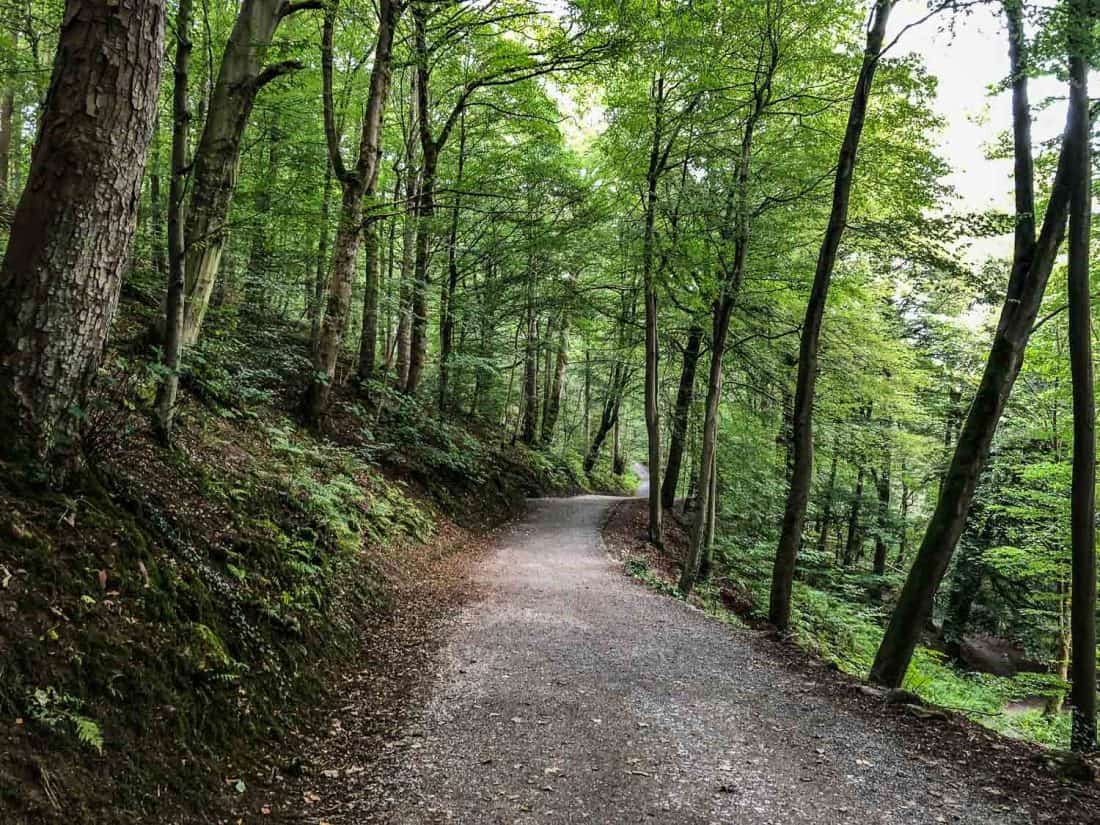 Once we left the woods and crossed the pretty stone Barden Bridge it was much quieter.
We had some gorgeous walking to ourselves along the river through vibrant green fields of sheep with zigzagging drystone walls up the hills on each side.
It felt absolutely idyllic and a typical Yorkshire Dales scene.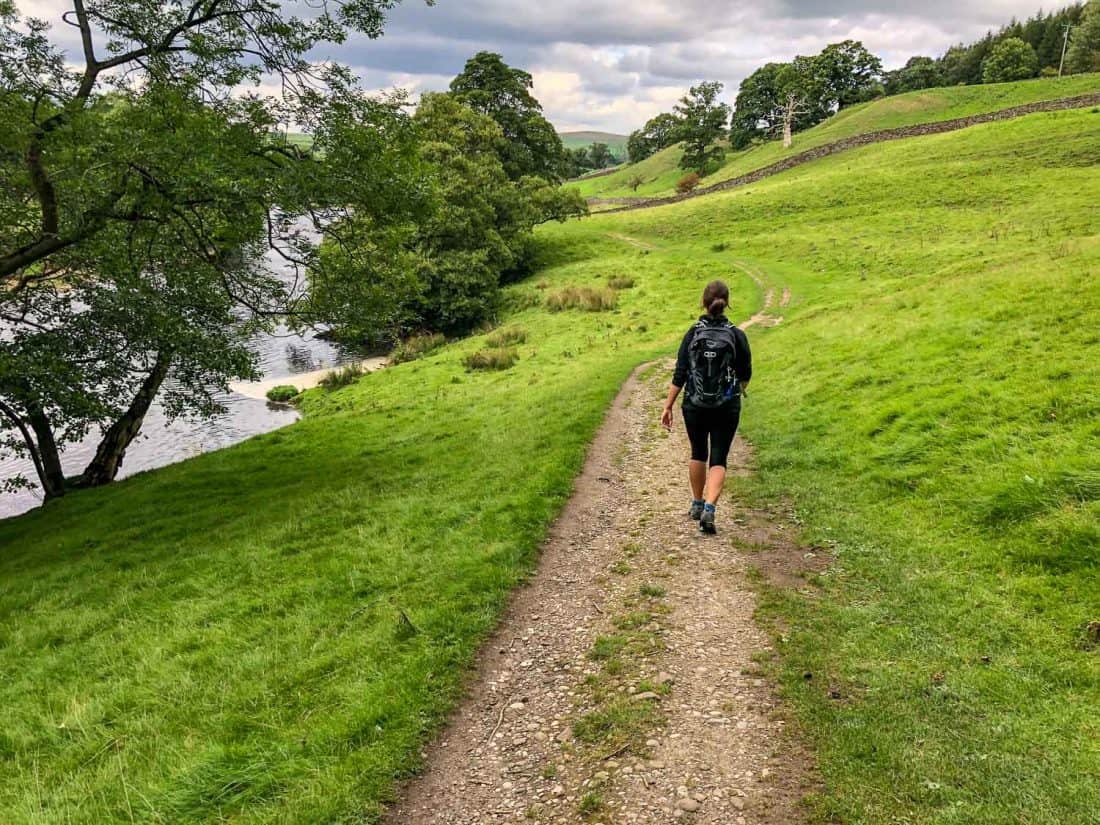 Appletreewick
The first day of the Dales Way has plenty of places to stop and was the only day we had a second break, which was much appreciated at 3.30pm nearly 13 miles into our walk.
We took a 400 meter detour off the route to the teeny village of Appletreewick (turn right up the footpath just before Mason's campsite).
Our guidebook said the village is home to the best pub on the Dales Way and we certainly didn't find better.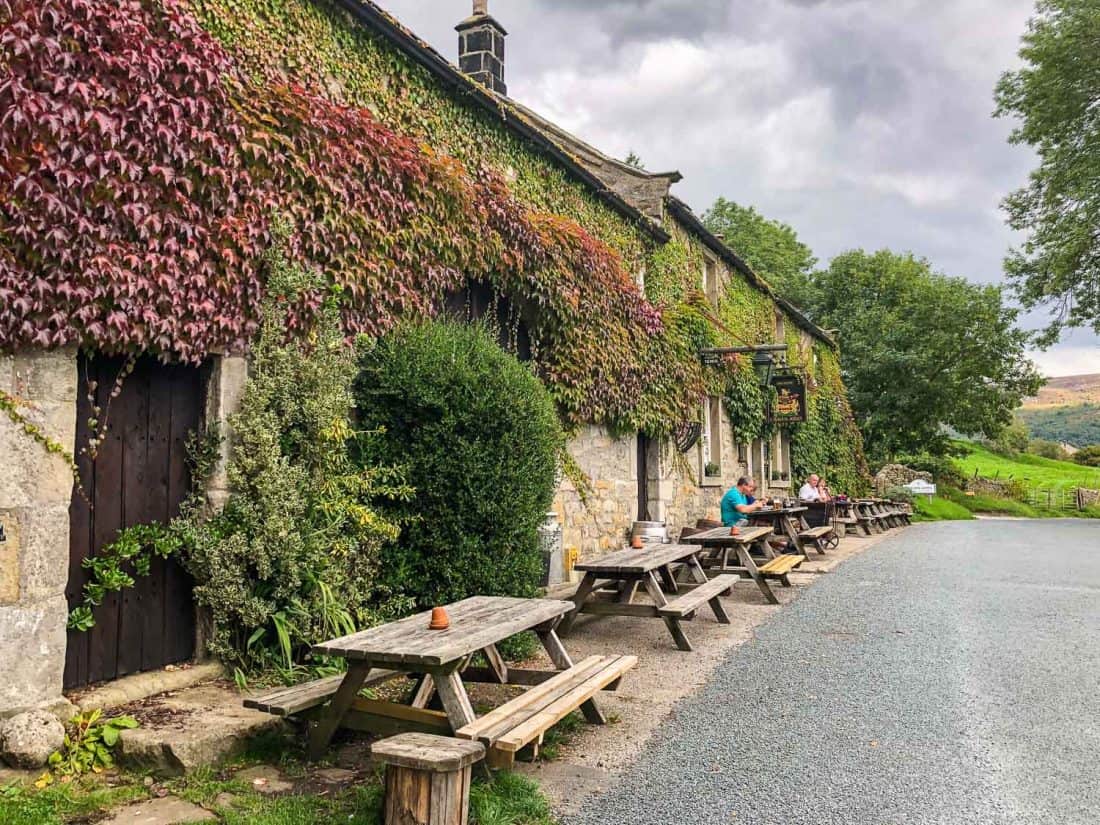 The 16th-century Craven Arms is everything you want from an English pub—good beers on tap (you can even try them first), flagstone floors, low wooden beams, fireplaces, and reportedly good food (we didn't eat there).
There are lots of nooks and crannies and we settled in a cosy fireplace nook and enjoyed all the old photos and documents on the wall.
A menu from 1910 showed that the typical meal involved three types of meat, while newspaper reports highlighted their ferret racing championship that takes place every February.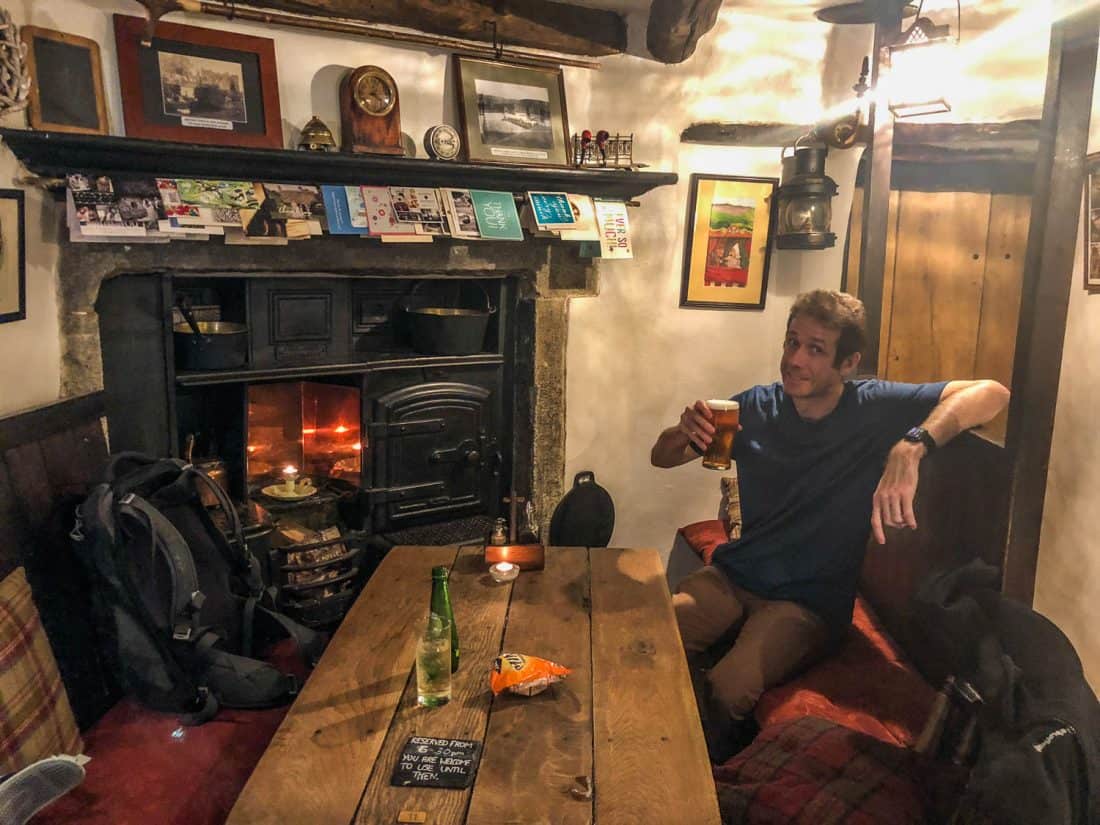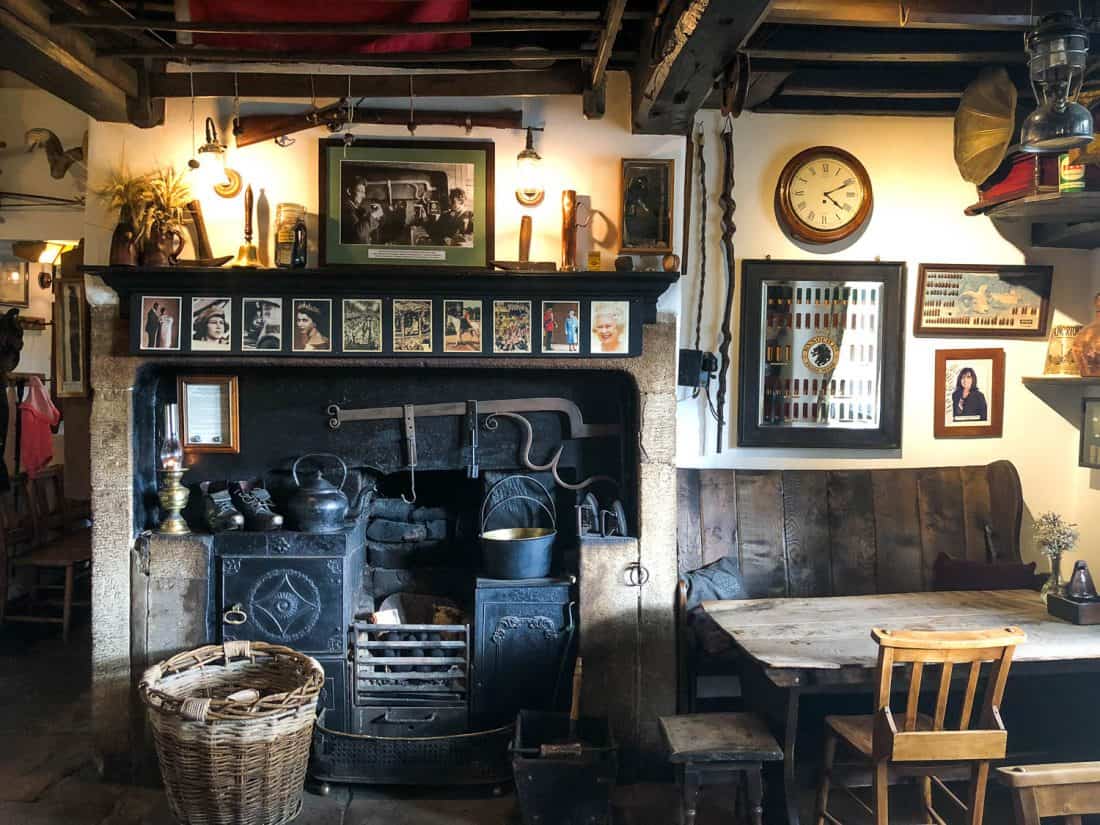 It was only another mile into Burnsall, our final stop for the day. It's a small, picture-perfect village of stone houses by the river that's especially lovely at sunset when the bridge glows in the golden light.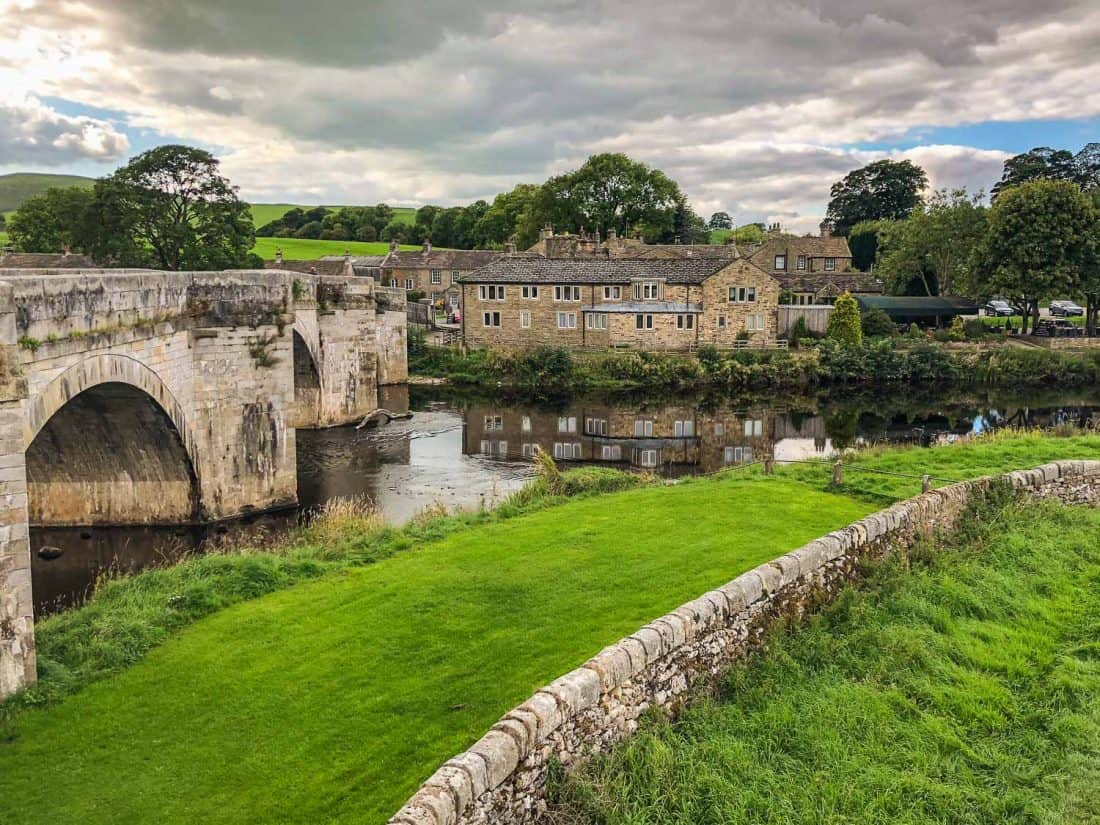 Where to Stay in Burnsall
There are only a couple of places to stay in Burnsall and we chose the most popular. The family-run Red Lion pub, originally a 16th century ferryman's inn, is the heart of the village with the perfect location and outside seating overlooking the river.
We stayed in their Manor House annex just behind the pub. I was worried our compact double room (£75) might be tiny, and while the bathroom was small, the room had enough space for me to do yoga, so I was happy.
WiFi didn't work in the room (and there's no mobile reception in the village), but you can access it in the guest lounge (with sofas and fireplace) in the pub.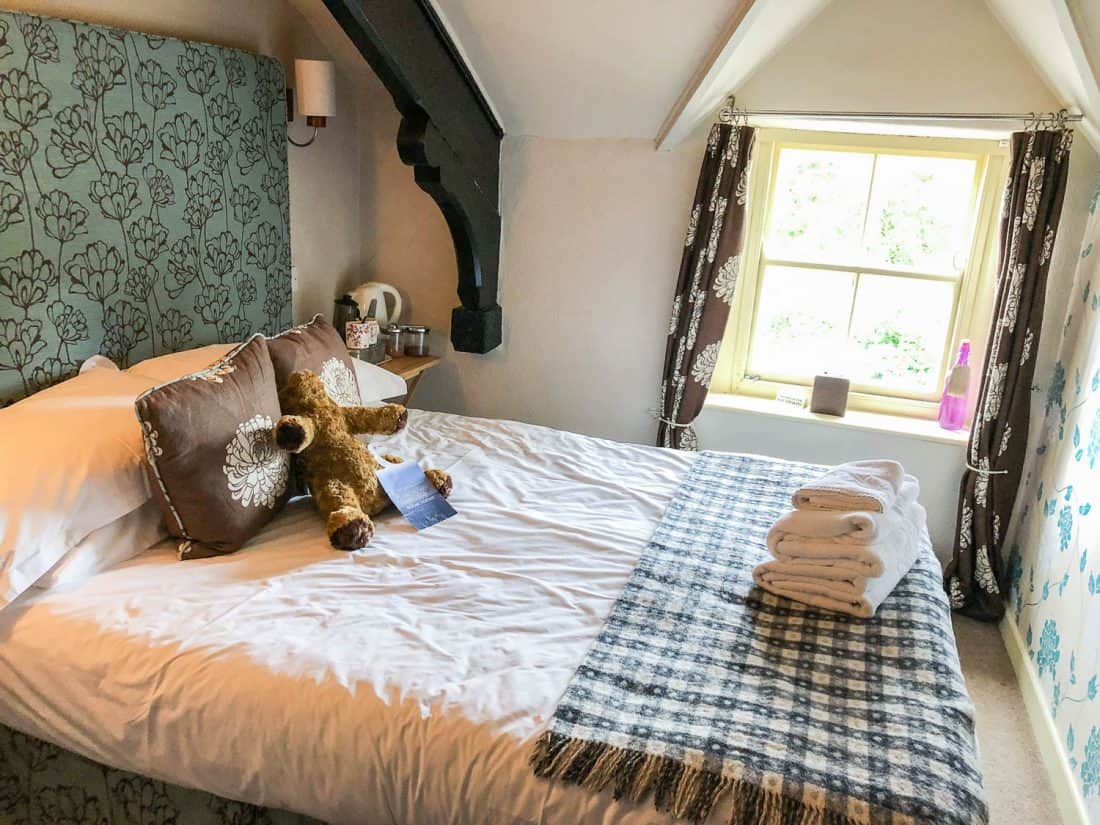 Breakfast (served from 8.15am) was one of the best all week and certainly had the most choice. There was freshly squeezed orange juice, decent coffee, fruit, yogurt, cereal (including locally made granola), and toast.
Mains are made to order and included freshly baked pastries, American-style pancakes, and a variety of other dishes as well as the typical Full English.
Where to Eat in Burnsall
We ate at the Red Lion (the only place to eat in the evenings)—booking a table in advance is essential.
There were two vegetarian mains, both rather similar platters with a selection of tasty falafel and dips. My veggie platter included a lentil cake, courgette fritter, falafel, bruschetta, and feta dip.
Day 2 Burnsall to Hubberholme
Distance: 15.2 miles (24.5km)
Walking Time: 5 hours 40 minutes
Total Time (with breaks): 6 hours 40 minutes (9.20am – 4 pm)
Highlights: Grassington, dramatic views, Kettlewell, lovely riverside walking, surviving our first 15 mile day, The George Inn.
It was an easy start to the day following the flat path along the river out of Burnsall with no one else around.
We passed the suspension bridge and stepping stones at Hebden and walked under a row of huge horse chestnut trees beginning to turn red. It was all very idyllic.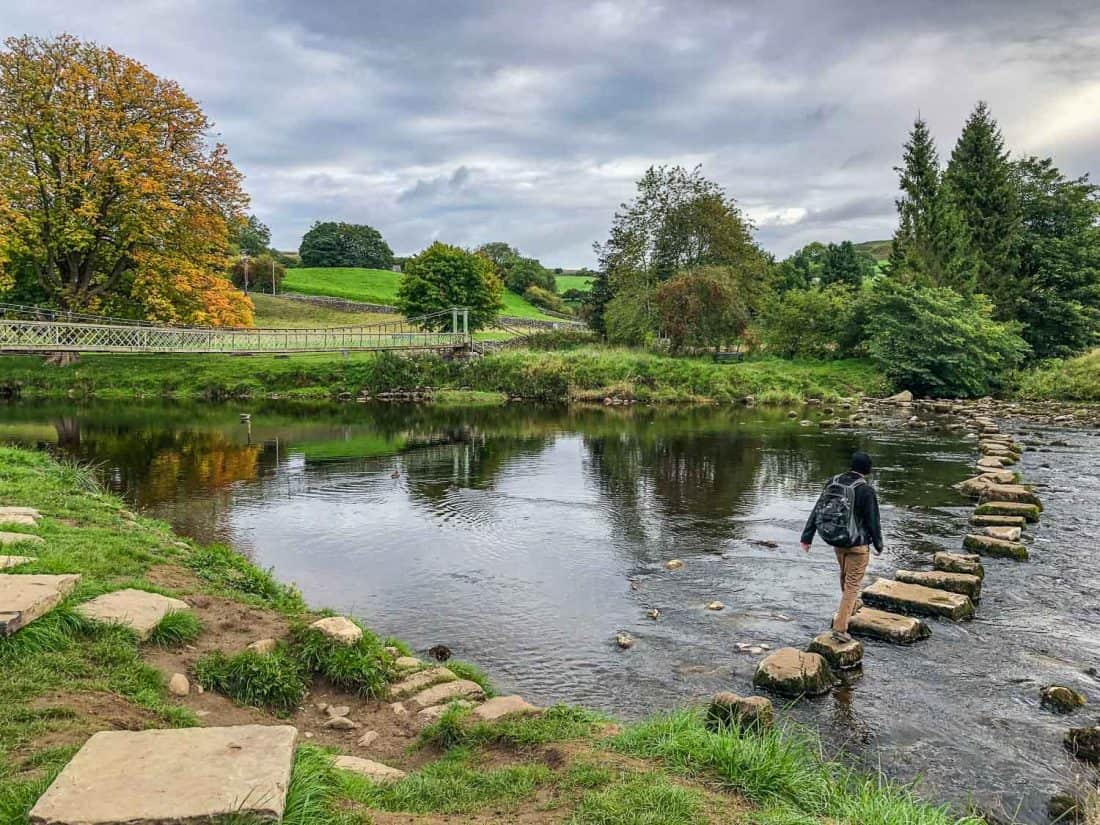 Grassington
Just before Grassington we took a brief diversion to the left for the view of Linton Falls from the bridge.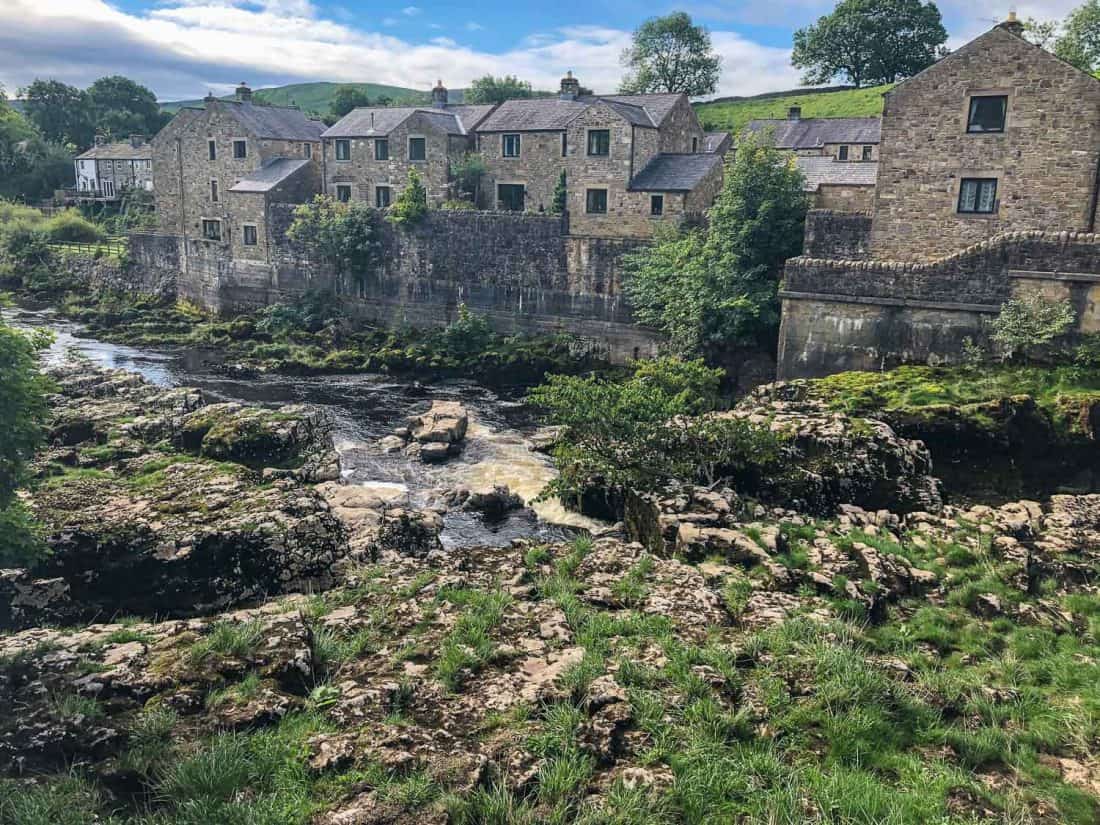 It took us 70 minutes to reach Grassington, the largest village in Wharfedale, which felt like a metropolis with a Boots, outdoor shops, and many inviting cafes—Simon got a coffee to go.
It's very pretty with its cobbled streets, cute antique shops, and stone cottages decorated with flowers.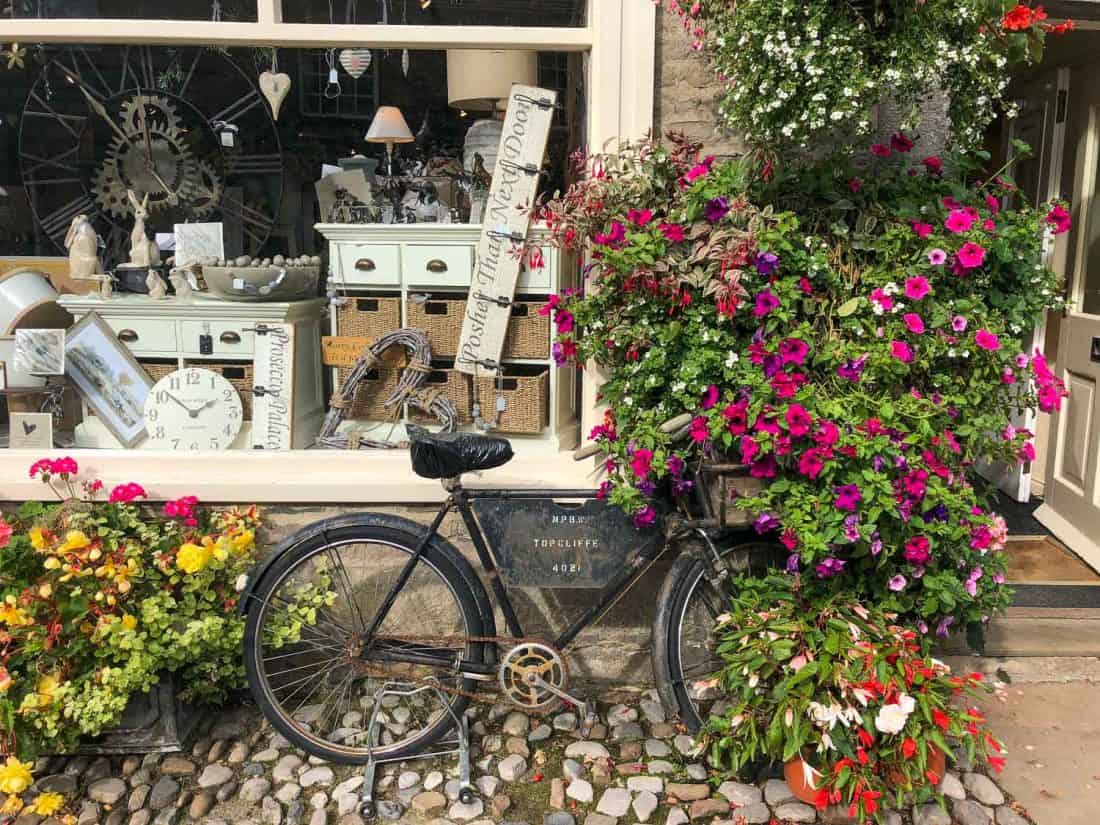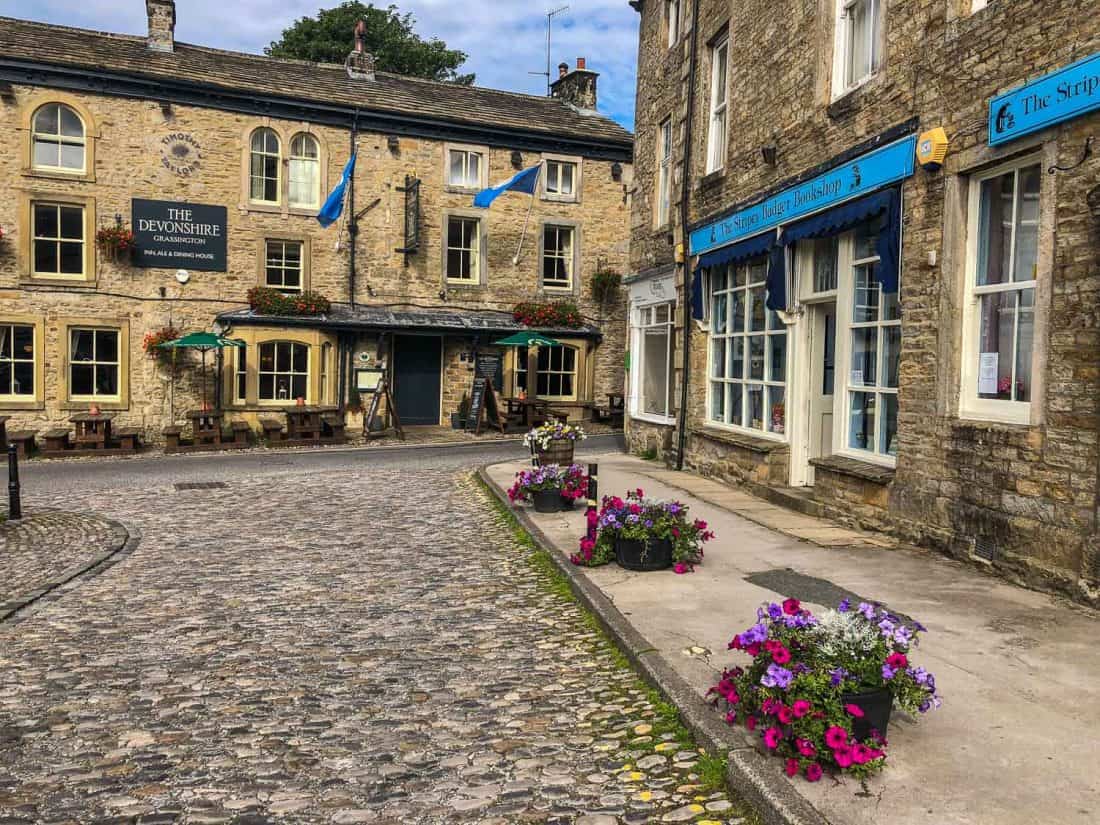 After Grassington we started uphill for the first time. The scenery became wilder and we walked through pastures of sheep and cows, drystone walls snaking up the hills. There are no villages on this section but a fair few hikers.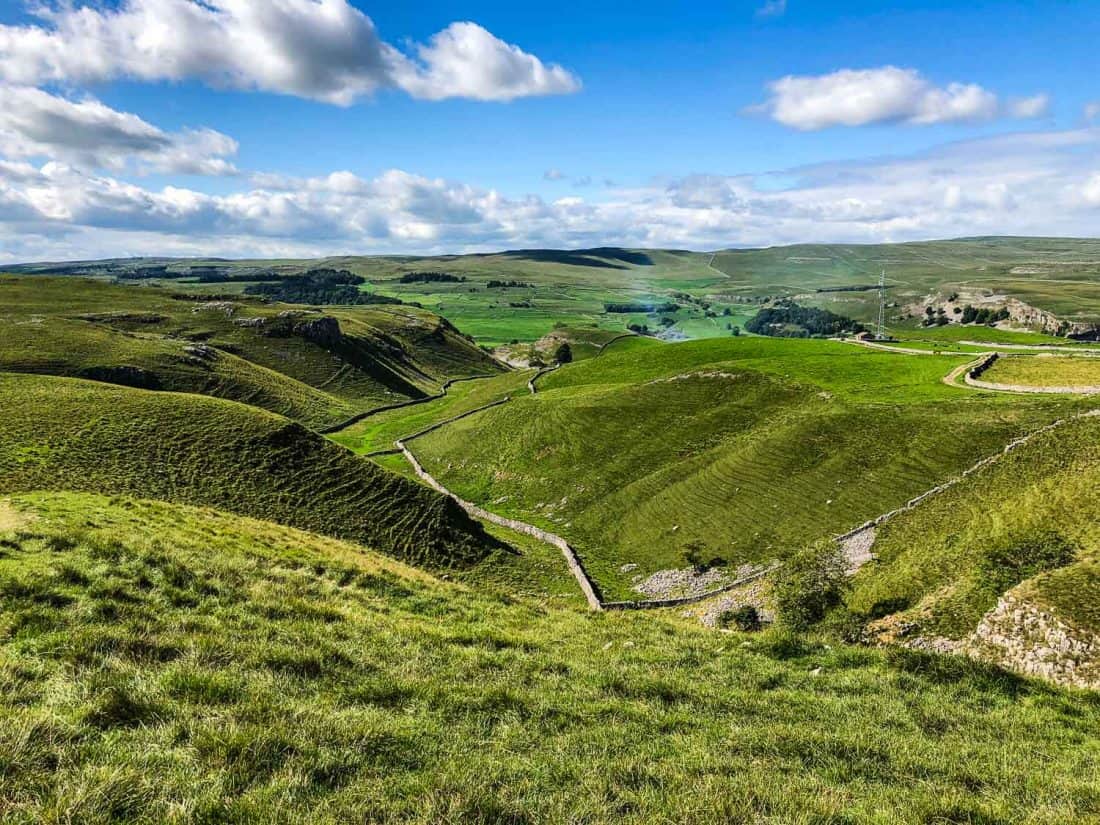 We climbed above a gorge, past the rocky limestone outcrop Conistone Pie, then walked along the edge of the hill with sweeping views down the valley.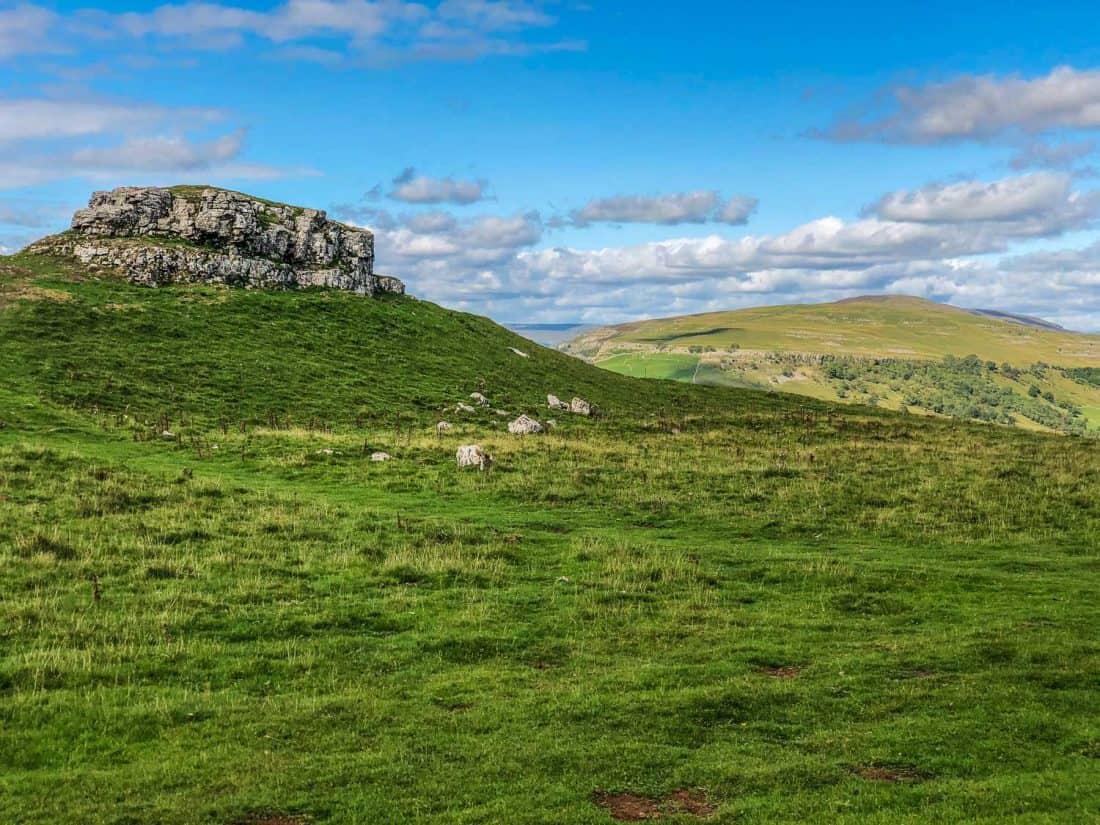 Kettlewell
We descended down the hill to the small village of Kettlewell for lunch (3.5 hours and 9.6 miles from Burnsall).
It was much quieter than Grassington and without any tourist shops—the only shop (the last one until Dent in two days) was closed but opened when we hung around outside for a bit.
It's another place where we felt like we were stepping back in time.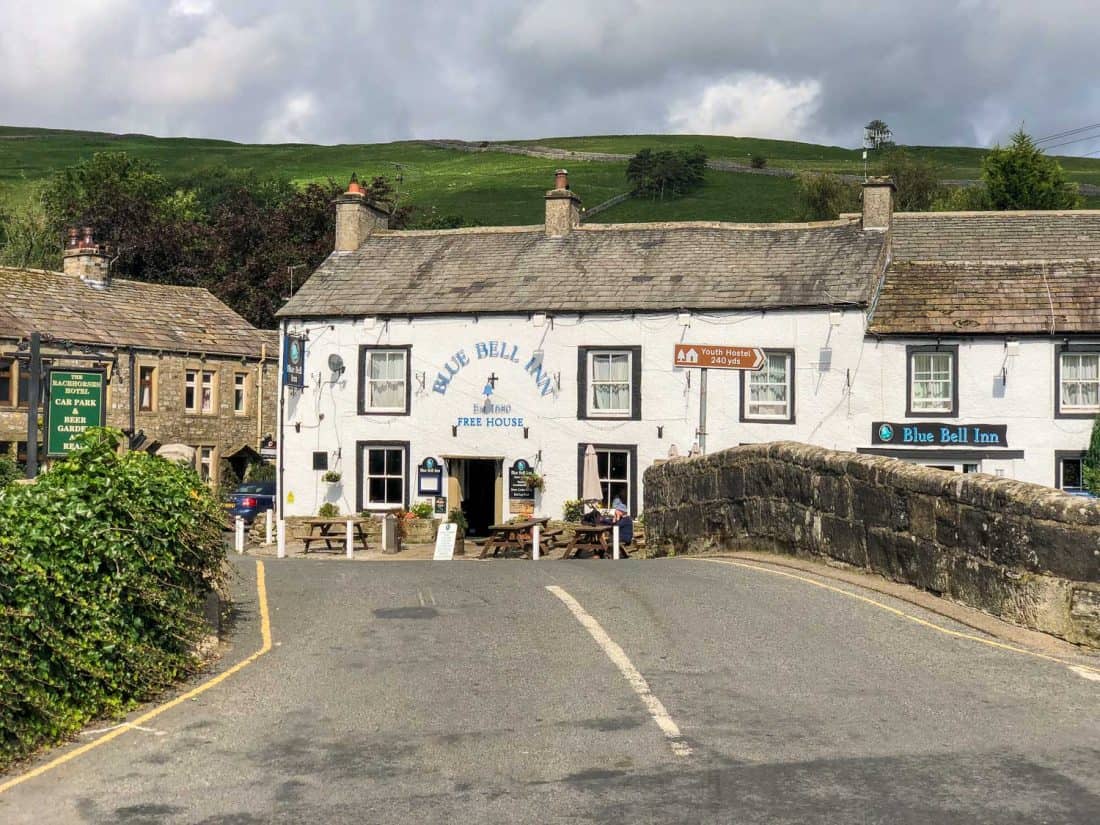 My first choice for lunch was Zarina's but it's closed on Thursdays, and the other tea room looked rather basic, so we ate at the King's Arms instead.
There were three rather pricey vegetarian mains, but we opted for a cheese and tomato sandwich which wasn't very exciting but came with lots of chips and salad.
The shop sells pies and hot sandwiches if you want a cheap lunch.
If you are a fan of the film Calendar Girls, look out for the garage where it was filmed when leaving the village.
It was an easy, flat, two-hour river walk in the afternoon, all very quiet and pretty.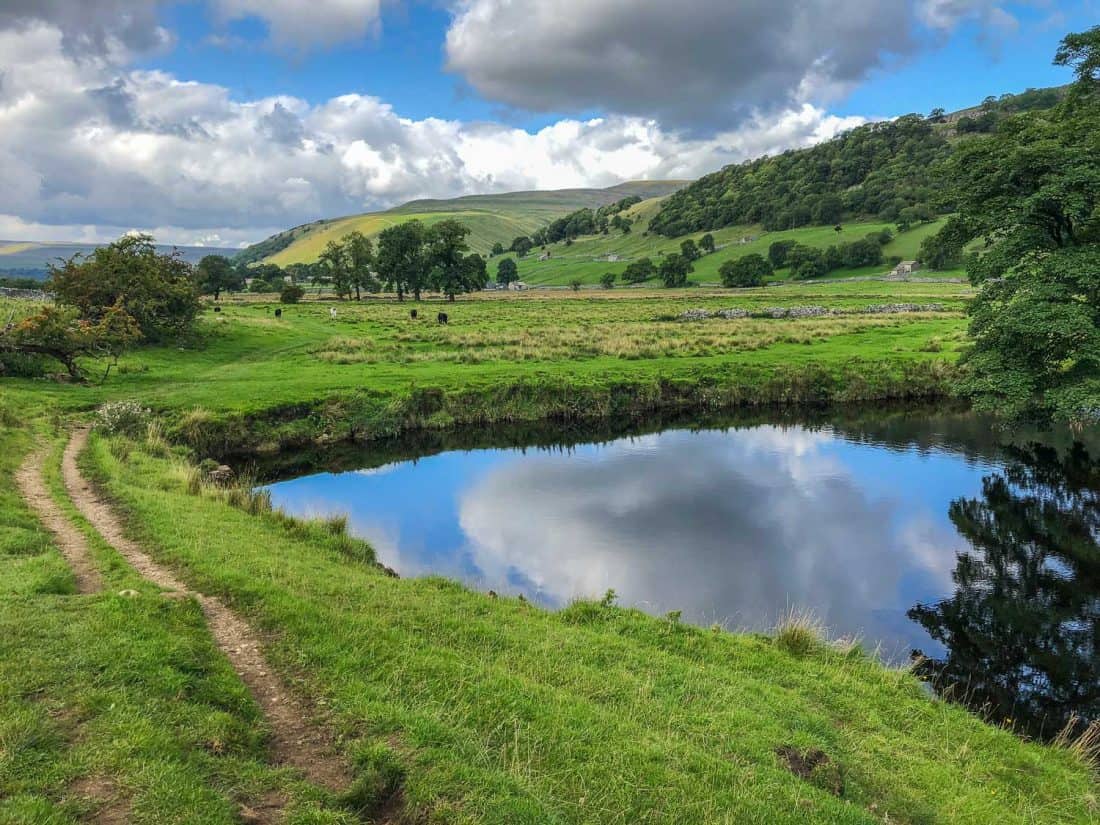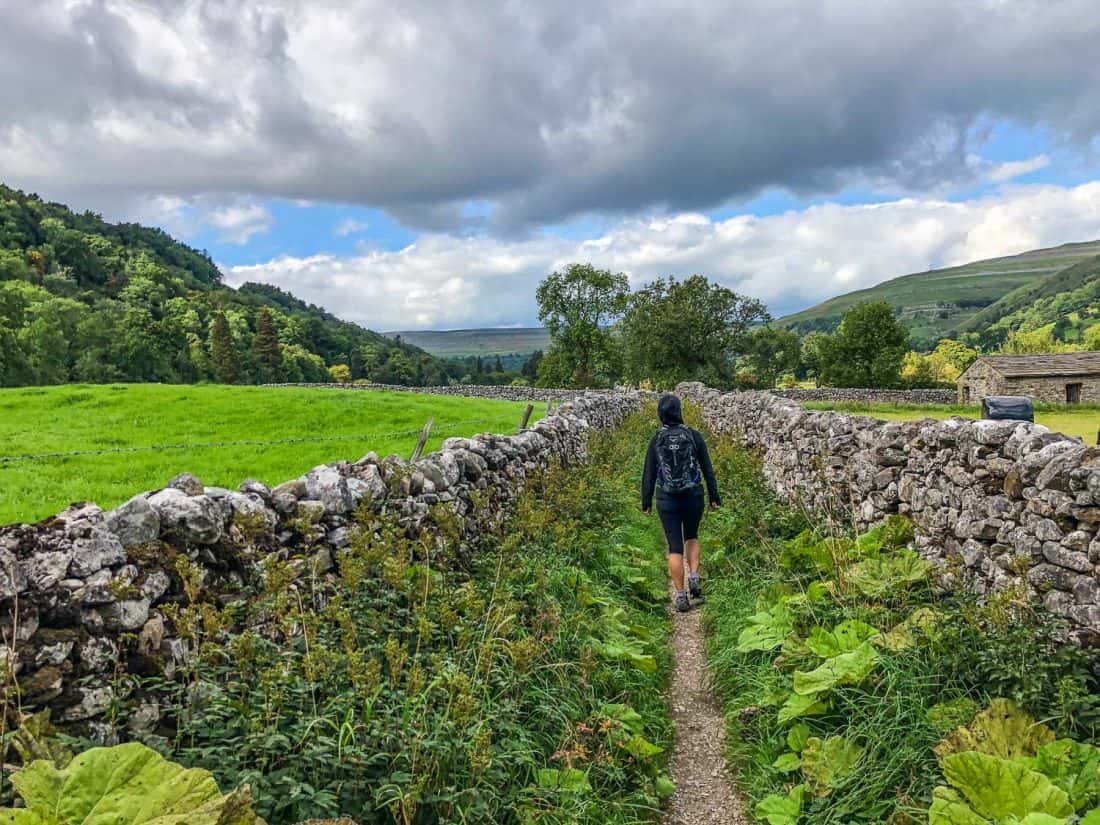 It was just beginning to drizzle when we arrived in the tiny hamlet of Hubberholme, just a church, pub and few farmhouses by the river.
Where to Stay in Hubberholme
The George Inn is the reason to spend the night in Hubberholme. (You could also stop in Buckden 1 mile before but it's a little off route).
It was originally a vicarage in the 17th century and is now a cosy traditional pub with stone floors and walls, fireplace, and mugs hanging from the ceiling.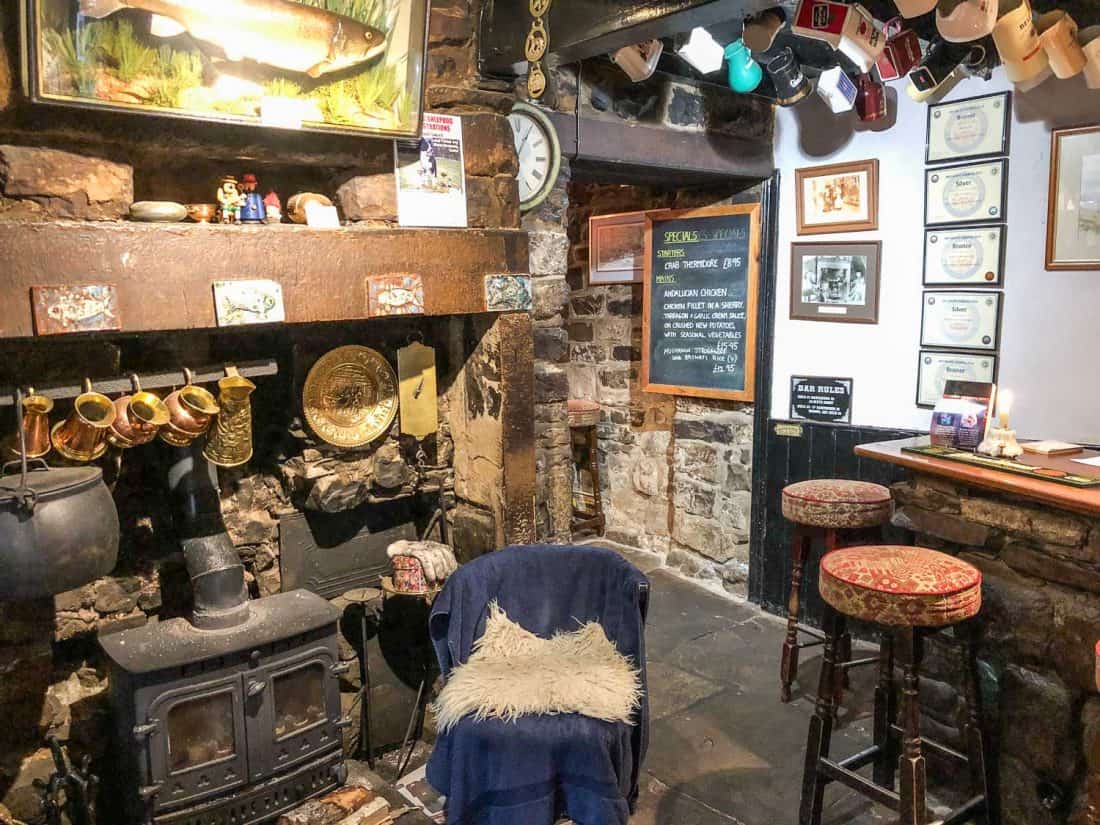 A candle is lit on the bar during opening hours—a tradition that dates back to when the vicar put a candle in the window to show he was available to parishioners.
Our double room (£95) was small but pleasant with wood beams, a cosy window seat with a view of the hill behind, and a large bathroom. There was WiFi but no phone signal.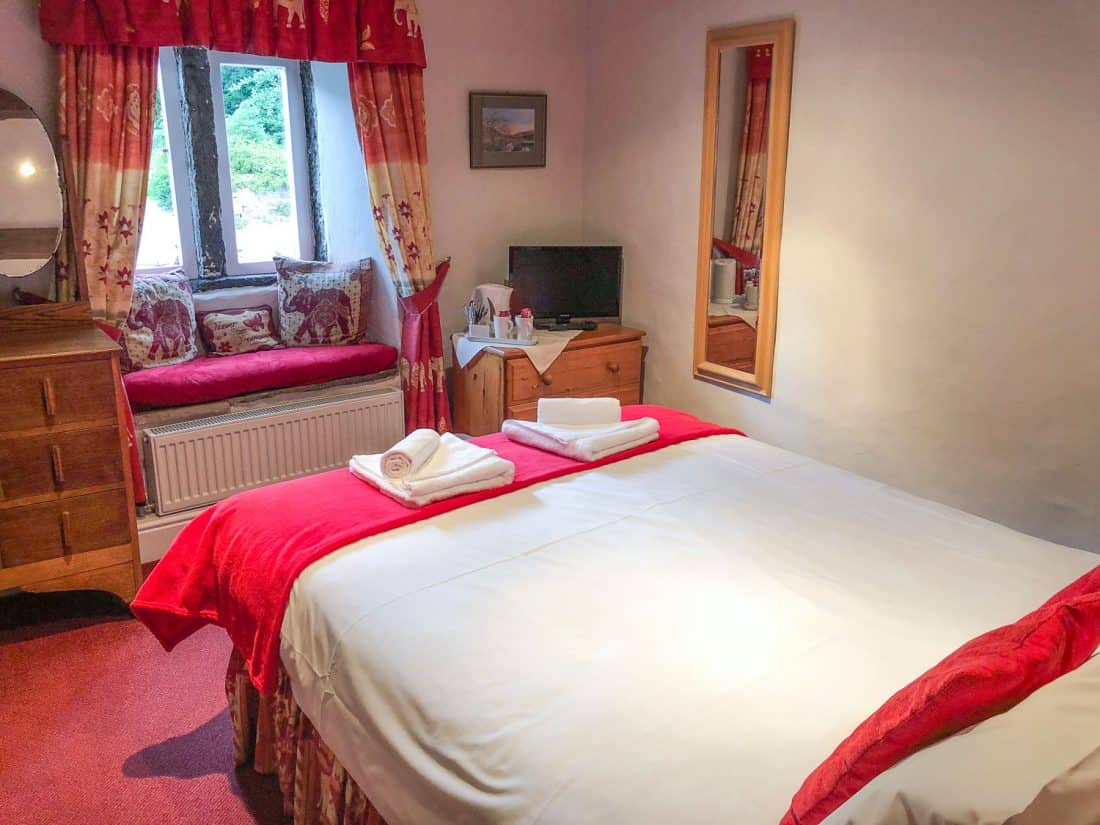 There were two downsides: our room was above the kitchen so we heard the loud radio playing until 9.30pm, and the tap water didn't taste great.
Breakfast is served from 7.30am and is focused on the Full English. Toast, yoghurt, cereal, and fruit were also available.
Where to Eat in Hubberholme
It was convenient being able to pop downstairs at The George for one of their local beers and a hearty dinner. Dinner reservations are essential.
They had a good number of vegetarian options, but I recommend their award-winning homemade pies. They come with many different fillings (meat and vegetarian) and the homity (cheese and vegetables) was superb, and I'm not usually a pie fan. Our soup starter and desserts were excellent too.
In the morning they provided us with a packed lunch (£7.50) which included a sandwich (cheese or ham plus salad/chutney), crisps, chocolate bar, apple, and water.
Day 3 Hubberholme to Winshaw
Distance: 11.4 miles (18.4km)
Walking Time: 4 hours 40 minutes
Total Time (with breaks): 5 hours (9.30am – 2.30pm)
Highlights: Hubberholme church, remote walking, wild moors, highest point of walk, Ribblehead viaduct views, relaxing at Shepherd's Cottage B&B.
Our third day on the Dales Way was the shortest and most remote so far with nowhere to stop for lunch and limited accommodation.
We started by having a look inside the 12th-century St Michael and All Angels Church in Hubberholme where there's a unique wooden rood loft over the altar and a small display about J.B Priestley who wrote about the delights of this hamlet.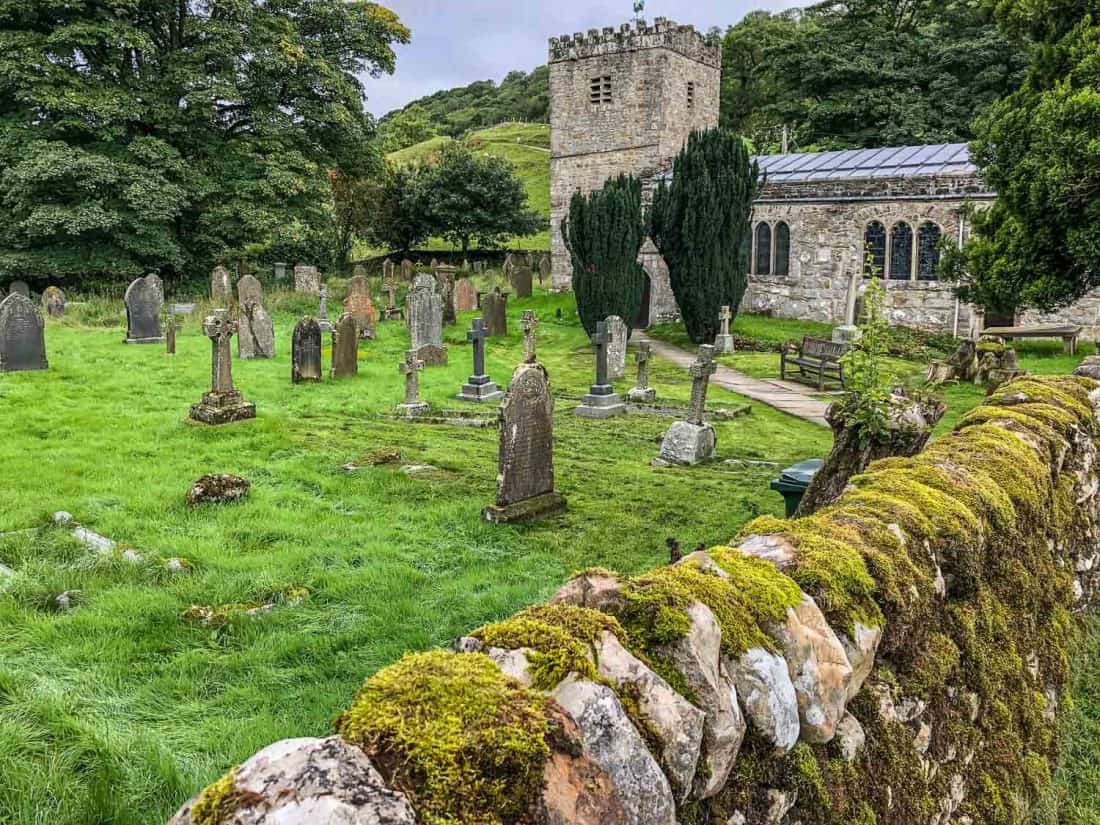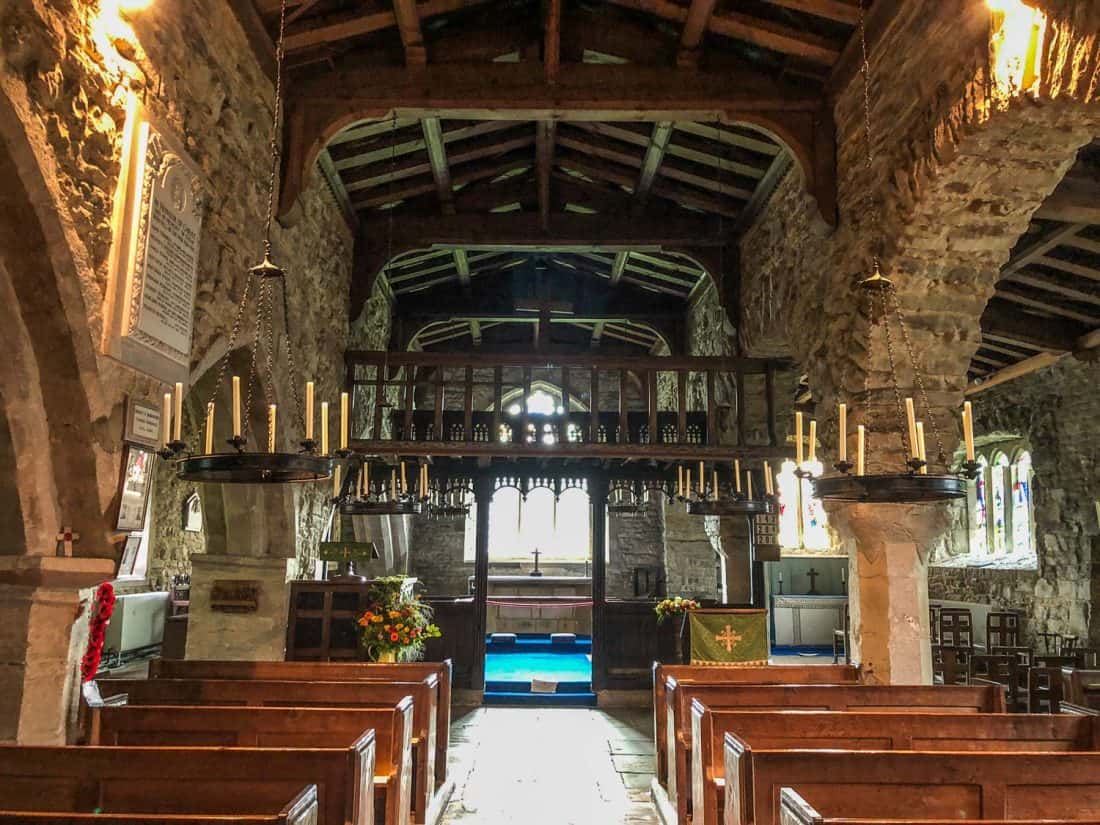 It was a chilly morning and it rained lightly on and off all day. We began with the usual easy river walking, but it felt very remote and quiet and we only passed a few isolated farmhouses, lots of sheep, and a stone circle from the Bronze Age 4000 years ago.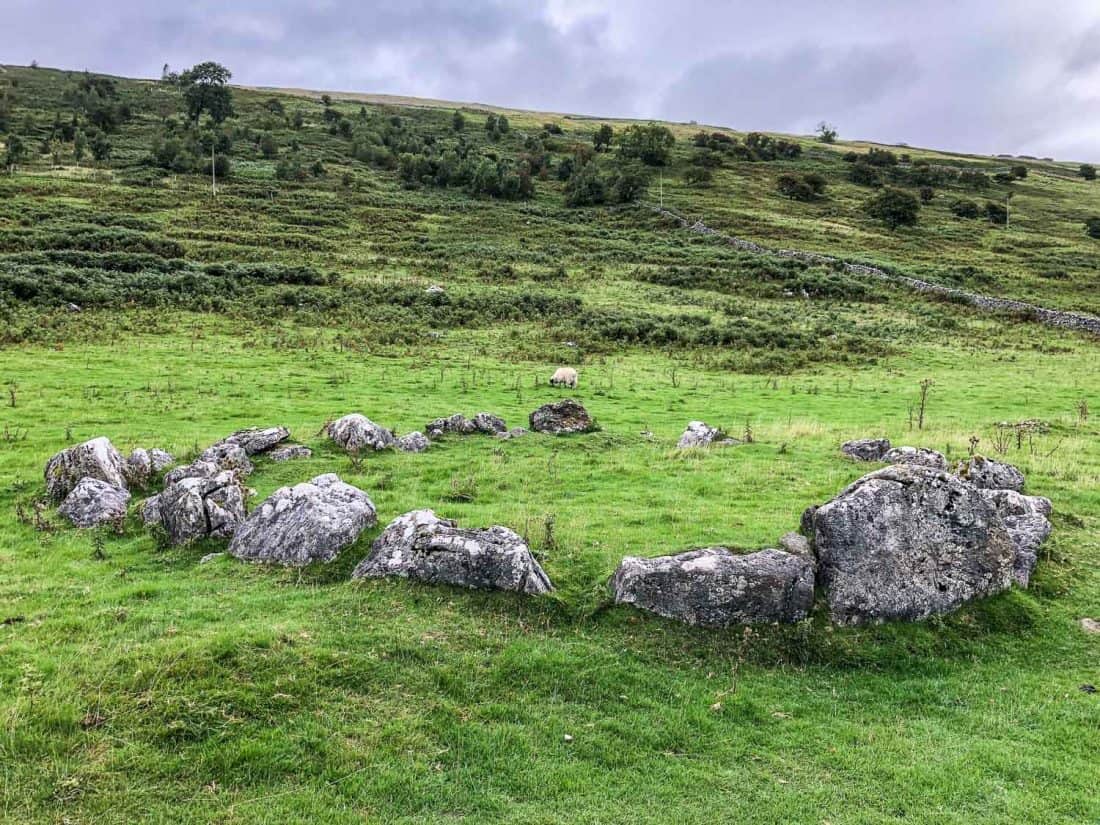 We then headed up on the moors, the wide open expanses a change after the pastoral scenes. We ate our packed lunch under a tree in the drizzle and missed having a cafe to stop for a break.
We should have waited until Nethergill Eco Farm where you can help yourself to tea and flapjacks and pay in the honesty box.
We continued along the side of a hill over streams and across boggy moors. It was rather bleak in the drizzle and the fields were more sage and brown than the vibrant green of the earlier stages.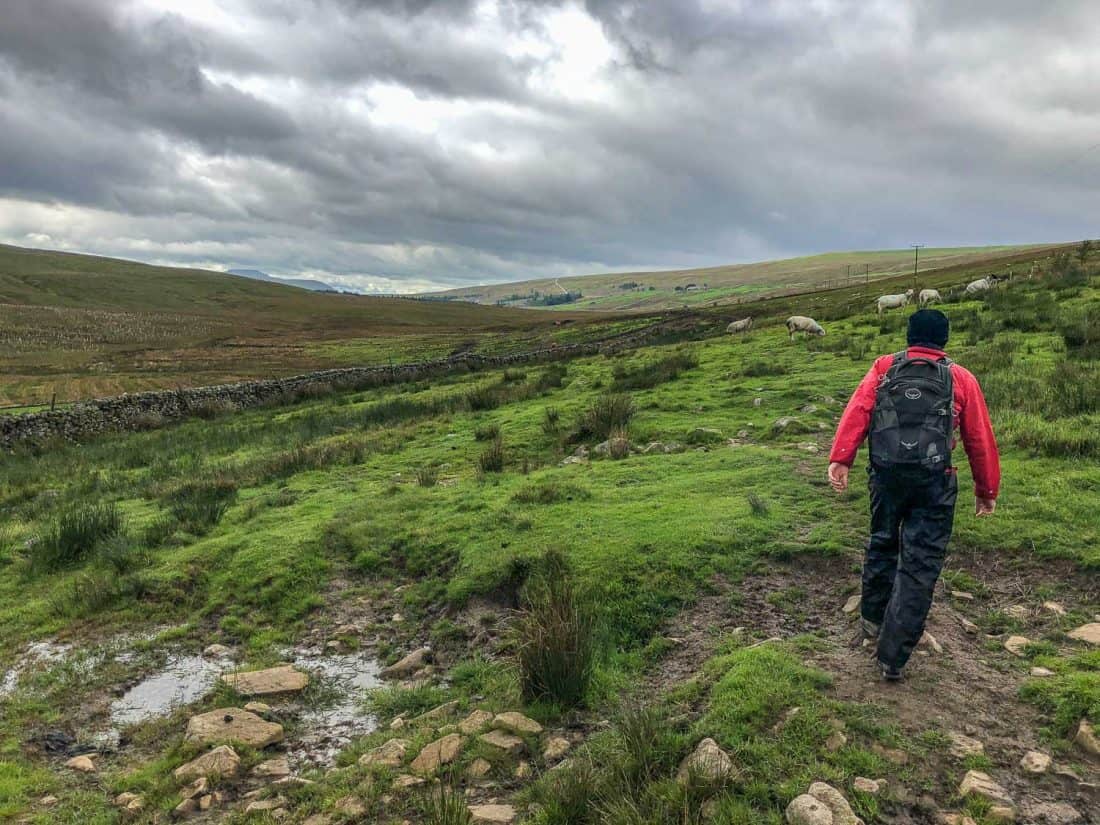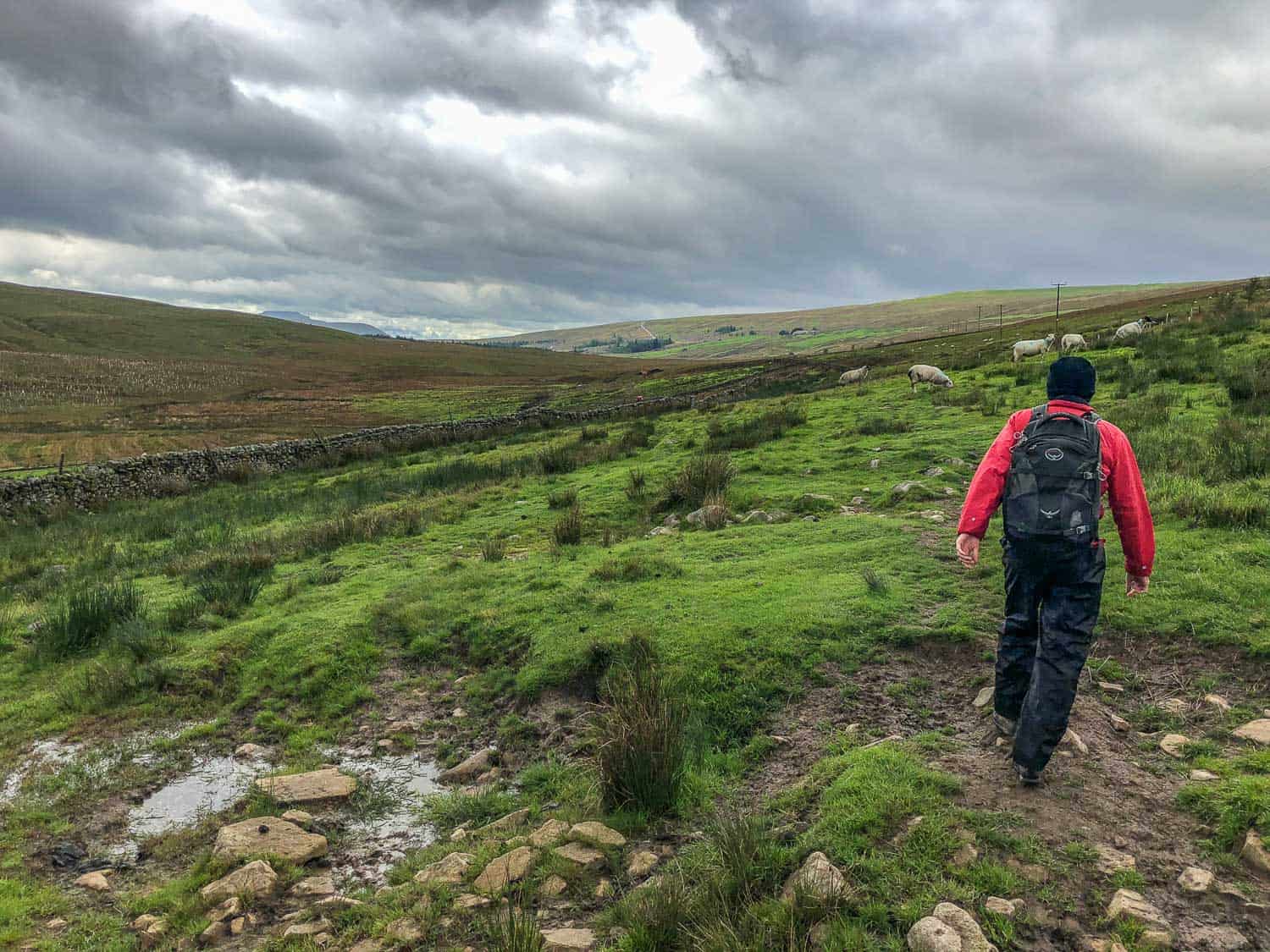 At the remote farmhouse Cam Houses, we had to wait for hunters to finish shooting birds before we could pass through safely (the first people we saw all day).
Luckily the sun came out and we shed our waterproofs while we waited with the cocker spaniels who were eager to run and collect the fallen birds.
We ascended to the highest point of the Dales Way on Cam High Rd, an old Roman Road where the trail intersects the Pennine Way briefly.
There's a fairly long section of walking along the stony road with expansive views, and when it descends you can see the huge 19th-century Ribblehead Viaduct in the distance.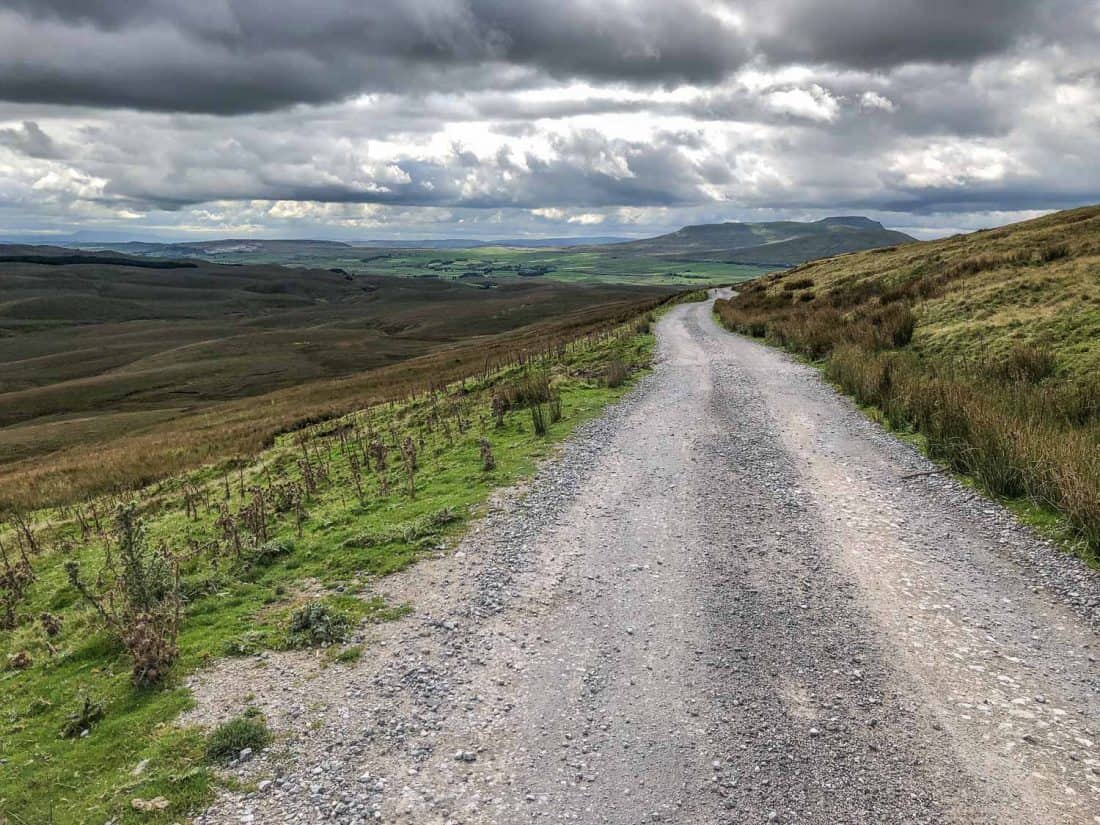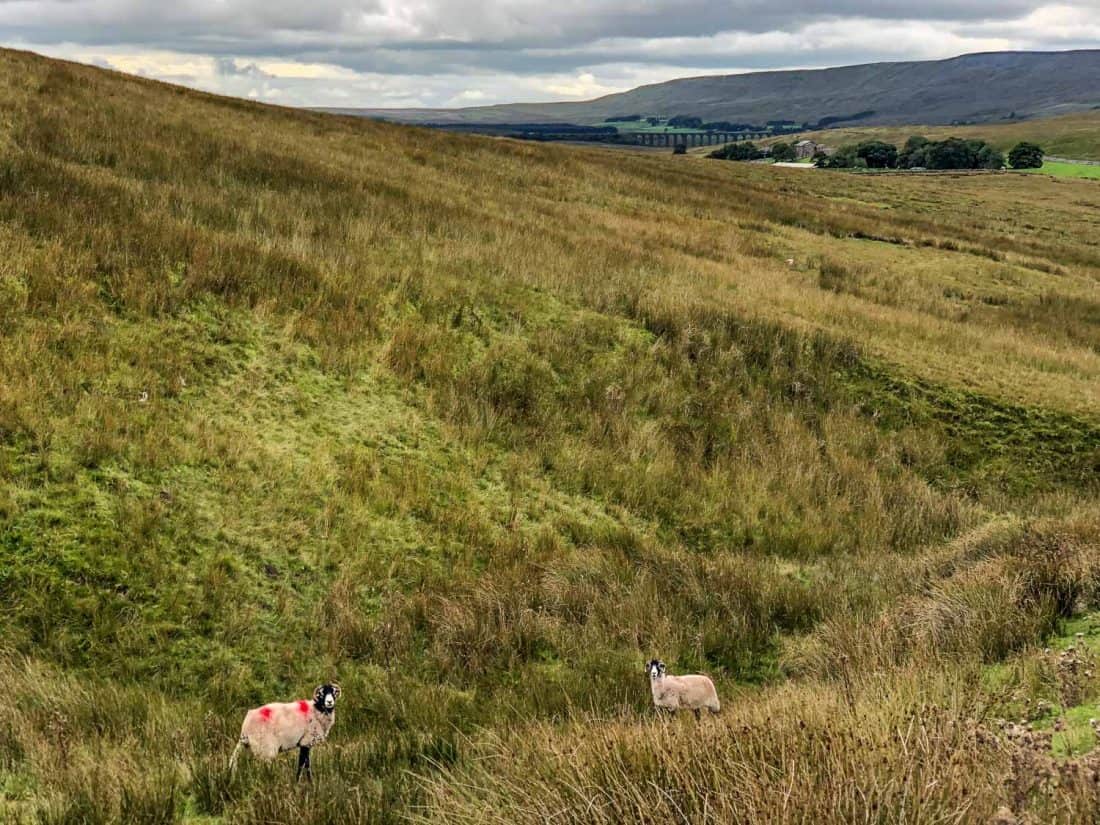 Once we crossed over the B6225 it was just a few minutes to Winshaw, a cluster of three stone cottages and our stop for the night.
Although it was a short day, the dreary weather, hills, and lack of proper break made it quite tiring and we enjoyed a relaxed afternoon.
Where to Stay
From Hubberholme there are no villages until Cowgill, 18 miles away. Many people choose to break up the walk in Ribblehead, but we didn't hear great things about the only accommodation there (The Station Inn) and it's also 1.5 miles off the path along the B6225 road.
Instead we're so glad we stayed at Shepherd's Cottage, a luxury B&B with three rooms right on the route (£75–95 cash only). It's in the middle of nowhere but we loved how tranquil it was.
Our room (Pen-Y-Ghent) was large and immaculate with a view of the sheep on the hills and sheep themed decor.
It was stylish but homely with a very comfortable bed with plenty of pillows, soft snuggly robes, hot chocolate and biscuits, and an electric radiator we were grateful for.
The bathroom was huge and luxurious with a bath and shower.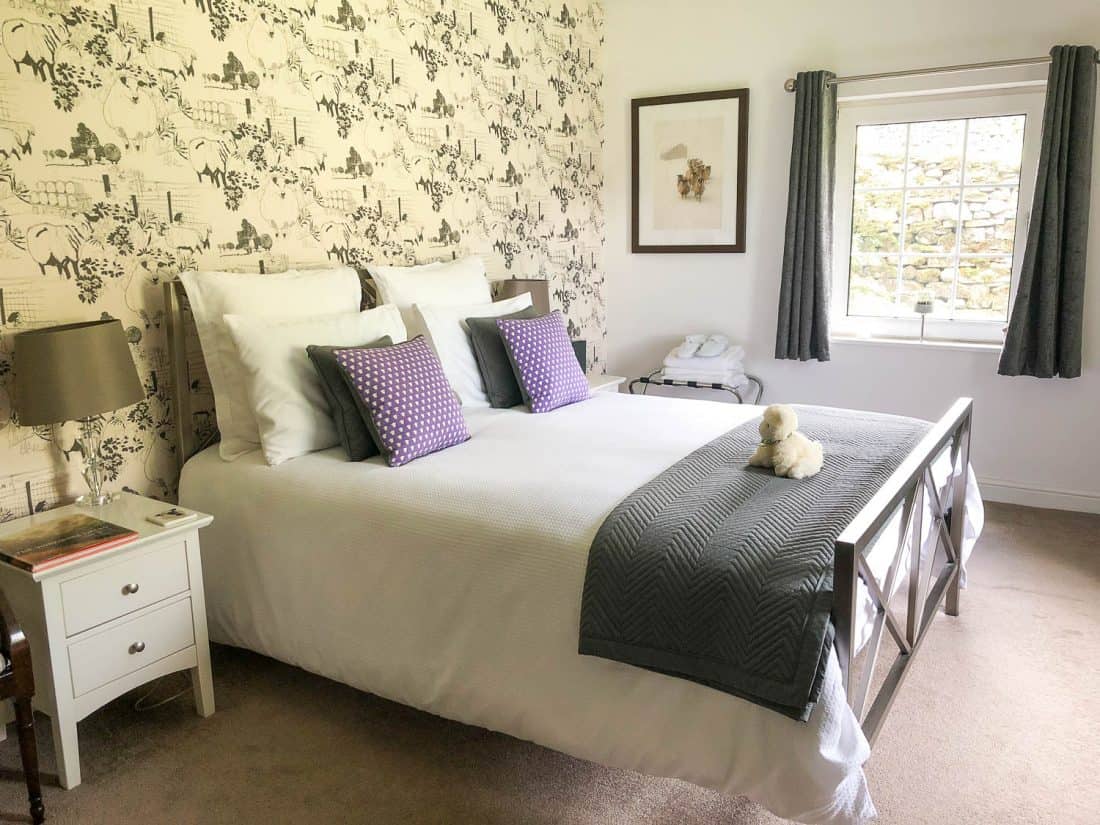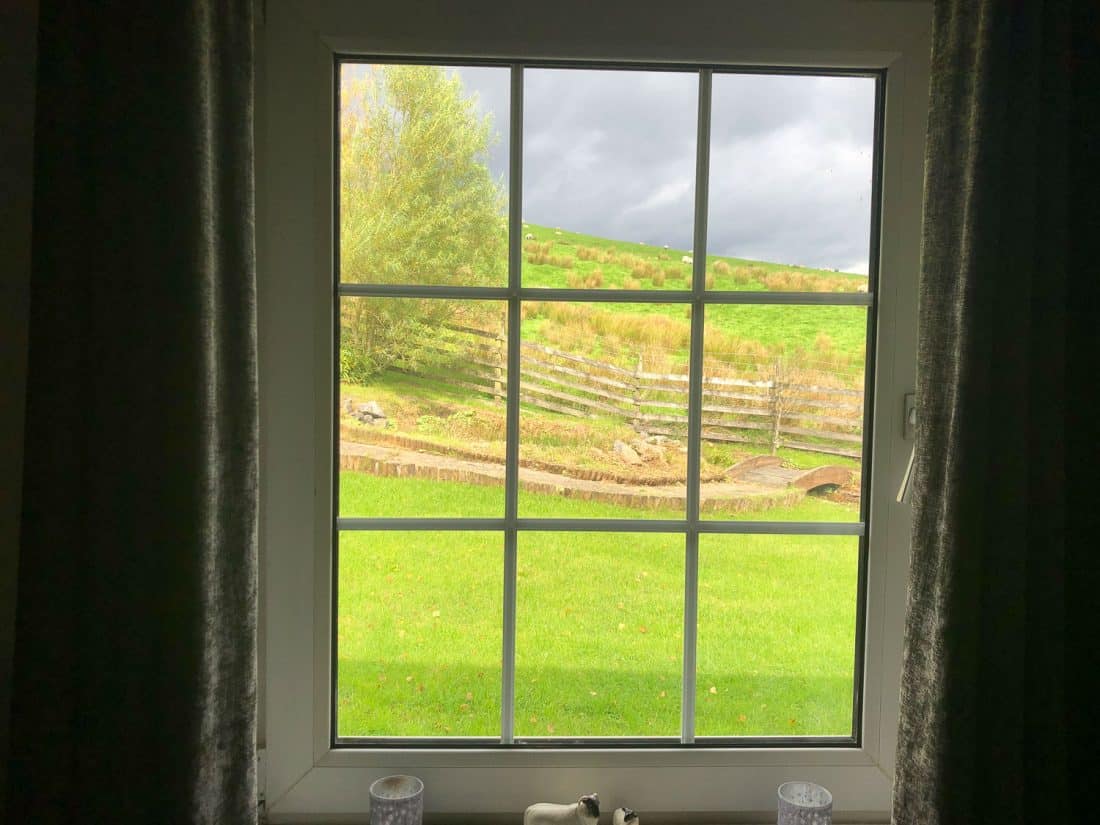 There's a lovely garden but it was too cold for us to venture outside, so we enjoyed the views from the comfort of our room.
The only downside was that the tap water was brown when we visited as it comes from the fells and the peat causes this when it rains.
We had four small bottles of water in our room, which wasn't quite enough before our host arrived home and gave us large bottles. It would also have been nice to have an honesty fridge with soft drinks and beer.
There's no WiFi or mobile signal but we didn't mind at all.
Breakfast was great for us, even skipping the cooked breakfast, as there was plenty of fresh fruit, quality cereals, yoghurt, and croissants.
Where to Eat
Shepherd's Cottage's friendly owner Kate cooked us a delicious and huge three-course meal (£20 per person with wine) including a wonderful vegetable lasagna with chips, salad and garlic bread.
Day 4 Winshaw to Sedbergh
Distance: 15.3 miles (24.7km)
Walking Time: 6 hours 10 minutes
Total Time (with breaks): 7 hours 30 minutes (9 am – 4.30pm)
Highlights: Misty moors, viaducts, Dent.
This was a long day. Although it was a similar distance to Day 2, our pace slowed substantially, due to terrible rainy weather and increased tiredness after three days of walking (my feet were also suffering from sore toenails and blisters).
We started uphill on the misty moors, barely being able to see anything but it was very atmospheric. There weren't even any farmhouses around, just sheep as we trudged through the boggy ground.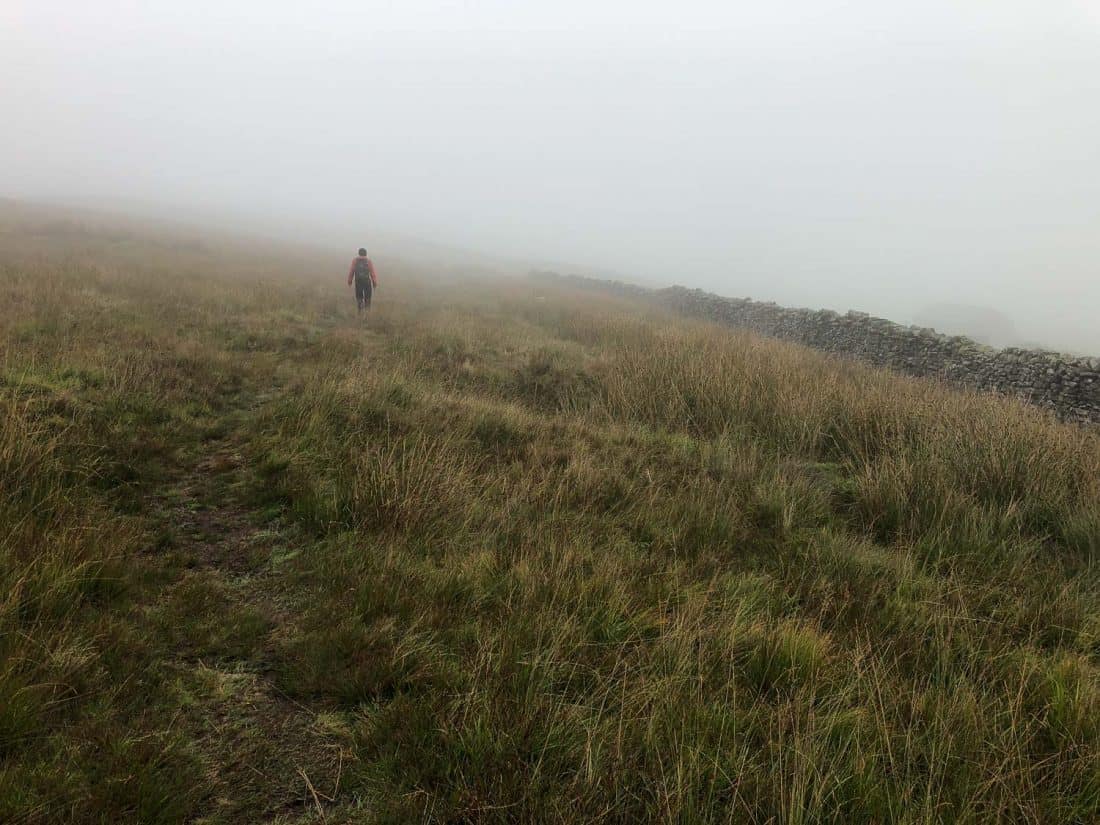 We then hit a road for a few miles. It's the longest stretch of road walking on the Dales Way, but the road was quiet and took us under the impressive Dent Head Viaduct and through the pretty countryside of Dentdale, more like the verdant pastures of earlier days than the more recent moorland.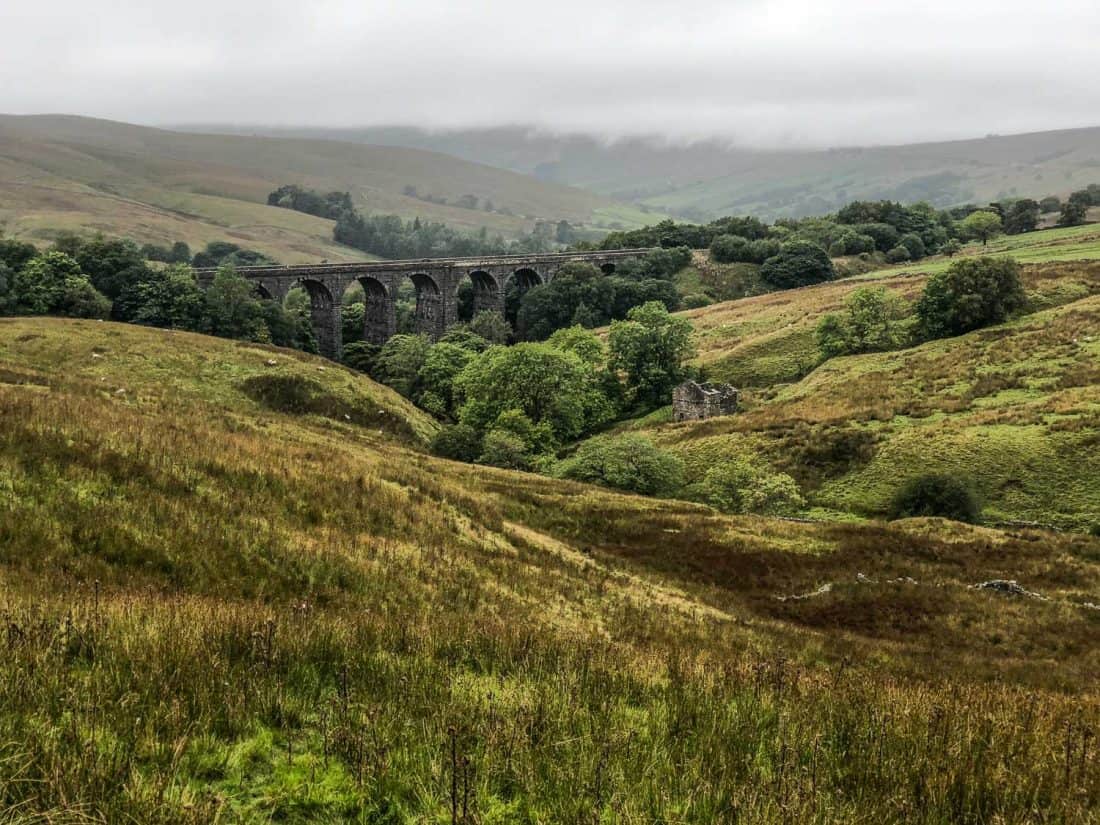 In Cowgill we passed the The Sportsman's Inn pub where some hikers stay, but it has limited hours and didn't open until 12pm.
Further along the road there's a pretty garden with benches that says Dales Way walkers are welcome, but it was too rainy for us to stop.
Dent
We returned to following the river through fields and small woodlands in the pouring rain and were relieved to make it to Dent after four hours and over nine miles of walking.
Dent is another picturesque village of cobbled streets and stone houses with a few pubs and tea rooms.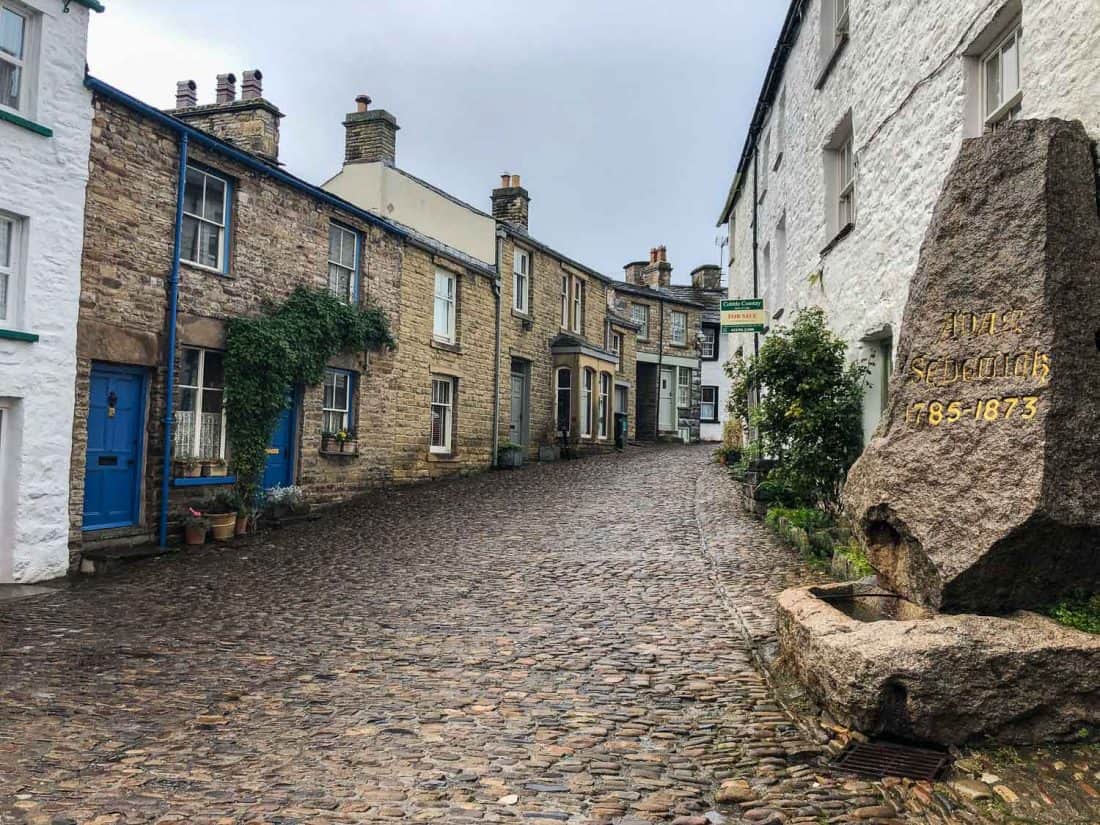 I wanted to have lunch at Stone Close, a cosy looking 17th-century tea room with stone floors, a fire raging, and an array of cakes on display, but it was full, so we headed through the village to Meadowside Cafe.
Meadowside was less characterful, and sadly their fire wasn't going, but we enjoyed the tomato soup and delicious cakes—try the carrot cake or the Dent beer cake, a rich chocolate cake that doesn't taste of beer.
Sedbergh
The 2.5 hours of walking to Sedbergh in the afternoon was fairly easy but we were feeling exhausted.
Sedbergh is half a mile off the Dales Way from Millthrop but almost everyone stays there as it has more choice of accommodation and food. The uphill road to the town was a slog.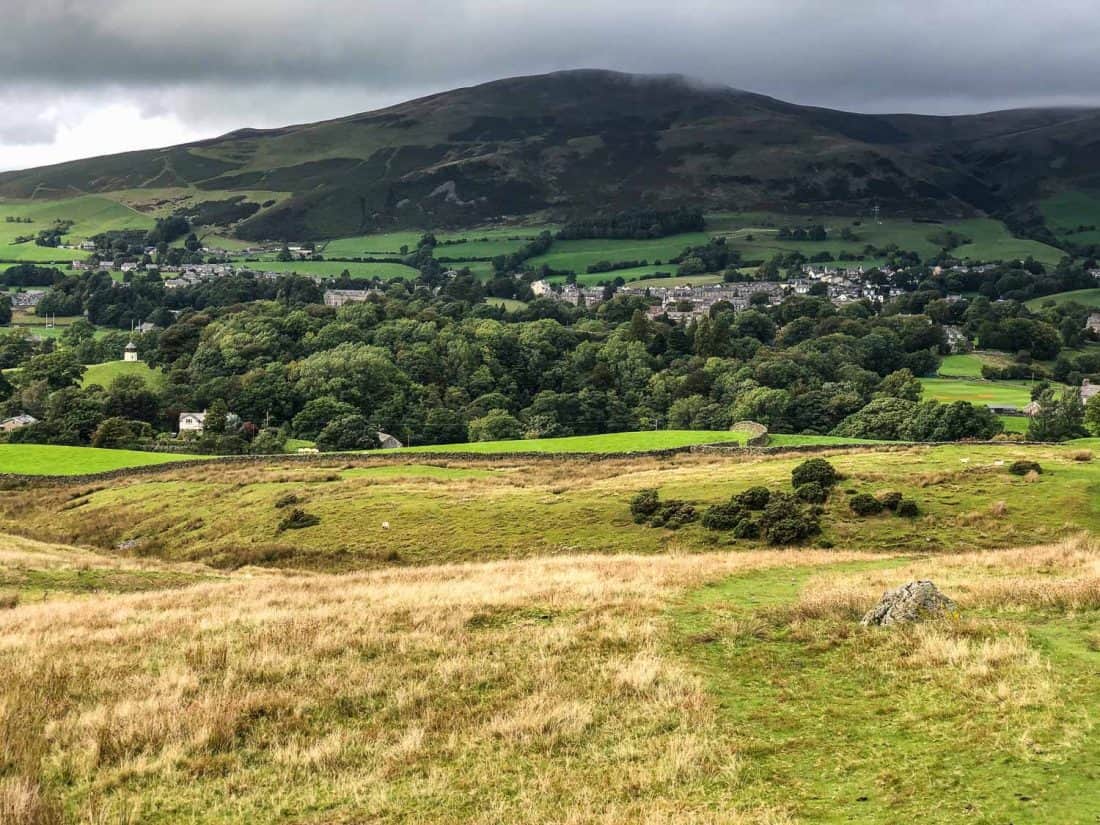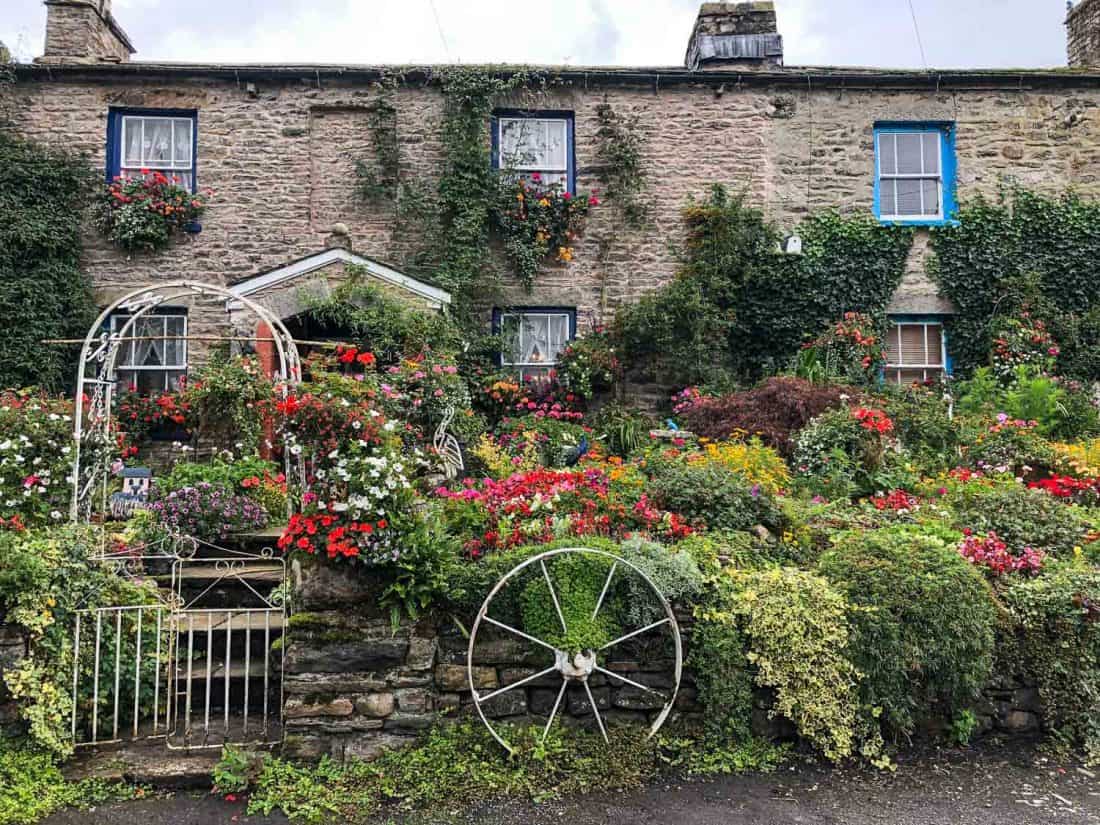 Sedbergh is an attractive small town that's been home to the private boarding school Sedbergh School since 1525. It has a handy Spar shop where we bought lunch for the next section of the walk.
Where to Stay in Sedbergh
Sedbergh has a wider range of accommodation that other stops on the Dales Way, but they do get booked up.
We stayed at Daleslea (£90 cash only) a very friendly B&B in a grand Victorian semi-detached conveniently located between the Spar shop and Dalesman pub, so we didn't have to walk too far.
Our room was huge and comfortable with a separate sitting area where they'd left us homemade cupcakes.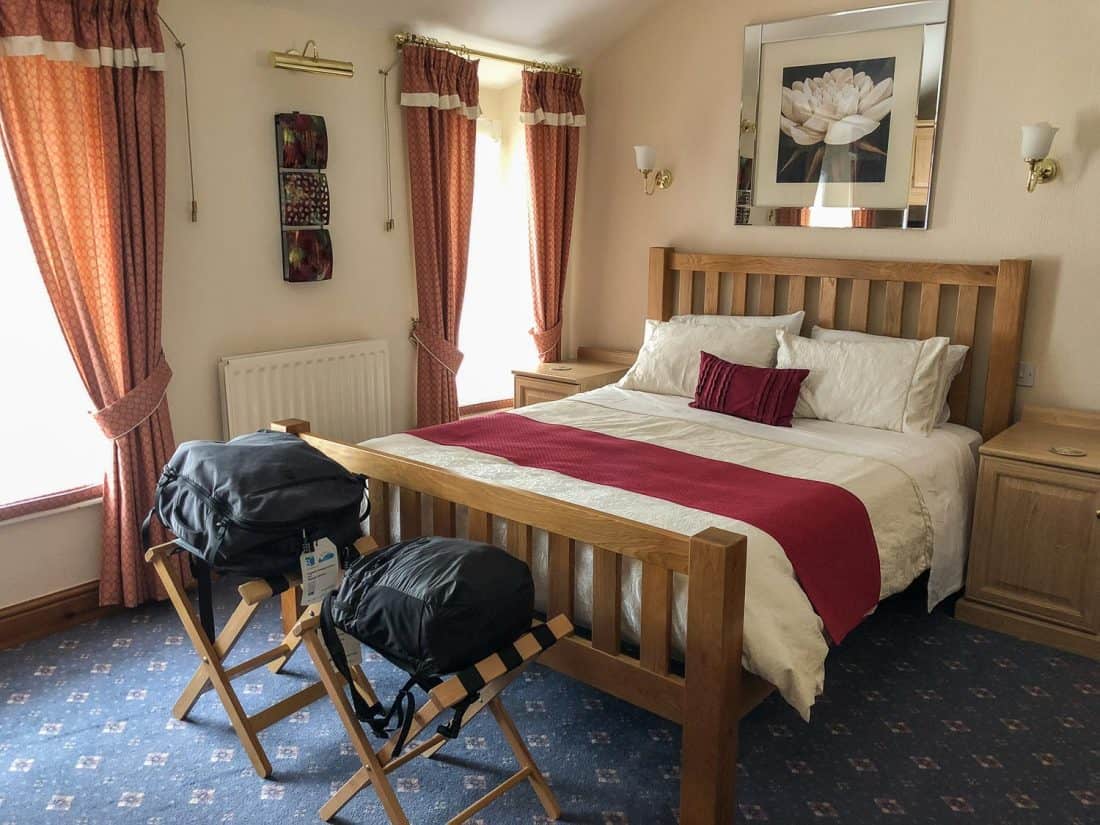 Breakfast was the usual cooked option plus toast, yoghurt, cereal, and fruit.
Where to Eat in Sedbergh
This was the first night we didn't eat at our accommodation. We were there on a Saturday night and were glad we'd made reservations for the Dalesman pub as it was very busy.
It's a cosy place with stone walls, wooden beams, and a fireplace. They had two vegetarian mains and two specials—we opted for the spiced courgette and saffron risotto which was very nice.
Day 5 Sedbergh to Burneside
Distance: 16.5 miles (26.6km)
Walking Time: 6 hours 50 minutes
Total Time (with breaks): 7 hours 15 minutes (10 am – 5.15pm)
Highlights: Bridges and viaducts, honesty snack boxes.
This was the longest day of the hike with nowhere to stop on the way. I recommend taking change for the honesty snack boxes some locals have set up—a cold lemonade in the middle of nowhere was much appreciated.
We crossed farmland and saw impressive stone and iron bridges and viaducts.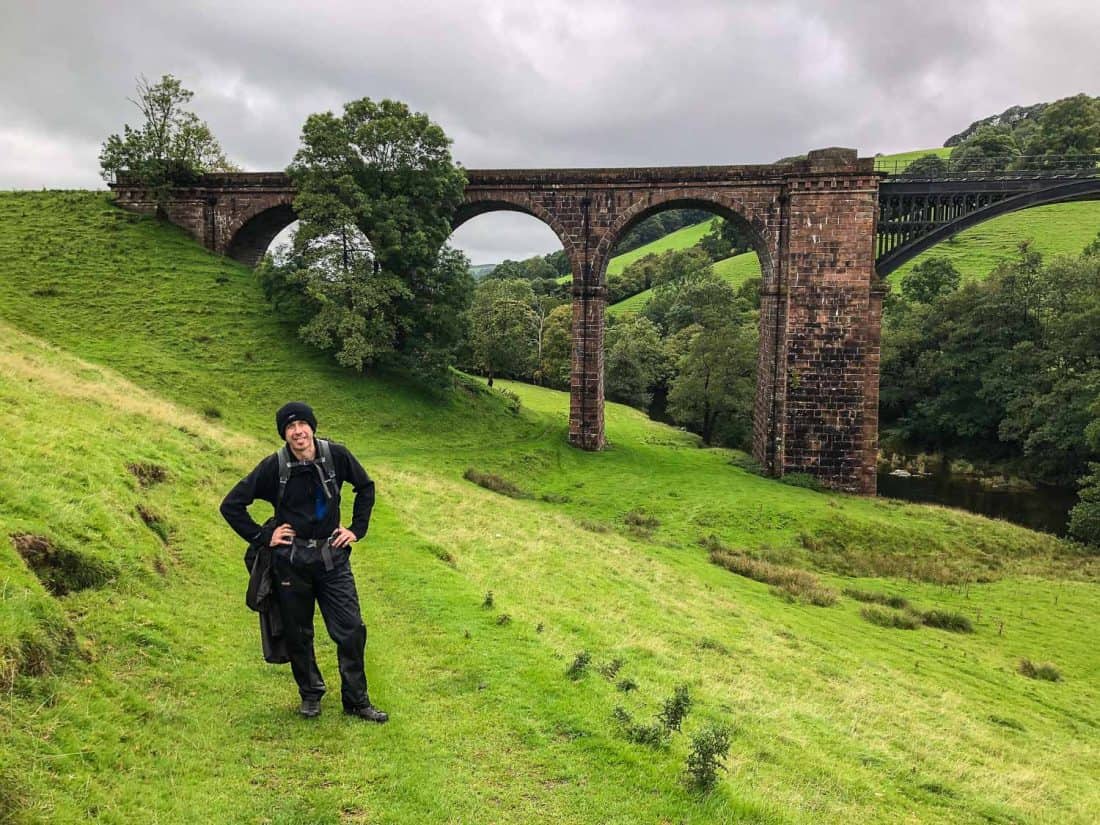 Some of the walk is almost alongside and eventually over the M6 motorway, so the noise takes away from the atmosphere somewhat. We left the Yorkshire Dales and noticed how there were fewer stone walls and more hedges.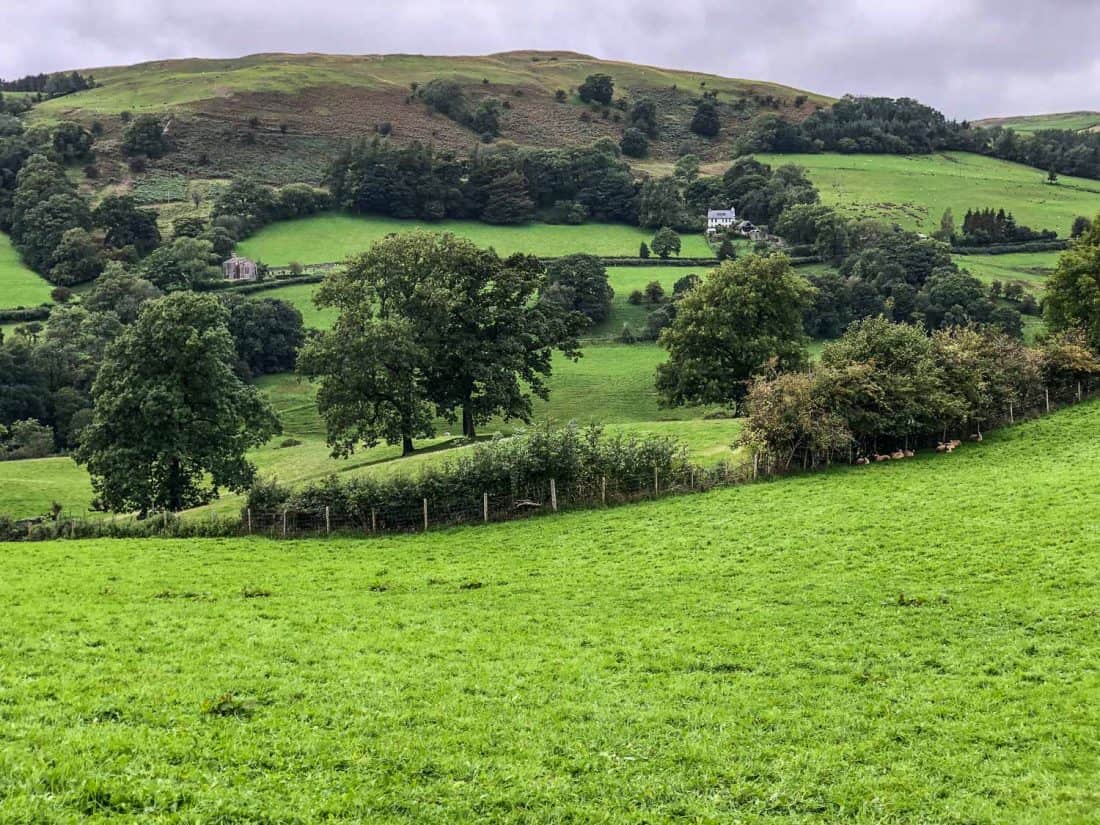 It was quite hard going, especially during the hours of rain, but we scheduled lunch and chocolate breaks for motivation, and I listened to music for the first time which helped me ignore the pain in my feet.
In the end, we arrived feeling less tired than the previous day.
There's a new route into Burneside to avoid a busy road and a sign explains the way to go. It's not the most attractive village with more modern houses than we'd been used to, but it's a convenient stopping point.
Where to Stay in Burneside
Accommodation in Burneside is limited so some people take the four-minute train ride to Kendal for a larger selection.
We couldn't be bothered with that, but we'd heard that rooms at The Jolly Anglers pub were basic, so we opted for a B&B. Braeside Studios has two self-contained studios (£70) in friendly owner Trish's garden.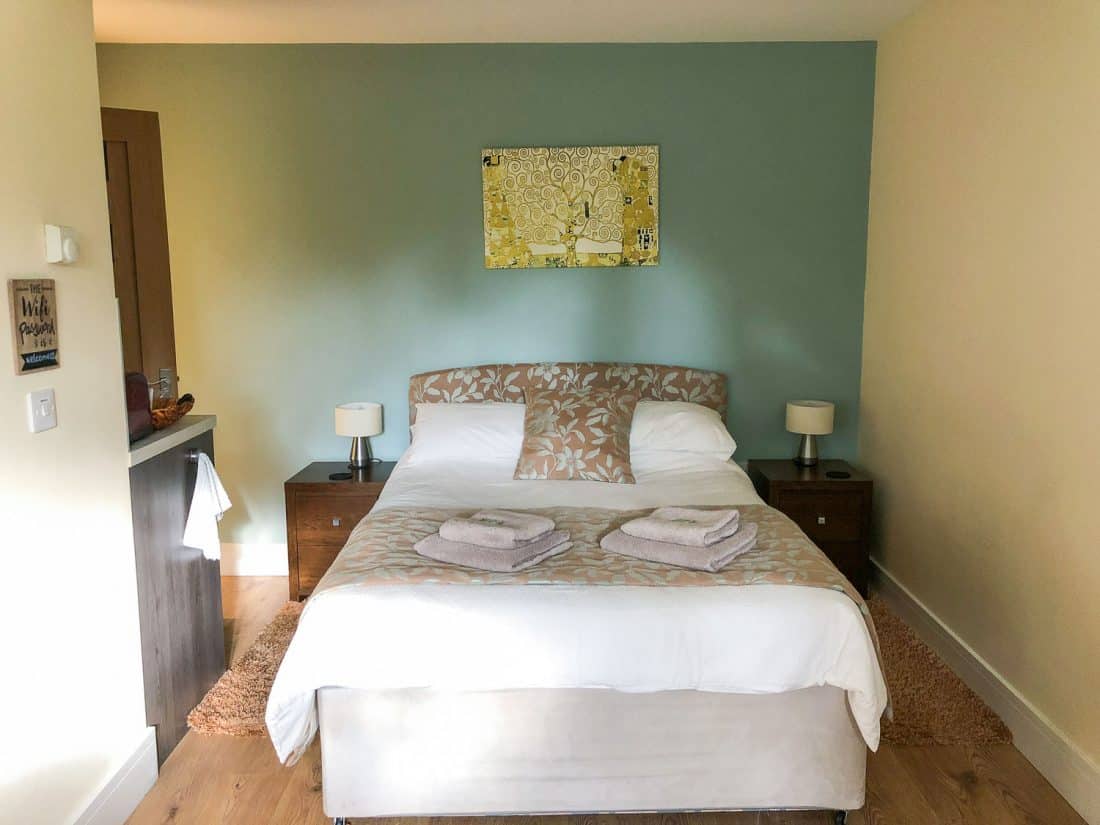 The rooms have been created with lots of care and attention to hikers needs. Our studio was warm and had a comfortable bed, seating area, and little kitchenette with DIY continental breakfast.
The bathroom was modern with a good shower and there's a handy drying room—our washing dried overnight.
We loved the thoughtful touches—homemade cake, foot spa, slippers, cosy blankets, DVDs and books, and a booklet with menus for local restaurants and takeaways. There is WiFi and mobile signal.
Where to Eat in Burneside
There are limited options in Burneside. The pub only had one simple vegetarian option and the chip shop was closed on Sundays.
There is a golf club down the road but we opted for delivery instead. Our top three choices were closed so we ended up with Dominos. At least it was easy.
Day 6 Burneside to Bowness
Distance: 10.4 miles (16.8km)
Walking Time: 4 hours
Total Time (with breaks): 4 hours 45 minutes (11 am – 3.45pm)
Highlights: Hawkshead Brewery, Lakes countryside, Lake Windermere view, Dome House.
The last section of the Dales Way is fairly short, so we had a late start in order to arrive in Staveley at lunchtime.
The village is half a mile off the trail and 4 miles (1.5 hours) from Burneside and there are a surprising number of good places to eat, so it's worth the detour.
We went to Hawkshead Brewery where Simon enjoyed a local brew and we shared some of their tapas style dishes—the mac and cheese and roast squash salad were especially delicious.
After Staveley, we walked through farmland then up a steep narrow country road that went on for ages.
Finally, we emerged into the Lakes countryside which felt wilder and craggier than the Dales with spikier peaks and thorny gorse bushes.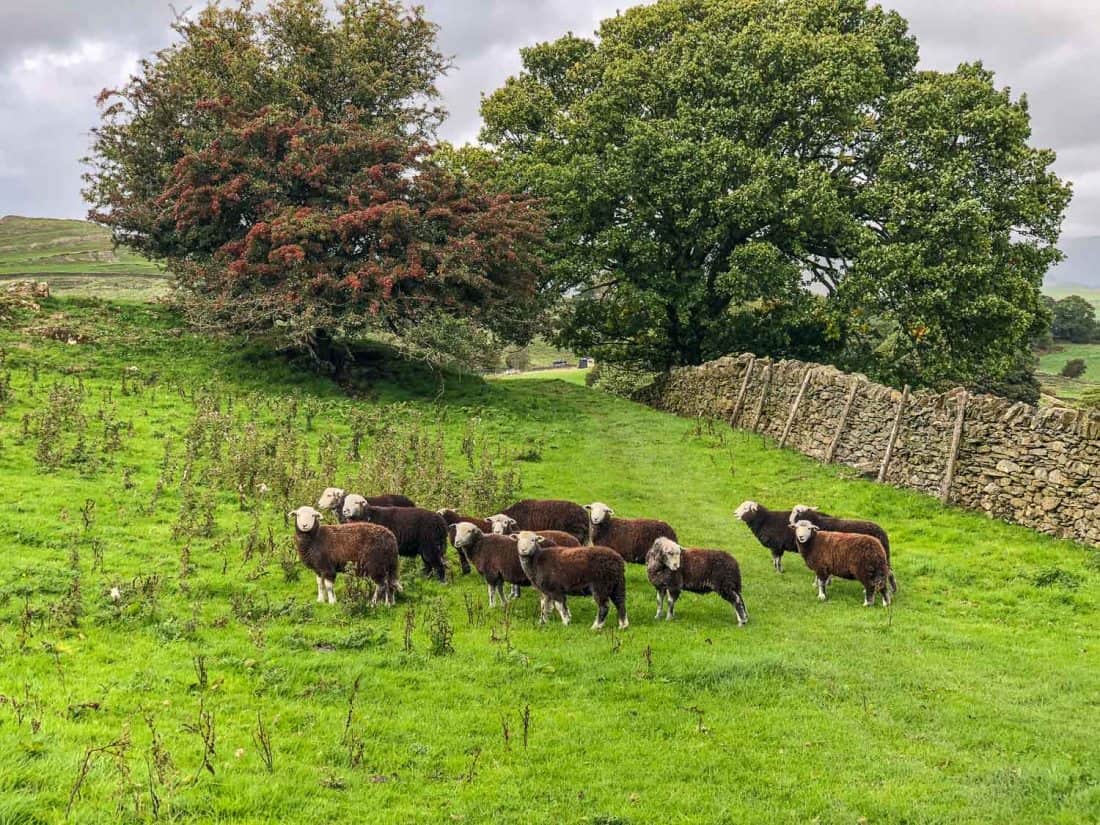 The grand finale of the Dales Way is coming over a hill and seeing Lake Windermere below. A stone bench marks the end of the trail.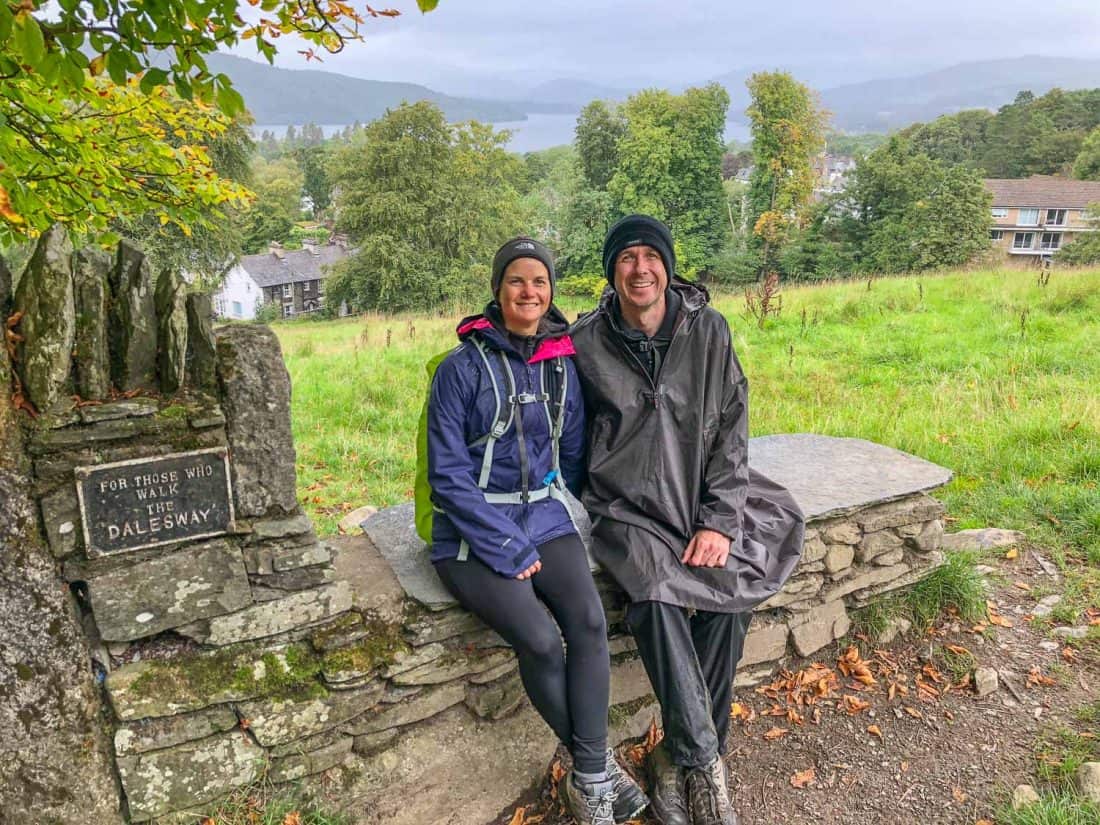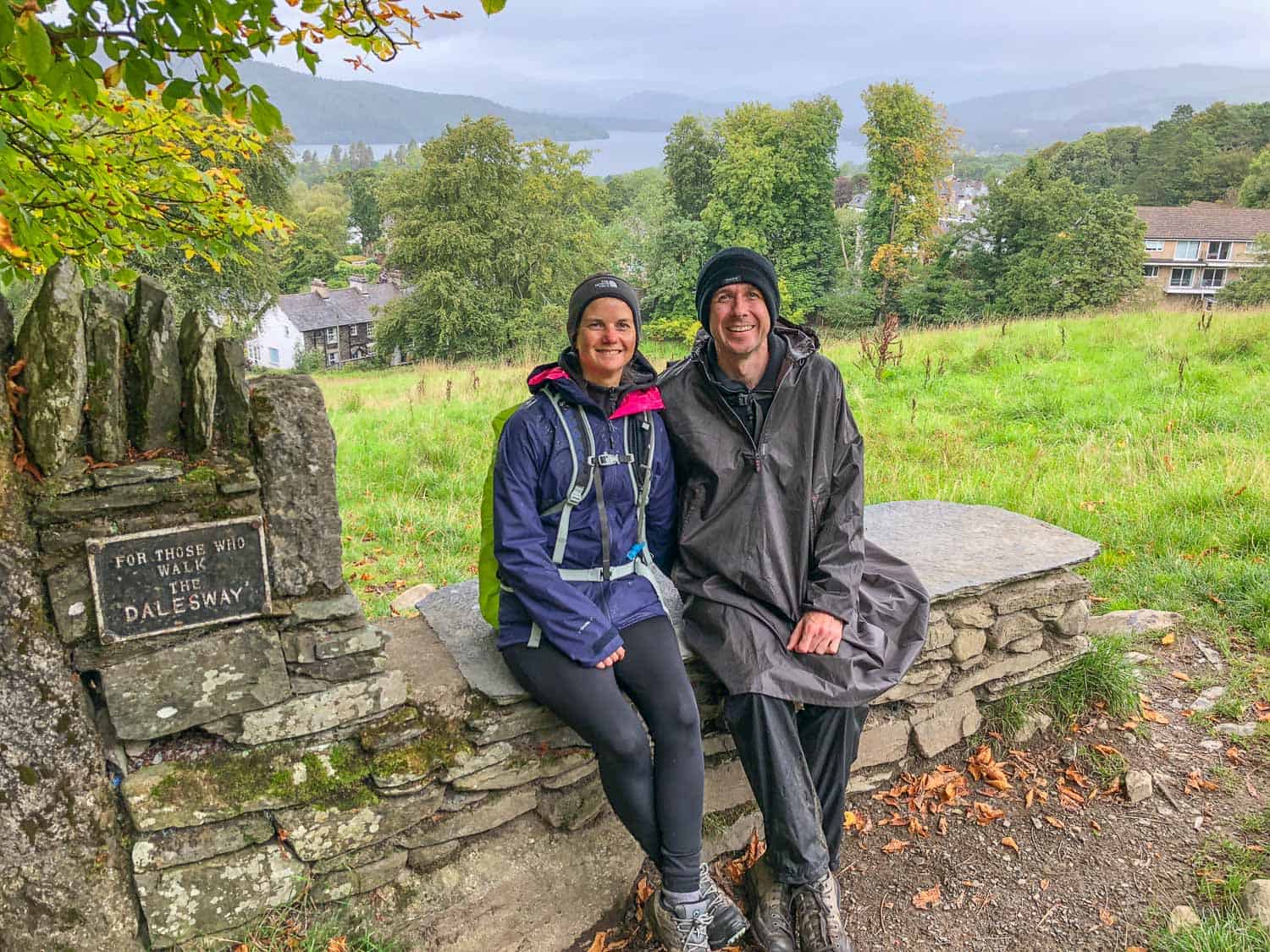 From here it's a short walk down the hill to the centre of Bowness.
You could take a train on to your destination (Windermere station is a 10-minute bus or taxi ride away), but we chose to spend two nights here to relax and see a little of the area.
Where to Stay in Bowness
We decided to splurge on a fancy hotel in Bowness to celebrate the end of our hike and chose The Dome House which is conveniently located just two minutes past the end of the trail, on the hill overlooking the lake and town.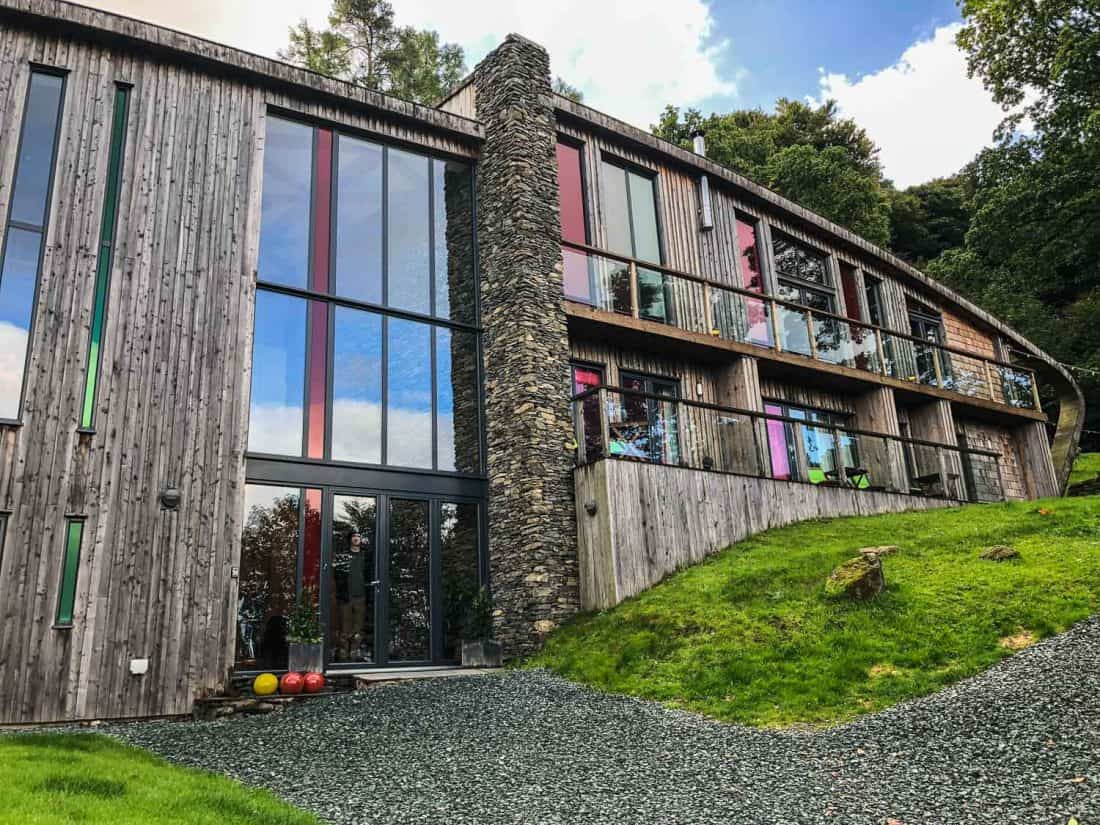 It's an impressive and unusually shaped building of wood and glass that was featured on the TV show Grand Designs.
The friendly couple Phil and Joyce, who've been running the B&B since the end of 2016, welcomed us with a roaring fire and showed us around.
There's an indoor swimming pool and a huge communal lounge with fairy lights crisscrossing the ceiling, comfy seating, modern fireplace, bright splashes of colour, a stack of board games, and floor to ceiling windows overlooking the lake.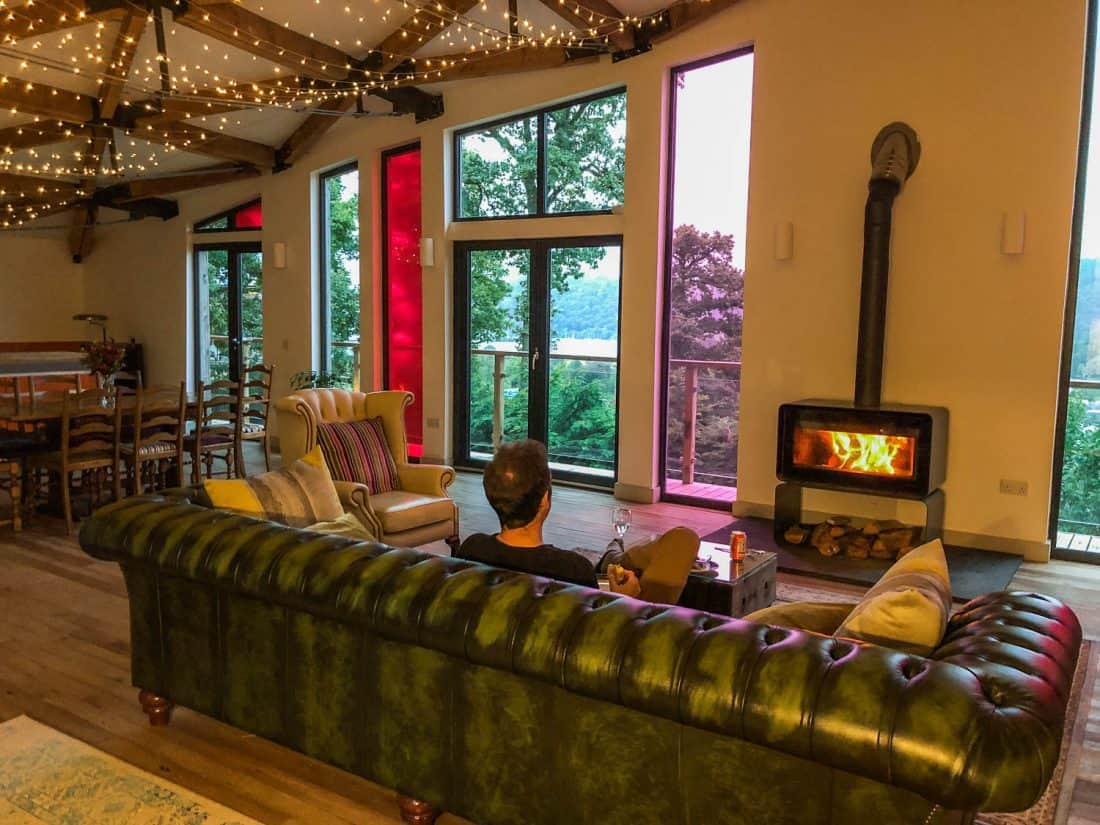 There are three rooms available. We went for the deluxe suite (£200) which featured a comfortable bed, seating area, small kitchenette (more for snacks than actual cooking), a large wooden bath, and a balcony with views of the lake (except it was so rainy we couldn't see much).
We loved the breakfast arrangement—you text when you are ready in the morning and they bring you a basket of goodies—pastries, bread, fruit, granola, yoghurt, cheese, and juice.
The location is perfect—it's peaceful and feels away from it all, but it's just a short walk down the hill to restaurants and the lake. We highly recommend Dome House for a special treat at the end of the hike.
Where to Eat in Bowness
After enjoying some delicious meals in middle-of-nowhere pubs we were not impressed by Bowness' restaurants.
Porto is supposed to be the best restaurant in town but it's pricey and the only vegetarian option was an unexciting mushroom risotto.
We ate at Italian restaurant Trattoria instead but we wouldn't recommend it. On our second night we brought salad, cheese and bread from the Coop and ate in our room.
Exploring Bowness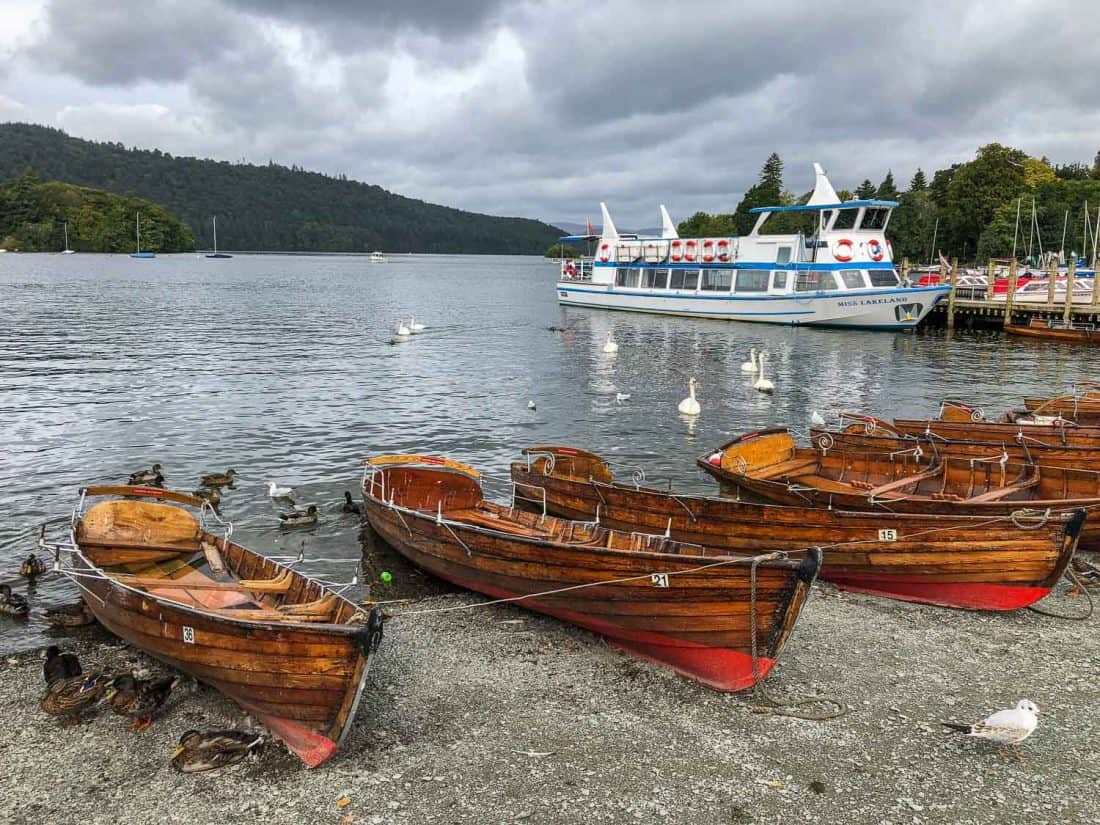 We had one full day in Bowness and took a boat ride with Windermere Lake Cruises.
We chose the Red Cruise (£11.30 return) to Ambleside which takes about 30 minutes and there are lovely lake and mountain views on the way.
It's a one mile walk from the ferry dock into the cute town of Ambleside where I enjoyed an excellent fruit scone at Mr H's Tea Room.
Dales Way Summary
The Dales Way was one of the best things we've ever done. Despite losing a few toenails we were so sad it was over and struggled to readjust to being back in the "real world".
We are converts to the long distance walking holiday and will definitely be doing more.
I highly recommend the Dales Way even if you haven't done a long hike before.
The scenery is stunning, the walking is fairly easy, the villages are picture perfect, the food and beer are good, and the comfortable B&Bs and baggage transfer service make it accessible to people of all abilities and comfort levels.
If you enjoyed this post, pin it!