We love discovering unique, quirky places on our travels and Asia is full of them, often creative interpretations of Buddhism like the extravagant White Temple in Chiang Rai, Thailand and the playful Otagi Nenbutsuji in Kyoto, Japan. On a recent visa run from Chiang Mai to Lao's capital city Vientiane we discovered another weird and wonderful place.
The Buddha Park or Xieng Khuan is a sculpture park 25km from Vientiane in a meadow next to the Mekong River. It isn't a temple but it does contain over 200 Buddhist and Hindu statues created in 1958 by monk Luang Pu Bunleua Sulilat who studied both religions.
The weathered concrete sculptures scattered throughout the park seem older than they are and include many Buddhas and characters from Hindu mythology, as well as animals, humans and demons. Most are larger than life and carved with intricate and often bizarre details.
The focal point of the Buddha Park is a pumpkin-like structure that you can enter through a demon's mouth and climb up the three stories that represent heaven, earth and hell. From the top there are views over the entire park.
The other major sculpture is the huge 120m long reclining Buddha that dominates the park.
On a weekday it was very peaceful and it's easy to spend an hour or two wandering amongst the statues and taking photos. We were travelling ultra light to Laos so all these photos were taken with our iPhone 5.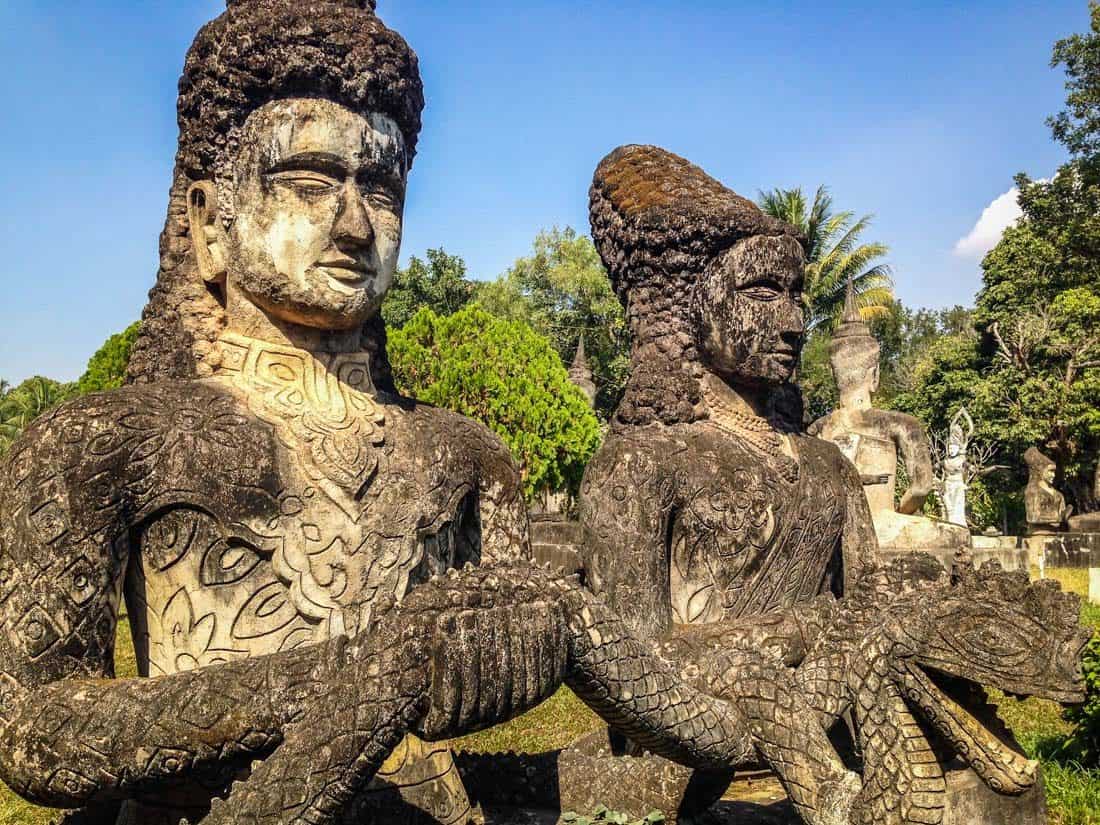 Buddha Park Details
Entrance is 5000 kip ($0.62) per person, plus 3000 kip ($0.37) to park a motorbike.
The park is 25km from Vientiane but only 6km from the Friendship Bridge border crossing to Thailand so you could visit on your way to/from Thailand.
We hired an automatic scooter for 70,000 kip ($8.71) for the day (plus we spent 10,000 kip ($1.24) on petrol). It took about an hour to drive there from Vientiane. It was easy to find our way—we just followed Rue Thadeua out of town until we got to the Friendship Bridge then continued on the dirt road next to the river until we saw the park. The last section is very bumpy, potholed and dusty—we enjoyed the taste of rural Laos but it's not a good idea to drive yourself without motorbike experience.
You could also hire a tuktuk from Vientiane or take the no 14 bus to the Friendship Bridge and then take a tuktuk from there.
There's not a huge amount to do in Vientiane and although we enjoyed our few days wandering along the Mekong and lazing in cafes, if you enjoy a taste of the whimsical like we do then it's definitely worth taking a half day trip out to the Buddha Park.