This page contains affiliate links. Please read our disclosure for more info.
We asked other travel bloggers to share their favourite places and experiences on the continent. In Part 1 we heard their top tips for Argentina, Uruguay, Chile, and Brazil and now in Part 2 we move on to Bolivia, Peru, Ecuador and Colombia. For exhilarating adventures, colourful festivals, remote treks, hidden surfing beaches, and wildlife encounters read on…
BOLIVIA
Mountain Biking Down the World's Most Dangerous Road
Chosen by Anthony, The Travel Tart
I like travelling on unroadworthy forms of transport and risking my life on dodgey things like Cairo cabs and flatulent camels. However, I may have been a bit crazy by choosing to ride down the world's most dangerous road on a mountain bike but it's one of the most rewarding and exhilarating adventure experiences I've ever done. It starts at 4000 metres above sea level near La Paz (sometimes in the snow!) and finishes in tropical rainforest. Knowing that there is a 600 metre drop if you ride off the road makes you feel alive! I was pumped for days after this ride – and I wanted to do it again!
Carnaval in Oruro
Chosen by Michael, Art of Backpacking
One of the craziest parties in the world is in Oruro, Bolivia for Carnaval. It's ten days of non-stop partying, dancing, and drinking with nearly half a million people. Part of the celebration is to throw water balloons on unexpected people. Since I clearly look like a foreigner, I was targeted on a constant basis. We had an all out war with locals vs foreigners. A few hundred locals rushed at us with hundreds of water balloons flying towards us. We were ultimately defeated and ran away throughout the streets of Oruro. Carnaval in Oruro is insane. I definitely recommend it.
Salar De Uyuni, Bolivia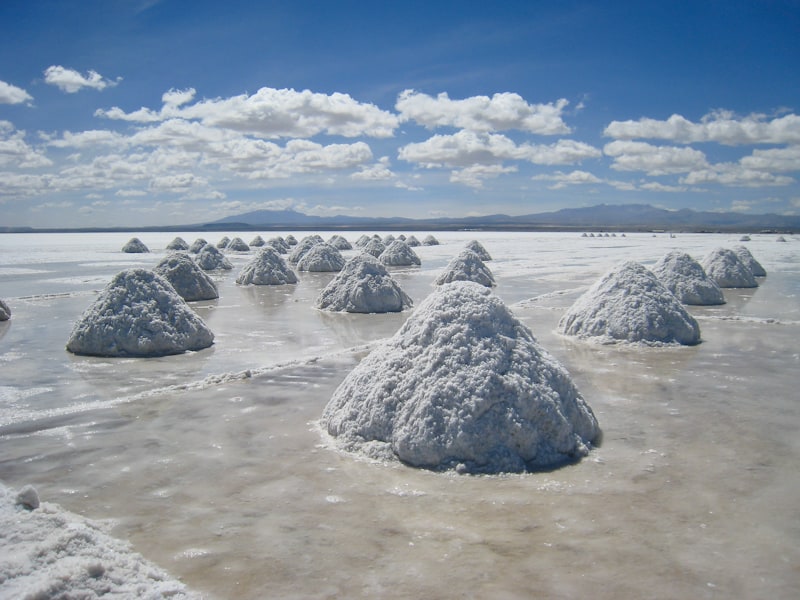 Chosen by Jarmo, Arctic Nomad
If you were told that you absolutely need sunglasses and sunblock SPF 50+ to visit this place, you'd probably think of an amazing hot beach, but you'd be wrong. While those things are critical for survival here, it can actually be quite chilly at the salt flats of Uyuni. Salar de Uyuni is one of the most flat places on earth, it's basically just a desert made of pure salt that reflects sunshine like nobody's business. Even with sunglasses your eyes start to hurt; it's just white as far as the eye can see; it messes up your sense of perspective and offers great opportunities for some wacky photos, especially during rainy season. It is a one of a kind place which you shouldn't miss if you happen to be in Bolivia.
PERU
Trekking to Kuelap
Chosen by Warren and Betsy, Married with Luggage
One of our greatest memories in South America was our 4-day trek to Kuelap. We hiked through the forests and high altitudes of the Andes of Northern Peru, slept with families in small villages, and encountered a broad variety of birds along the way. However, nothing astonished us more than the man-made wonders we encountered.
During a particularly long day of hiking (9 hours) our guide asked if we were interested in seeing something "cool". We stepped off the trail into an ancient village of the Chachapoyan people which was mesmerizing to stand in the midst of what was once a thriving village and now to see how the forest has reclaimed it.
The highlight of this adventure was saved to the end for when you arrive at the enormous fortress of Kuelap. Built into the top of a mountain ridge and more impressive (it stretched for over half a kilometer) than anything we have ever seen. It will boggle your mind to imagine how the Chachapoyans were able to construct this fortress and the wonders that have yet to be excavated. Absolutely one of the true joys of South America.
Dr. Cabrera's Stone Museum, Ica
Chosen by Nancy, Family on Bikes
As I think back over our three years on the road, there were a lot of things we saw that intrigued me, but I never thought a bunch of rocks could capture my imagination so thoroughly. But then, I never thought I would see 20,000 extraordinary rocks intricately carved by some ancient civilization either. All it took was one quick look inside the door of Dr. Cabrera's Stone Museum in Ica, Peru for me to want more. My curiosity had been piqued – what were all those carved stones anyway?
Some people feel they were carved by some ancient civilization as a way of passing information on to us; others feel they were carved by some poor farmer eking out a living in the desert. Regardless of who carved them, their mysteries captivated my imagination.
Hiking in the Cordillera Blanca
Chosen by Leigh, Hike Bike Travel
Many years ago three of us, my husband, girlfriend and I, ventured to Peru to spend 10 days hiking a loop in the Cordillera Blanca, a spectacular range of mountains located north of Huaraz, the staging point for our trek. The drive to the starting point was memorable – and the most dangerous part of the whole trip (see photo). We got dropped off, in what felt like the middle of nowhere. But within minutes, men appeared looking for work. My husband's minimal Spanish along with a map was enough to find someone who knew the route we wanted to do.
The next day we headed off with our donkey driver, two donkeys, and all our own gear including tents, cooking fuel and enough food for all of us, for 11 days. It was a trip that rewarded with truly spectacular scenery every single day. And there wasn't a westerner to be seen for the first seven days. Now you can do a similar guided trek for several thousand dollars though I'd still choose to do this one self-guided.
Huanchaco
Chosen by Scott and Christy, Ordinary Traveler
On the coast of northern Peru, lies the surfer town of Huanchaco. This town is truly a Peruvian hidden paradise, great for backpackers, surfers and upscale tourists alike. Still, this small coastal town has not yet been overrun and built up like some of the other tourist towns in South America. If you are in the area, don't miss our favorite hostel, Hostal Naylamp, and the restaurant at 'My Friend' hostel. This restaurant features mouth-watering, traditional Peruvian dishes and fresh fruit juices.
Peruvian Amazon
Chosen by Raymond, Man On The Lam
While I haven't been to very much of South America, my favourite place so far is the Peruvian Amazon at the tail end of rainy season. Taking a dugout boat through lush jungle normally landlocked in the dry season, and spotting pink dolphins, monkeys, sloths, and the odd piranha along the way was beyond what I expected.
The highlight was when our boat took us to a local home which acted as an impromptu shelter for abandoned or injured animals – including this anaconda. His bowels were in fine working order though – he proceeded to crap all over my leg shortly after this photo was taken.
Trekking in the Cordillera Huayhuash
Chosen by Jack and Jill, Jack and Jill Travel
It was a mentally and physically challenging experience for both of us. The 10 day trek around the Cordillera Huayhuash mountain range in Peru took us through remote Andean villages and numerous passes, the highest of which was a 5000 m pass. The scenery was amazing and breathtaking (quite literally). It was one of those experiences we look back on, shake our heads, and go 'Can't believe we were crazy enough to do that!' If you're into mountain scenery and trekking, then Huaraz, Peru and its gazillion miles of hiking trails just can't be missed.
Zorritos
Chosen by Angela and Jason, Bodes Well
We didn't have a plan when we crossed the Peruvian border from Ecuador, but within an hour we stumbled across this beautiful stretch of Pacific. There were several things that just made this place magical- the birds, the hairless dogs, the driftwood art, the amazing sunsets. But mostly, it was an appreciation of its beauty and peace. We spent a week longer than we expected here, but we could have stayed longer.
ECUADOR
The Galapagos Islands
Chosen by Dalene and Peter, Hecktic Travels
As we wrapped up our cruise around the Galapagos Islands, we commented that all we had left to see were dolphins. Within ten minutes of going below deck, we heard our guide's voice bellowing throughout the boat: "Dolphins! Dolphins!" We ran up top and stood mesmerized for fifteen minutes as a pod of six frolicked and raced beside us.
It was the perfect ending to a magical five days of island hopping in which we encountered every animal that Charles Darwin made famous. From swimming with sharks, following the colorful marine iguanas, and watching baby sea turtles scratch their way to the top of the sand, each moment was memorable, each stop caused our jaws to drop further.
Nothing in our one year tour of South America compared to our time in the Galapagos Islands as we experienced the mystical, other-worldly animals that inhabit them.
Misahuallí
Chosen by Jasmine, Jasmine Wanders
One of my favorite spots in South America is a teeny town in the jungles of Ecuador called Misahuallí. The town is inhabited by a pack of surprisingly smart and naughty monkeys. They can be found stealing leftovers and bags of chips from local businesses, unscrewing drink bottles to slurp up the remaining contents, and teasing the stray dogs wandering around town. The only thing they fear are the huge snakes wrapped around the necks of some of the local children. Aside from the in-town entertainment, there's also a beach along the banks of the river, a waterfall nearby, and a few indigenous areas you can venture to. I've never been to a town so small and yet so fascinating in my life – it's truly worth the trip.
New Year's Eve, Ecuador
Chosen by Jason and Aracely, 2 Backpackers
One of our favorite experiences in South America was celebrating New Year's Eve in Ecuador. This is an extremely unique experience for those new to South America and more specifically Ecuador. Get ready to say goodbye to the old year, Año Viejo, by burning life-size dummies and dolls throughout the streets. The tradition helps resolve the past year's regrets, failures and frustrations, so you may enter the new year with great hope. And of course, you can't celebrate anything in Latin America without loud music and excessive dancing.
The Chapel Of Man Monument, Quito
Chosen by Lainie, Raising Miro
Hands down, the highlight of our short time in Ecuador's capital city of Quito, was our visit to Oswaldo Guayasamin's: The Chapel Of Man Monument. From our first step in the nation's capital, the importance of his work to the collective consciousness was clear. Reproductions of Guayasamin's art were everywhere, sucking me into the haunting images, eyes begging for justice, stories of human suffering being told as though the cheap reproduction posters that hung in every hostel and restaurant throughout the city were a cry for help.
La Capilla del Hombre or The Chapel of Man Monument was designed by Guayasamin himself specifically to house his collection of paintings that pay tribute to the indigenous peoples of Latin America, and their suffering spanning the pre-Columbian world through conquest, colonization and integration. Upon entering the 'The Chapel of Man' we felt the heaviness of the larger than life primal images, feeling overwhelmed by the surge of raw collective anguish. Miro and I both were struck with emotions, and on more than one occasion, I viewed the powerful images through misty eyes.
Banos, Ecuador
Chosen by Stephanie, Twenty-Something Travel
You know all of the cool adventure sports you've always wanted to do, but couldn't because they cost ridiculous amounts of money? Banos is the place where you may finally get your wish. A sunshine filled small town in the Ecuadorian Andes, Banos specializes in adrenaline. Here I was able to go white-water rafting for $45 for two people, and bungee jumping for $20! The real reason I fell for Banos though was the gorgeous backdrop, beautiful atmosphere and the delightful thermal baths.
COLOMBIA
Colombia
Chosen by Adam, World Travel For Couples
When we think back to our time in South America, one place stands above the rest – and that is Colombia. It has it all – big, cosmopolitan cities, beautiful beaches, clear water, mountains, history. But what really sets Colombia apart from everywhere else we've been, not only in South America, but the world, is its people. The smiles on the faces of Colombians are contagious. They always seem happy and are always willing to lend a helping hand. They want travelers to realize that their country is not the drug addled war zone that it once was. So if you are planning a trip to South America, ignore what you've heard and go to Colombia.
Cali
Chosen by Ayngelina, Bacon is Magic
Colombia is an amazing country and the people are so warm and want to show tourists that they do not need to be afraid. One of my favourite cities has been historically known as one of the most dangerous but I never encountered any issues and found the people to be incredibly friendly.
I ended up staying in Cali, Colombia for a month because it is also the home of salsa dancing and is famous around the world for its footwork. During the day I went to salsa lessons and at night practiced in the salsa clubs. But the most amazing thing was seeing the children at the World Salsa Festival who obviously had been dancing since they learned to walk.
Caribbean Coast
Chosen by Andrea and John, Inspiring Travelers
A major highlight of South America for us was Colombia, particularly the beautiful Caribbean Coast. Some people rave about Cartagena, which didn't really appeal to us, but the region near the Parque Nacional Tayrona was gorgeous and relatively unspoilt. We made friends with some friendly young locals and spent our time enjoying drinks by the beach, exploring the park and eating delicious food. The sunsets are incredible and it's so quiet and peaceful, with minimal access to things like internet, that we could really relax.
Riding a Chiva in Medellin
Chosen by Erica and Shaun, Over Yonderlust
One of our favorite things to do when visiting a new country is to participate in the customs and traditions that they have to offer. Boy did I get us into an experience for sure. Our Couchsurfing host brought us along to a Christmas work party on a Chiva, or in other words, a pimped out school bus full of dancing, drunk, happy Colombians. All I could think about was that I had been missing out on celebrating Christmas like this my entire life – CON GUSTO! What a way to bring in the special day!
San Gil
Chosen by Jeff, Lengthy Travel
One very memorable experience in South America was my visit to San Gil, a small but pleasant city in the Santander region about seven hours north of Bogotá. It is known as Colombia's adventure sport capital and while I was there I hiked, swam, went white water rafting and tried parapente (paragliding) for the first time (see my video). But, more than the activities or natural beauty, it is often the people you meet that make the difference and I was fortunate to meet Eliana via Couchsurfing. Besides being incredibly friendly (as so many Colombians are) she is also very knowledgeable about her city and region and made herself my personal tour guide.
We want to give a big thank you to all the travel bloggers who took the time to share their favourite places and experience in South America. It's an amazing collection and has us itching to get back to South America and explore some more.
Don't miss Part 1 of The Best of South America where more travel bloggers share their top tips for places to visit in Argentina, Uruguay, Chile, and Brazil.