This page contains affiliate links. Please read our disclosure for more info.
We spent six days living on a yacht and learning to sail in the emerald Andaman Sea. We learned to manage the sails, steer, tie knots, and rescue a man overboard, all while sailing past karst islands, deserted beaches, magnificent eagles, and dense mangroves. We saw some of the best sunsets of our lives, navigated by the stars, and anchored in secluded bays.
We didn't know what to expect when we signed up for the course, so to help you be more prepared we've written a day by day account of the six day course—see Part 1 and Part 2. This final post in the series is a detailed review including all the practical details you need to know.
Course Details
Langkawi Sailing School is based in Langkawi, Malaysia. It's one of the few schools in Asia that offers sailing qualifications from the Royal Yachting Association (RYA), the UK's national body for sailing, an organisation well respected around the world. The school offers many of their courses. We did the RYA Competent Crew course, an entry level course that requires no previous experience. It's a practical course where you learn by doing while living aboard a yacht. There's no exam; the instructor continually assesses you throughout the course to decide whether you pass.
Most Competent Crew courses run over five days, but Langkawi Sailing School runs it over six days. We really appreciated the extra time for more sailing practice and to have time to enjoy the islands. All courses start on Sunday night and finish by Saturday lunchtime.
The maximum number of students per course is five; there were only three on our course.
All six day practical courses cost 3000 Malaysian ringgit/MYR ($925/ £550). This includes all instruction, RYA certificates, marina fees, fuel, bedding, accommodation, breakfast and lunches, two dinners, and drinking water.
Not included are four dinners eaten in marina restaurants, and the optional RYA log book which is 50 MYR. It's quite bulky so we bought one to share. It's not essential but it's useful to have a log of your sailing if you want to do more courses with RYA in the future.
Courses only run during the dry season from October to April.
Pre Departure Communication
We booked our course by email. Barry was a little slow to respond to some emails but that's to be expected as he's out sailing most of the time.
When we booked it was easy to pay by Paypal (you can use a credit card in Paypal too). We were then sent instructions including a list of what to bring and other useful information.
Location
The course starts at Telaga Harbour. A taxi from Langkawi's main area Cenang Beach costs 30 MYR. There's no public transport on the island. Langkawi airport is about 30 minutes away and you can get some cheap flights with Air Asia from Kuala Lumpur (we paid $20) and around Asia.
The school offers a number of routes for their courses. We spent the week sailing around some of the 99 islands in the Langkawi archipelago. It was the perfect place to learn—spectacular scenery, calm turquoise sea, and hot weather.
They also offer one way courses from Langkawi to Phuket in Thailand. This sounds more challenging involving longer stretches of night sailing and fewer nights in marinas. We'd love to go back and do it for our Day Skipper course. Other routes include to Penang and taking part in a regatta. See the school's course programme for all the routes available.
Boat & Facilities
Langkawi Sailing School has three boats, each owned by the instructor who leads the courses on them. Our course was on the largest yacht, Kay Sira a slipper 42 ft ketch that is owned by Barry and Lynette who run the school.
There was plenty of space for the five of us including two double cabins, one single cabin, and two berths in the saloon. The saloon features a U shaped couch around a table with a fridge and storage under the seats, and an oven, grill and gas hobs in the galley. There's running water in the sink.
There are two heads (toilets), one for Barry and Lynette's cabin and one for the students. The toilet flushes using seawater. You have to close the lid and pump it a number of times; it's easy to do. There is also a sink and shower, although mostly we used the facilities in marinas. We spent four nights in marinas and two nights at anchorages out at sea.
We spent most of our time in the cockpit upstairs which has comfortable seating and an awning for shade when we weren't sailing. It's the coolest place on the boat and we sometimes slept up there as it was very hot in the cabins, despite the small (and noisy) fan.
There is power aboard, created by the engine or plugged in at marinas. It's enough for fans, lights, and power sockets to charge laptops, phones, and batteries.
If it's important to you to stay connected then buy a cheap local SIM card and data plan as we had 3G coverage quite often (although not in Telaga Harbour, the marina on the first and last night). The marinas have WiFi but it's not always reliable.
Teaching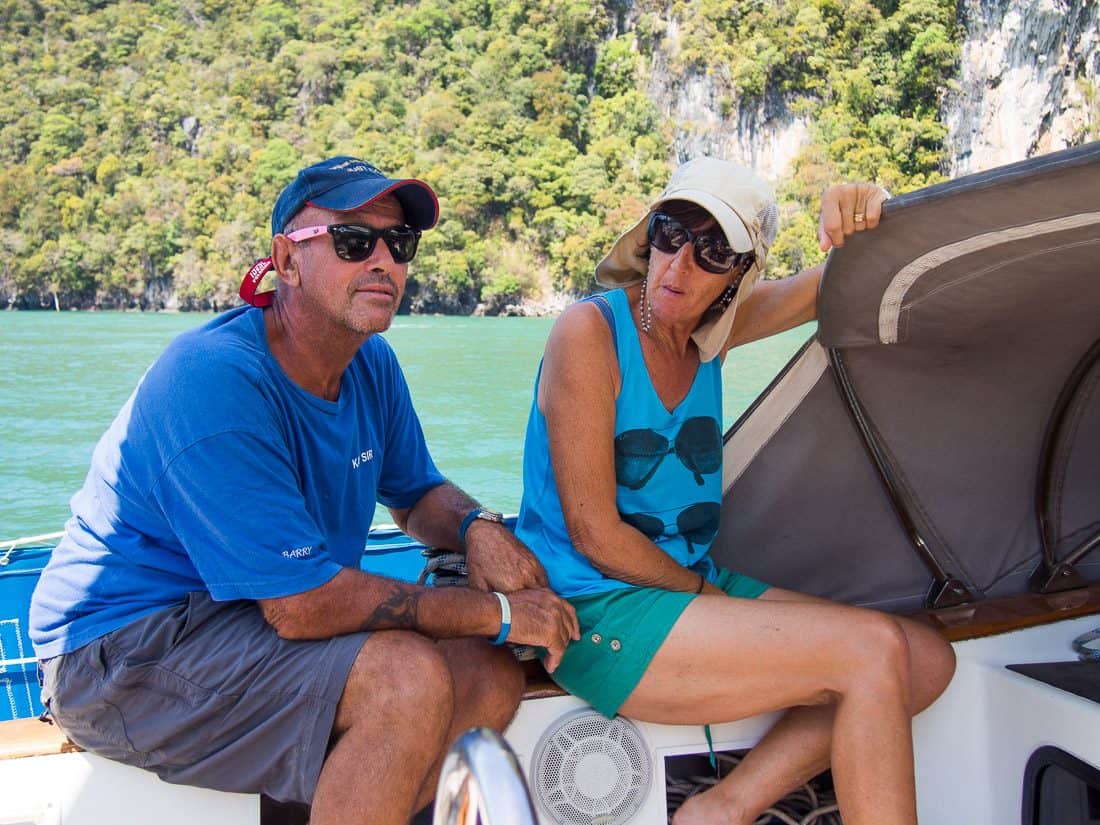 Langkawi Sailing School is run by Barry and Lynette Wickett, a British couple who sailed around the world on Kay Sira for 12 years before settling in Langkawi. They've been running the school since 2008 and are very experienced. Barry is the instructor while Lynette takes care of stocking boats with food and making some meals. They are both warm, down to earth, and welcoming.
We couldn't have asked for a better skipper than Barry. He was very clear in his instructions and made things easy to understand and remember using mnemonics like WOBBLE and Kiss Mother Teresa. He was patient, encouraging, and good humoured. We were amused by his catchphrases like "the other clockwise", "off on another adventure", and "you're so much better than that last lot". He even recited poetry.
There was a little theory—we had a detailed safety briefing, a knot tying session, and Barry would go through vocabulary and points of sail at relevant times, but mostly it was learning by doing. He would get everyone doing different tasks and we'd repeat the exercises multiple times with everyone changing roles.
Safety
One of the benefits of doing a RYA course is that the yachts are inspected annually by a RYA representative. All the school's boats comply with the RYA Safety Equipment check list and carry life rafts, life jackets, flares, fire fighting equipment, and first aid kit.
We had a detailed safety briefing on the first morning where we learnt where safety equipment was and how and when to use it. As the conditions are calm and warm we only wore life jackets while night sailing (unless you are a non-swimmer).
Food
There was plenty of food including morning and afternoon snacks of coffee/tea and fruit, biscuits or cake, as well as meals. We were never hungry and didn't really need the extra snacks we had brought with us.
We were lucky as we had Lynette on board who made many of our meals. This isn't normal and on the other boats cooking duties are shared. We did prepare breakfast ourselves and do the washing up.
You can let them know any food preferences before the course and they were happy to cater for vegetarians (all three of us students were).
Breakfast included toast, fruit, muesli, yogurt, orange juice, and tea/coffee. Eggs are available if you want to make something more substantial.
Lunch was usually salad and cheese sandwiches or wraps, and fruit. You are welcome to make anything else you want and Simon made everyone omelettes one day.
We had two dinners onboard—Lynette made us vegetarian lasagna and curry. On the other four nights we ate at marina restaurants.
What to Take
When you book the course you are sent a detailed list of what to bring. Here are some things we particularly recommend:
Gloves with good grip. We were able to borrow some which saved our hands from blisters and cuts.
Lots of suncream. You spend most of the day in the sun.
A hat that doesn't blow off.
Casual clothes like shorts and tshirts. Prepare to sweat a lot!
A light long sleeve shirt if you are sensitive to the sun.
Sea sickness pills. Thankfully I only needed them on the last day when we sailed in rougher seas but it's good to have.
Earplugs. The fans are really noisy.
Towel. Unfortunately the school doesn't provide them. We bought a cheap one at a tourist shop in Cenang Beach.
Extra Costs
We spent 445 MYR ($137/ £82) on all extra expenses for the two of us during the course including:
50 MYR for a taxi there and back from Cenang Beach (we shared on the way there).
50 MYR for the logbook.
345 MYR for food, beers and snacks on the four nights at marinas.
Accommodation on Langkawi
It is possible to arrive and depart from Langkawi on the same day the course starts/ends but we recommend spending a few days on Langkawi before and afterwards. Especially afterwards we were exhausted and feeling landsick and were happy we didn't need to move on.
We recommend the Soluna guesthouse at Cenang Beach. It's in a quiet rural area next to a field of cows but is only a five minute walk from the beach. It cost us 75 MYR a night for the most expensive Special room with private bathroom and air conditioning, and dorms are available for 20 MYR. Rooms are simple but nicely done, and there's a garden and common area with hammocks and sofas. WiFi is variable; 3G was faster.
Preparation
You are not expected to know anything when you start the Competent Crew course. I read a sailing book beforehand but couldn't make much sense of it. Things were much clearer in practice so don't worry too much about it.
If you do want to prepare, learning some basic sailing vocabulary and practicing knots would be a good idea but not essential.
Summary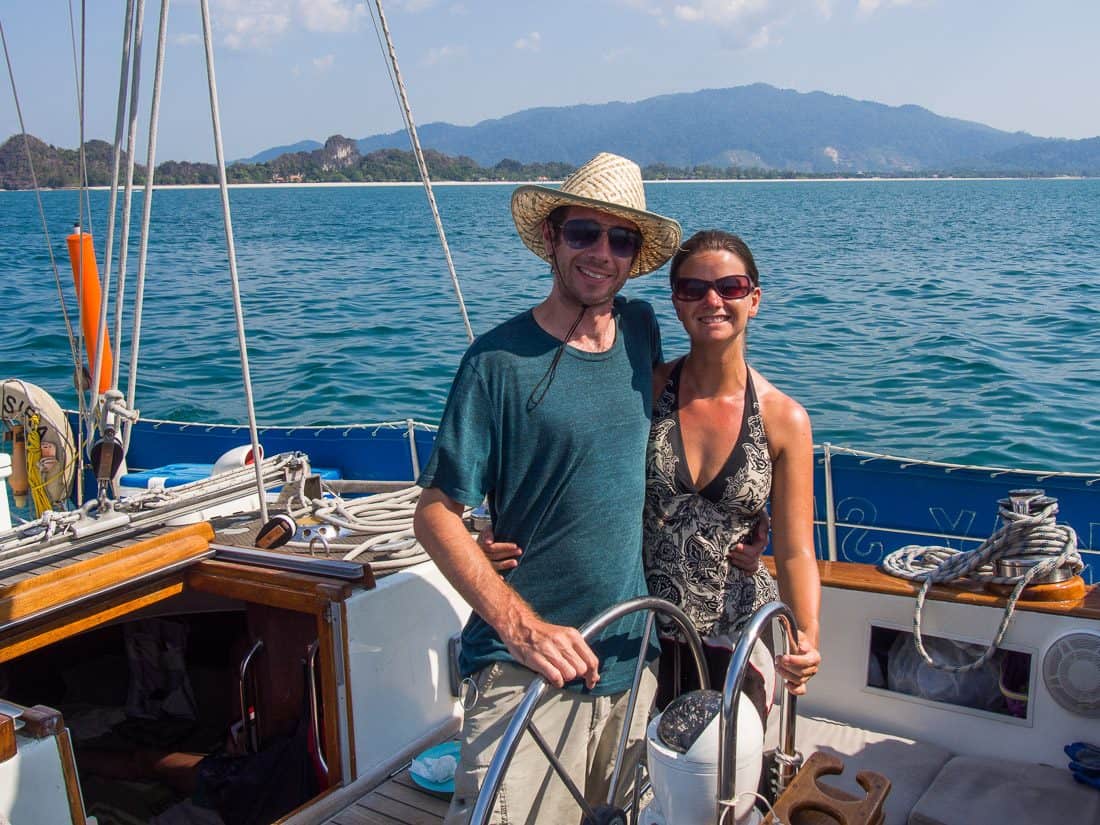 Learning to sail with Langkawi Sailing School is one of the best things we've ever done. We've always wanted to do it and we're glad that we finally took the plunge so that we can now build upon our sailing experience and work towards our long term goal of sailing the world on a yacht.
If you would like to learn to sail then we highly recommend Langkawi Sailing School. Barry was the ideal skipper and we can't imagine a better place to learn than beautiful Langkawi.
For a day by day account of our sailing course see Part 1 and Part 2 of our Langkawi Sailing School experience.
A big thank you to Langkawi Sailing School who gave us a media discount and to Barry and Lynette who have inspired us to continue sailing and one day buy our own yacht.