This page contains affiliate links. Please read our disclosure for more info.
Sailing on a yacht in glamorous locations isn't just for the rich. Cabin charter sailing trips make sailing accessible to those who can't afford to charter a whole yacht.
What is a Cabin Charter?
A cabin charter means you book a cabin on a shared yacht. Couples will likely get their own cabin, while solo travellers will have to share or pay a higher rate. You don't need to have any sailing experience as a captain will sail the yacht for you.
Yachts are much smaller than cruise ships—our 65 ft yacht was larger than average but only hosted nine guests—so you get a much more intimate experience.
You'll get to know the other people on the boat, will likely have some control over the itinerary, and won't have to deal with huge crowds when you get off to explore. A yacht can navigate places that a larger cruise ship can't, and you can anchor right off a destination and reach it on a short hop in a dinghy (no queuing needed).
You can charter cabins on yachts all over the world—common destinations include Greece, Turkey, Italy, Croatia, and the Caribbean. Most cabin charter holidays last about a week and you will either spend the night anchored at sea (providing the opportunity to enjoy remote locations) or in marinas.
Yachts vary but most have limited space so your cabin will likely be small, although boats make remarkably good use of space so we've always found there's plenty of storage. Most of the time is spent up on deck anyway so when choosing a boat the space in the cockpit and on deck is more important.
One thing to be aware of is that unlike cruise ships which have a lot of stability, the smaller size of yachts means you will feel it if conditions are rough.
Regular doses of dramamine prevented me getting seasick but there were times we were glad to get off in the evening after rocky journeys when it was difficult to move around the yacht without losing balance.
The amount of time sailing depends on the route but you can spend four or five hours sailing between locations when there's not much to do other than sunbathe, read, and enjoy the scenery. This might be heaven to some, but if you're more of an active person it might not be for you. Simon doesn't sunbathe so he'd often head below deck to work on long sailing stretches.
Cabin charters aren't meant for sailing instruction but if you want to get involved then speak to your Captain.
Captain or Full Crew?
Cabin charters include a captain to sail the yacht but some also include a crew to stock supplies, cook, and clean for you.
I recommend choosing a boat with a full crew so that you can just relax and enjoy the experience. We heard some horror stories of cabin charter trips without crews—as you have to share the responsibilities of shopping, cooking, and cleaning with the other guests it can lead to disagreements over every decision.
It isn't necessarily much more expensive to have a crew (especially when you take into account having to share food costs on an uncrewed yacht) but will make the experience much more enjoyable.
How to Find a Cabin Charter Trip
We recently spent a week sailing the Amalfi Coast on a cabin charter trip with Intersailclub. They are the Airbnb of sailing, linking yacht owners with guests who'd like to book a cabin on their sailing trip.
They list cabin charter holidays all over the world and many have interesting themes like wine (which we did), scuba diving, yoga, hiking, and kiteboarding.
Each listing gives information about the itinerary, activities, type of yacht, and price per person. You can contact the captain to ask more questions or Intersailclub can give advice on the right trip for you.
What makes Intersailclub unique is that they aim to be a yachting matchmaker—making sure you book onto trips with like-minded people.
You can see who else is on board and as everyone creates a profile you can read more about their interests and decide if you want to spend a week on a boat with them. You can even chat with other travellers to get to know them before the trip starts.
This is a fantastic idea but we found it didn't work in practice. Not everyone who booked filled in their profile fully, and the profiles weren't detailed enough.
I'd love to see a customisable "about me" section, and links to websites or social media profiles. Intersailclub is a new company so I imagine this side of things will improve with time.
Intersailclub has a huge number of sailing trips available so it's a great option to find your cabin charter.
Costs
When you book a cabin charter make sure you add up the total costs. There will be the cabin charter fee, plus there may be extra costs for meals, marina fees, and fuel.
A berth in a standard double cabin on our Wine and Sail trip on the Amalfi Coast (one of the most expensive parts of Italy) cost €860, plus an extra €370 for breakfast, lunch, some dinners, and activities as our trip was part of a wine tasting flotilla.
Wine and beer with our lunches was included but additional drinks (except water) were extra. Transport to the departure point is not included. Our trip was on a large luxurious yacht with extra activities, so many trips cost less.
Our Experience with Intersailclub
We sailed on Milaplacidus, a comfortable and spacious yacht. There are four cabins for up to nine guests, all with ensuites, air conditioning, and are a little larger than the usual cupboard size on yachts.
We had the largest deluxe cabin and it was wonderful with a very comfortable king sized bed and plenty of space.
On our last sailing trip we spent the bare minimum time in our tiny cabin but on this trip I appreciated having a pleasant space to retreat to when I needed some quiet time.
The cockpit was large and comfortable, and there were additional mattresses for sunbathing at the front and rear of the boat, and even a hammock on deck, so everyone could find a space to themselves.
Our crew—Captain Pippo, his assistant Marco, and chef Silvana—were fantastic and worked really hard looking after us.
We didn't have to do anything but sit back and enjoy the scenery. Silvana cooked us delicious, mostly vegetarian lunches with lots of vegetables and fruit. There were always multiple dishes so if you didn't like one there were more to choose from.
Breakfasts were disappointing but typical of Italy where it's not an important meal—fruit, cereal, and packaged cookies and croissants.
We are lucky that everyone on board was friendly and easy going, and we had no problems with the other five guests.
If you're an introvert like me the space on a yacht can feel limiting after a week, and by the end I was ready for some alone time.
We had a set itinerary as our trip was part of the Wine & Sail flotilla but we found that we didn't visit many of the places listed as stops during the day.
Itinerary changes are to be expected on sailing trips, especially as we experienced bad weather a couple of times.
If there is somewhere you particularly want to visit then make sure the captain knows—we nearly missed Positano, the most famous town on the coast, due to weather, but we ended up fitting it into our itinerary after one guest pushed for it.
Our biggest issue on the yacht was a lack of communication. Perhaps this is a cultural thing in relaxed Italy but I love to know information—the more the better.
We didn't have a safety briefing at the beginning of the trip, or morning briefings to let us know where we were heading each day.
We often weren't told of plan changes and on our last morning left much earlier than usual without any warning, leaving us no time to go into town as we'd expected. Keeping guests informed would be a simple way to improve an otherwise excellent experience.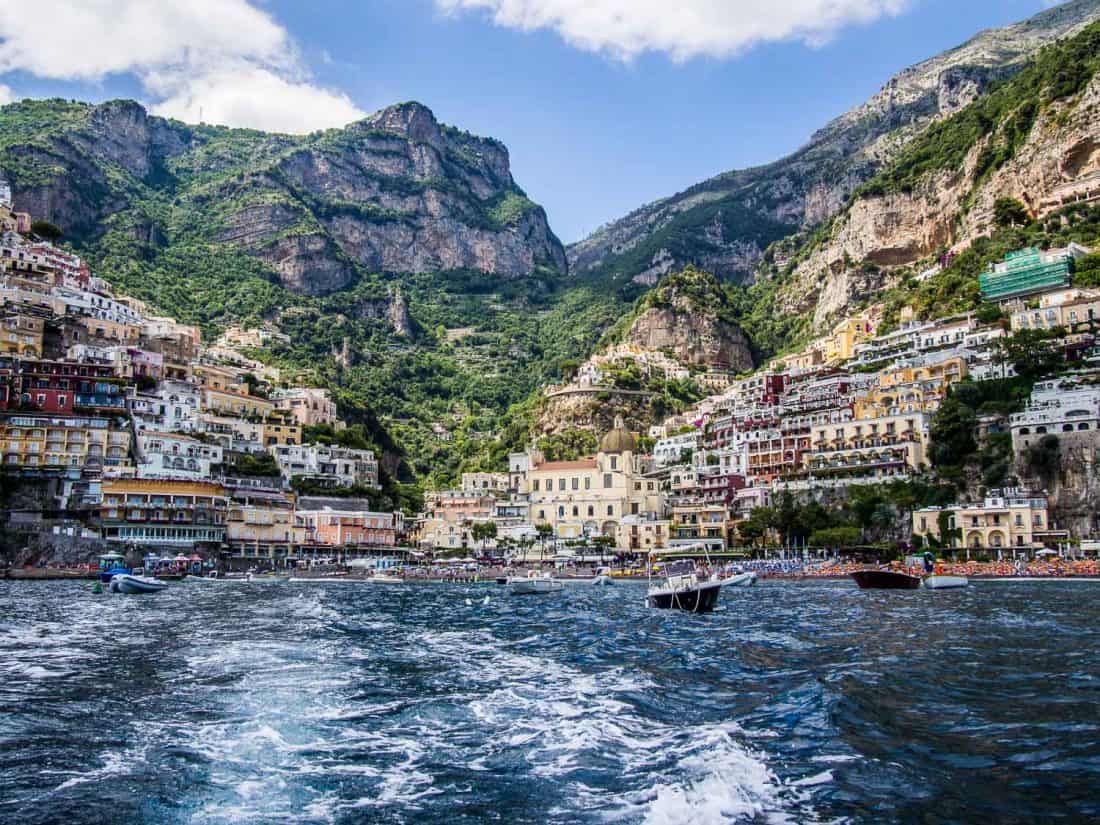 Despite the small issues our sailing trip was a wonderful week of pure relaxation.
Sailing on a yacht is the perfect way to explore the stunning scenery of the Amalfi Coast—we just sat back and enjoyed the landscapes passing by without having to worry about anything.
If you can't afford to charter a yacht then a cabin charter is ideal—we enjoyed the same dramatic views as the super yachts, but at a fraction of the price.
You can also see our photo essay with the gorgeous views we saw along the way and our write up of the unique wine tastings we did each evening.
Note that Intersailclub offers many trips on different yachts so not all experiences will be the same as ours. Make sure you read the itinerary, yacht description, and trip reviews carefully and ask questions so you know exactly what to expect.
Thank you to Intersailclub who hosted us on the Wine & Sail trip and to our excellent crew who looked after us so well.