Voyage Travel Apps and Never Ending Voyage are pleased to announce the launch of Trail Wallet 1.1. If you already own Trail Wallet, the update should be available right now—just go to App Store -> Updates on your iOS device and hit "Update" and you will be the proud owner of the swanky new version of the greatest travel budget and expense tracking app ever[1].
If you haven't bought it yet, or you're unsure whether you want to run the update, then check out the 1.1 video for a rundown of all the cool new stuff or skip below for more info:
Custom Categories
This was by far the biggest feature request we've had since we've launched Trail Wallet and when there's this much demand for a feature, t'would be a foolish developer to ignore it.
So we're pleased as fruity alcoholic beverages in bowls to announce that you can now customise your categories!
Change the name, add new ones, delete old ones, choose its colours (for the pie chart) and change the order—it's a veritable extravaganza of organisational power!
The boffins chained in the basement of Voyage Labs have worked extra hard to make this happen, and we'll be throwing down an additional portion of stale bread in appreciation. We hope you'll agree they deserve it.
Interactive Pie Charts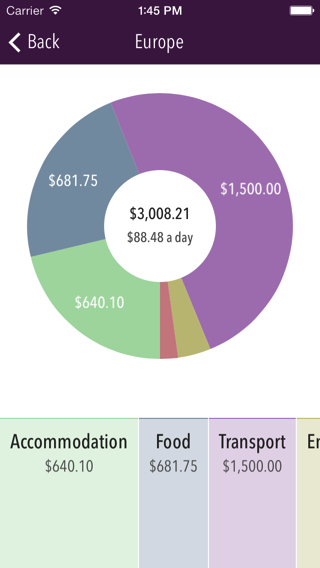 Yoda once said "With great organisational power, comes great interactive responsibility".
The nerds in the basement found that if we allowed you crazy budget trackers to add as many categories as you want, then it caused chaos on the Pie Chart which they had foolishly only designed to work with the original 6 categories.
After shouting at them and beating them for a few hours for this oversight, we forced them to rip out the old pie chart and replace it with a fancy new one that swishes and swooshes and responds to touches.
Yep, that's right. Interactive.
As sexy as this animated slice based goodness is, it is just the first step down a big, long road of data organisation and visualisation. Budgets can be pretty dull but we want to make them as exciting as an episode of The Wire (or at least Location, Location, Location).
Swanky New Design
And it cut him 'til he cried out in his anger and his shame: "I am leaving, I am leaving but the designer still remains."[2]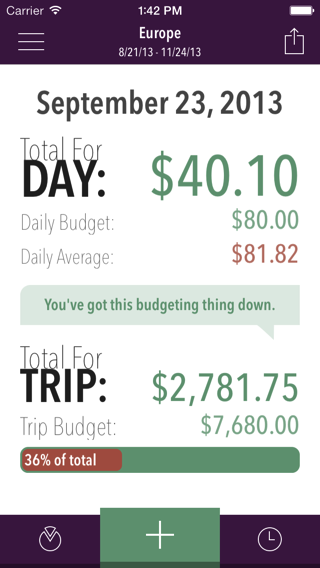 To be honest, the original summary screen was a little bland. Yeah, it had a whole bunch of useful information but it was just a boring list, like it had been designed by a tax accountant (which is a noble profession, to be sure, but it's not exactly…glamorous).
After staring at it every day for over a month I wanted to gouge my eyes out every time I saw it. It brought shame upon our house and the very name of Never Ending Voyage. It was time for a refresh.
Now, I like Futura. Some designers think it's a little overused and, although it's more Bauhaus than Art Deco, I still think it works well when combined with the styles of the latter. All it needed was a chance to strut its stuff, so I let it. Now, the more pertinent information comes to the top of the visual hierarchy, providing emphasis to the letterforms that best express the purpose of the page and guiding the eye to the areas of importance. The subtle, understated secondary information no longer fights for attention while remaining available should the user require it.
Translation: I changed the font sizes and now I think it looks better.
Sales Pitch
If you haven't already purchased Trail Wallet, 'tis but a measly $1.99 in the App Store and well worth your investment. Other people seem to be loving it:
Please note that these are the cumulative ratings from all of the App Stores around the world—the individual App Stores will only show reviews from their own countries.
If you have already bought it it would be amazing if you could leave a review or a rating on the iTunes store. Ratings help other people take the plunge and join us on this budgetary voyage and stroke my ego enough to make me want to keep developing and improving it and making it in to the best that it can be.
Feel free to contact us and let us know of any features that you'd like to see. We have a laundry list of amazing new ideas to throw into this thing but we're always looking out for what our users want first, so just let us know.
And thanks. We really, really appreciate the support and rest assured we will keep working to make this thing the best gosh darn budget app in the world, ever. So much so, that you'll be saying to your grandkids:
"My travels were great and everything, but it was buying that budget app by Voyage Travel Apps that was the real highlight of my life! Sit on my knee, young one—ow, not that one, owowow…phew, that's better—and I'll tell you all about it…"
---
As determined by Simon's mum.  ↩
First person to tweet us @VoyageTravelApp with the hashtag #TrailWallet and the correct reference wins a free copy of the app.  ↩
Are you planning your next travel adventure? See our Travel Resources page for our favourite tools and gear to help you plan the perfect trip.